How to Prepare Your Mac for Sale
Here is a guide on how to back up and clear off your Mac for sale. This is especially useful if you are planning to upgrade to the 2016 MacBook Pro.
When we are finished with our current generation of products, many users pass them down to friends or family members. There also those that opt to sell their previous Mac generations online or on Craigslist and may not know the other party involved.
When you sell your Mac, you want to ensure that all you personal information is removed from the computer and that it is wiped and set back to factory settings for its new owner.
How to Prepare Your Mac For Sale
Here are the steps you should take in order to get your Mac ready to be sold.
Watch the above video to learn what to do in order to sell your older Mac computer.
Backing Up and Removing Identity
It is most important to make sure any and all personal data has been properly backed up or transferred to a new machine, preferably both. Using Apple's Time Machine consistently is a great way to have a piece of mind about your data being saved.
Time Machine is a great background backup tool but it is a good idea to manually drag very important files over to an external hard drive separately. It's never a bad idea to have a double backup of things you can't afford to lose.
When you have successfully backed up or moved your data and have verified it, it is time start removing yourself from the computer so you can have it ready to sell.
Logging out of iCloud is a very important step and must be performed for all users on the computer. iCloud has a newer feature that mirrors the iPhone in that it has a Find My Mac ability which will often lock new users out.
To verify you have removed the device from iCloud, navigate on your browser to iCloud.com and check Find iPhone. If you have any Mac devices currently signed in and using iCloud, this is where they will appear.
If you see your Mac in the list, click it then click Remove From Account to successfully take this Mac off of your iCloud list.
It is also advised to have all users remove Authorization from iTunes by navigating to the Account menu item and choosing Deauthorize this Computer to remove your account.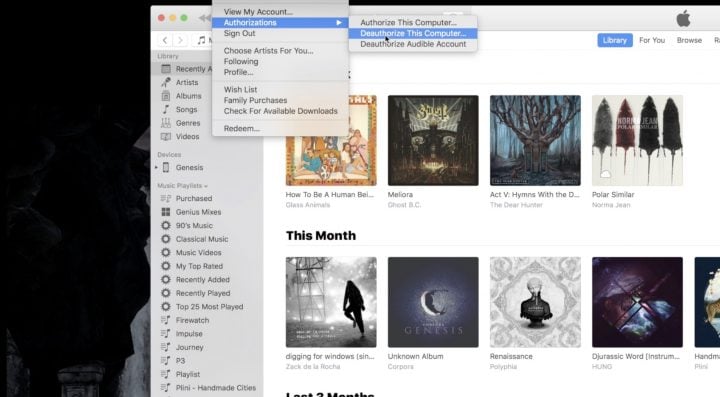 Erase and Install of OS
Once you have confidently backed up your files and removed your iCloud and iTunes identities, if is time to erase and reinstall the OS so it can be used anew by its new owner.
The Recovery boot option is the best option for most people yet if you have a USB drive or another bootable install option, that will work as well. Restarting your Mac and holding Command + R will boot to Apple's Recovery drive and provide you with the tools you need.
The Recovery drive will allow you to erase the disk using Disk Utility and install a fresh copy of OS X. Open Disk Utility, Choose your Hard Drive and then click Erase. It will prompt you to rename the drive and choose your partition scheme yet everything should be set automatically to properly reformat the computer.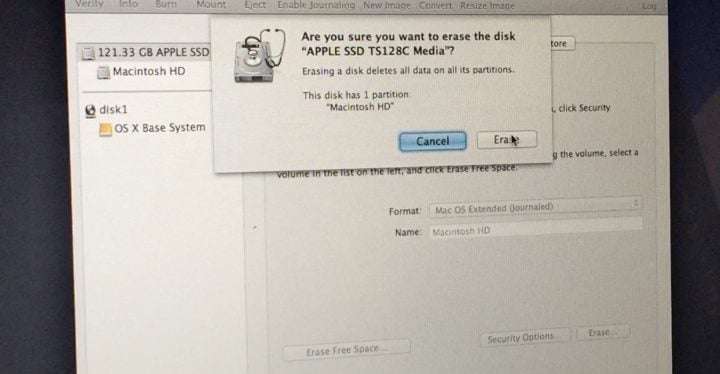 After erasing and creating your fresh Macintosh HD, you can choose the reinstall option from the Recovery main menu and download a fresh copy of your current OS to clean install on your Mac. Depending on your connection, this may be a short wait or a long while to download.
After your installation is complete, your Mac should restart to the OS X Welcome screen and showcase Language Options, Wi-Fi connections and more, signifying the startup a fresh Mac as if out of the box.
There is definitely profit to be made even on older machines as users are upgrading older Macs with aftermarket parts and utilizing them even beyond their original use! If you have an older Mac that you are replacing and it still functions properly, this is a great way to ensure a good clean sale and no issues with data or identity theft.

As an Amazon Associate I earn from qualifying purchases.