How to Prevent People from Finding You on Facebook
If you don't want people to be able to search for your Facebook profile, here's how to prevent people from finding you on Facebook.
No matter who you are, you likely have a Facebook account that you use to keep up with all of your friends and family. However, if you're a high-profile who's who in your area or you simply don't want your boss to find your Facebook profile, there are some things you can do that prevent non-friends from finding your profile.
Facebook is all about connecting with the people you know, but sometimes that's not always wanted. While we love being Facebook friends with the people that we know and like, there are still some people that we know who you don't want seeing your Facebook profile.
Read: 31 Facebook Tips & Tricks
Luckily, Facebook has made it fairly easy to hide your profile from prying eyes, and the social network has done a better job year after year of implementing new privacy features for users.
If you're someone who wants to lock down their Facebook profile and only keep it open for trusted people that you know, here's how to prevent people from finding you on Facebook.
Lock Down Privacy Settings
First off, you'll want to make sure that you set your privacy settings the way you want them.
Start by going to the Facebook website on your computer and click on the small triangle button toward the upper-right corner. A drop-down menu will appear where you'll then click on Settings.
Next, click on Privacy in the left-hand sidebar.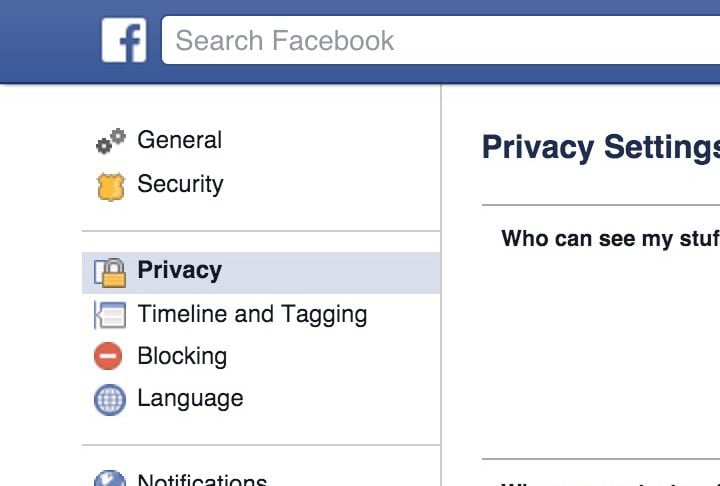 On this page, find the section called Who can look me up? and then change the three settings under it to your liking by clicking Edit next to each one. These will prevent people from looking you up by your email address and phone number, as well as prevent your profile from appearing in search engines outside of Facebook.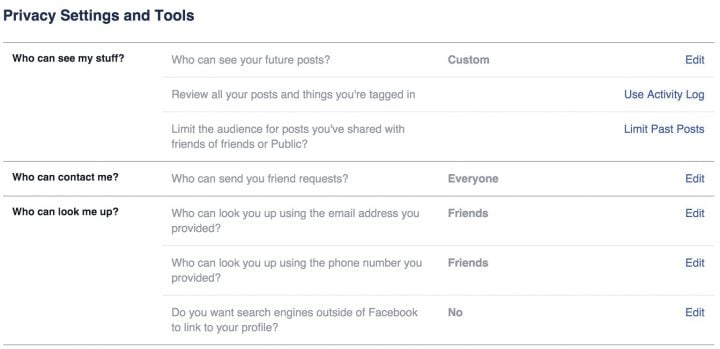 Also on this page, make sure to set exactly who can see your future posts, as well as limit the audience for posts that you've already published. By setting these to Facebook friends only, anyone who finds your profile won't be able to see anything on your profile other than your profile photo and cover photo, which hopefully looks innocent enough for anyone trying to find dirt on you.
However, this doesn't prevent people from typing in your name in the Facebook search box and finding you that way. If you want to completely hide your Facebook profile, you'll have to be a bit more creative than that if you truly want to hide your profile from non-friends on Facebook.
Misspell Your Name
One method for hiding your Facebook profile from the outside world is to simply misspell your name so that your profile doesn't come up in the search results when someone types in your name.
Changing Craig to Ccraig, for example, is a quick and easy way to prevent people from finding me on Facebook, since they'd likely type in Craig in order to try and find my Facebook profile, which means that mine wouldn't show up for them.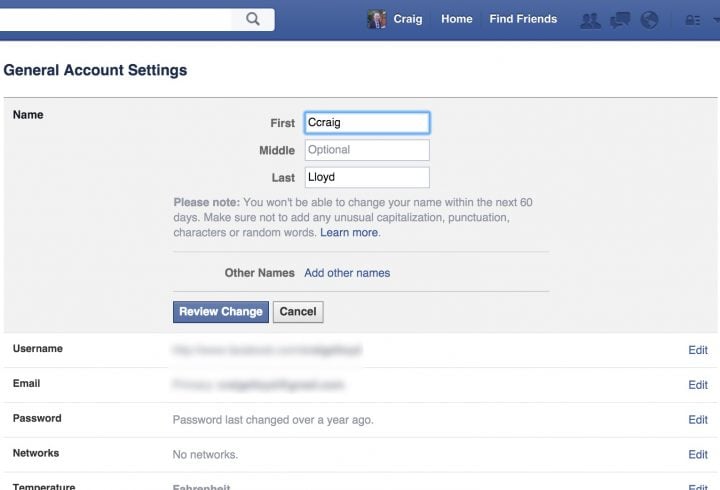 To change your name on Facebook, click on the small triangle button in the upper-right corner of the Facebook menu bar and then click Settings.
On the next page, click Edit next to Name and then change your name to whatever you want. Keep in mind that your Facebook friends will probably ask why your name is misspelled, so prepare for the influx of messages and questions.
Unfortunately, there's no way to truly hide your Facebook profile, so this is a quick and easy way to at least hide it in plain sight, so to speak.

As an Amazon Associate I earn from qualifying purchases.