How to Record Time-Lapse Videos on iPhone
One of the newer features of the iPhone camera is the ability to record a time-lapse video. Here's how to record time-lapse videos on your iPhone 5s, iPhone 6, or iPhone 6 Plus.
If you're not familiar with time-lapse videography, it's essentially the process of recording a long video and simply speeding it up when playing it back. It's almost guaranteed that you've seen a time-lapse video before, as they're incredibly popular and pretty addicting to watch.
Time-lapse videos are great for many different purposes, but they're usually most interesting when you're watching something as magnificent as a skyscraper being built or something as basic as watching the sun setting over the ocean.
You can record time-lapse videos yourself using your iPhone, just as long as it's an iPhone 5s or newer. The Camera app in iOS 8 includes a time-lapse feature that you can access by swiping left or right on the screen, depending on which direction it's in (If you're in Photo mode, simply swipe to the right three times to get the Time-Lapse mode).
How to Record Time-Lapse Videos on iPhone
Recording a time-lapse video on your iPhone is surprisingly easy, and all it takes is two taps to get the job done: one tap to begin recording and another to stop it.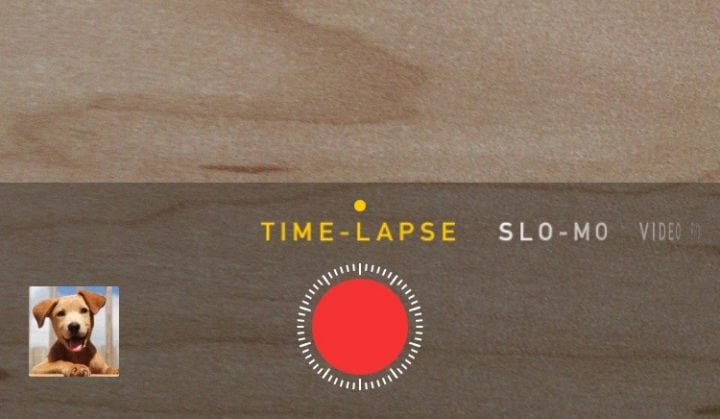 The time-lapse video feature can be found in the Camera app, and it's located all the way to the left, so if you swipe to the right three times from the Photo mode, you'll be there.
At that point, there's no settings to change and nothing that you have to mess with first. All you have to do is tap on the red circle to begin recording and then tap on it again to stop recording. iOS 8 will automatically speed up the footage and provide you with a shortened video that's ready to view and share.
Use a Tripod
Perhaps one of the most important things that you should know when recording time-lapse video is that it's pretty much a requirement to have your iPhone mounted to a tripod, or at least propped up somehow. A time-lapse video really only works in this fashion, since it needs to be static for a long period of time — simply just holding it in your hands won't cut it.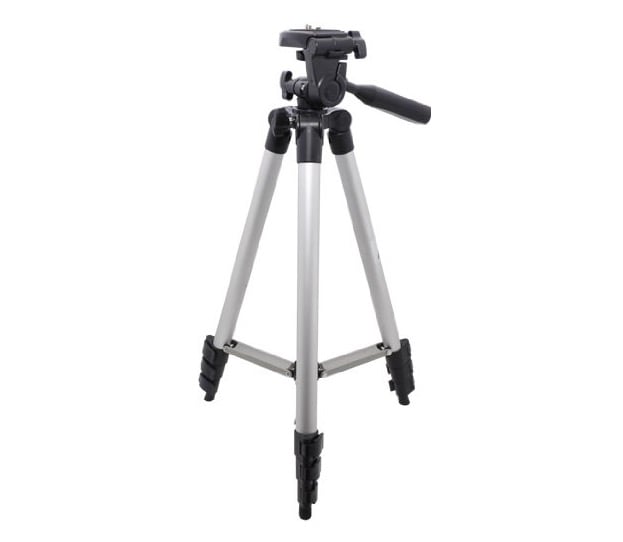 Luckily, you can get a tripod for pretty cheap. This one is only $12 and it will get the job done. It may not be anything special and we wouldn't recommend it as a heavy-duty tripod by any means, but for iPhone videography it'll do the trick.
Of course, you need to mount your iPhone to the tripod and the only way to do that is by getting an iPhone tripod mount. Thankfully, there are a handful of great iPhone tripod mounts that you can get. The Joby GripTight is a great option and it's really easy to use with just about any smartphone — not just iPhone.
Content Is King
While you can record a time-lapse video of pretty much anything, it boils down to what you record that can make or break a time-lapse video. How awesome your time-lapse video turns out is dependent on what exactly you record, so don't be afraid to get creative with it.
In the video above, I recorded a time-lapse video sample on my iPhone 6. It's nothing special by any means, as it's just a time-lapse of myself mowing my lawn, but I used an Olloclip lens kit to get the wide-angle effect, which makes the video a bit more interesting.
Plus, there's something oddly satisfying about watching grass getting cut in hyper speed, going from a slightly overgrown lawn down to a freshly-cut yard in about 30 seconds. If only it could be like that in real life.
To do this, I simply took my iPhone and tripod up to a second-story window in my house and pressed record. I had it recording for about an hour, maybe an hour and a half. Once I tapped on the red button to stop the recording, I ended up with a 39-second video that I later cut down to less than 30 seconds, which brings me to one small gripe.
iOS 8 doesn't let you adjust the speed of a time-lapse video in-app. The speed that it uses is the speed you'll get. Of course, you can bring the video into iMovie and make some changes there (which also gives you the opportunity to insert some music and other effects), but users would undoubtedly enjoy more controls directly in the Camera app.

As an Amazon Associate I earn from qualifying purchases.