How to Remove an Account in Tweetbot 4
Tweetbot can manage multiple accounts, which is great, but if you want to remove an account, there's no easy way of knowing how to do it. Here's how to remove an account in Tweetbot 4.
Tweetbot 4 was released early last month to much fanfare. Users have been looking forward to a Tweetbot update for a while at that point, and Tweetbot 4 certainly delivered.
The new update delivered iPad support to Tweetbot for the first time, and it brings a second pane to the larger screen, allowing you to multitask within the app and scroll through your main timeline, as well as scroll through the second pane, which is customizable as far as what shows up there. You can also get this feature on the iPhone 6 Plus and iPhone 6s Plus in landscape mode.
Tweetbot 4 also supports iOS 9's Split View multitasking so you can use two apps at once, which is something that you couldn't do before (previous iOS versions only let you switch between apps using the app switcher).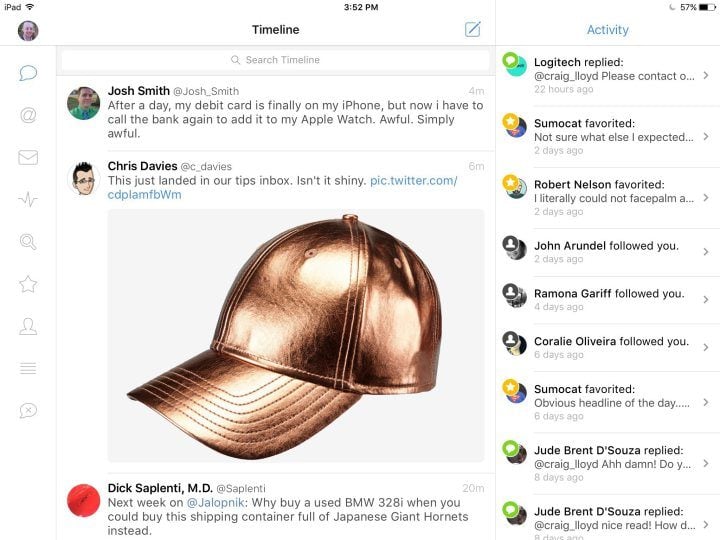 There's also a new Activity View, as well as a Statistics View where you can see how many people have viewed your tweets and interacted with them. The Activity View is essentially an overall view of who retweeted or favorited a tweet of yours.
Overall, Tweetbot 4 is a really nice Twitter app and is very user-friendly, thanks to its quick swipe gestures that make it easy to use. However, one thing that many users might get frustrated with is how to remove an account from Tweetbot 4.
If you're one of those users having some difficulty, here's how to remove an account from Tweetbot 4 quickly and easily.
Removing an Account in Tweetbot 4
In Tweetbot 3, to remove an account, you simply just had to swipe to the left on the account you wanted to remove and then just hit the Remove button. However, that's no longer the case in Tweetbot 4, and swiping doesn't do anything, so how the heck to do remove an account in Tweetbot 4?
The feature is slightly hidden, actually, and isn't the easiest to figure out if you don't know what you're looking for.
However, once you do figure it out, it's really easy to remove an account from Tweetbot 4.
To do it, simply just tap on your profile icon in the top-left corner of the screen. This will bring up a list of Twitter accounts that you have set up with Tweetbot. If you just have one account, you'll only see your one account in the list.
To remove an account, simply just tap and hold on the account and wait for it to enlarge slightly. From there, you can drag it down toward the bottom of the screen and you'll see Remove Account appear above the profile avatar.
Simply just let go and the account will instantly be removed from Tweetbot 4.
Other Hidden Features in Tweetbot 4
Tweetbot has always been an app that relies on swipe gestures and other quick gestures to navigate around, which is why it can take some time to fully get used to the app's user interface. However, once you do understand it, you'll have a hard time going back.
One other big hidden feature in Tweetbot 4 is the ability to mark all DMs as read with a double-tap on the DM tab at the bottom.
You can also swipe to the left on a tweet to view more details about it and see replies to that tweet. Tapping on a tweet also brings up options like Reply, Retweet, Like, etc.
The official Twitter app is good and all, but Tweetbot 4 really takes things to the next level. It's certainly one of the best Twitter apps for iPhone that's definitely worth the $4.99.

As an Amazon Associate I earn from qualifying purchases.