How to Remove Music from Your Apple Music Library
If you added a song or an album to your Apple Music library, here's how to remove it if you ever get tired of it.
Apple Music was launched late last month alongside the iOS 8.4 update, officially marking the beginning of Apple's journey into the music streaming forest. The company aims to take on the likes of Spotify, Pandora, Rdio, Tidal, and more.
Apple Music comes with some pretty unique features, including the Beats 1 radio station that's on 24/7 and is controlled by real DJs playing hand-picked songs, as well as featuring interviews with popular artists.
All in all, Apple Music focuses on hand-picked content rather than using algorithms, which Apple says will create a better experience for users as far as catering to users' musical tastes. In fact, a big part of Apple Music is providing music to users that they might have never heard of before that fit into their recommendations.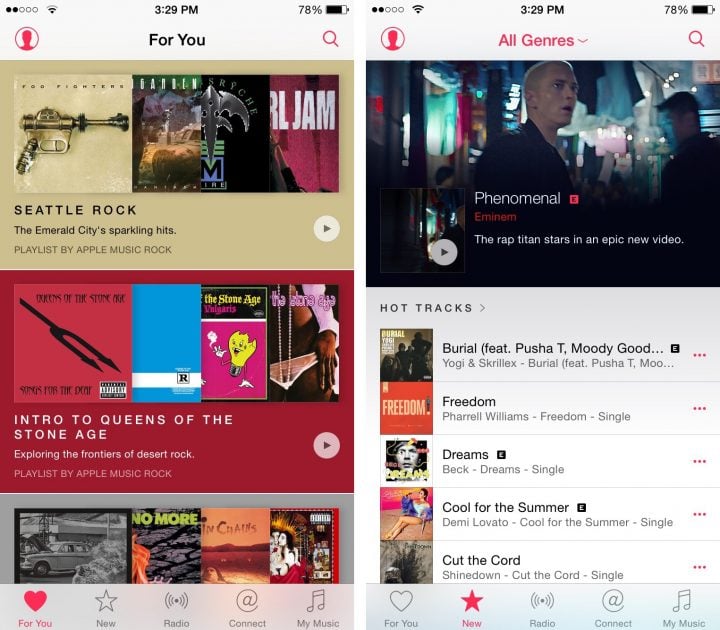 However, if  you added a song or album to your library in Apple Music, but aren't quite as interested in the album or song as much as you used to be, you can remove it from your library for good. Here's how to do it.
Removing Music from Your Apple Music Library
You've probably added a song a to your library (whether it was in Apple Music or another service) and then eventually the song just didn't ring with you anymore. That happens frequently with me, as you listen to a song so many times before it starts to get monotonous and a newer song comes out that catches your ear even more anyways.
In Apple Music, it's surprisingly easy to remove a song, album, or an entire artist from your Apple Music library. Just follow these simple steps.
First off, open up the Music app and then tap the My Music tab at the bottom-right corner. This shows you your music library in its entirety.
Now, if you want to delete an entire artist from your library, find it in your list of artists and then tap on the ellipses off to the right. a pop-up menu will appear with several options, but the one you want to select is Remove from My Music.
Tapping on that will bring up a confirmation pop-up, which you'll again tap on Remove from My Music, and just like that, all of that artist's music will be gone from your library.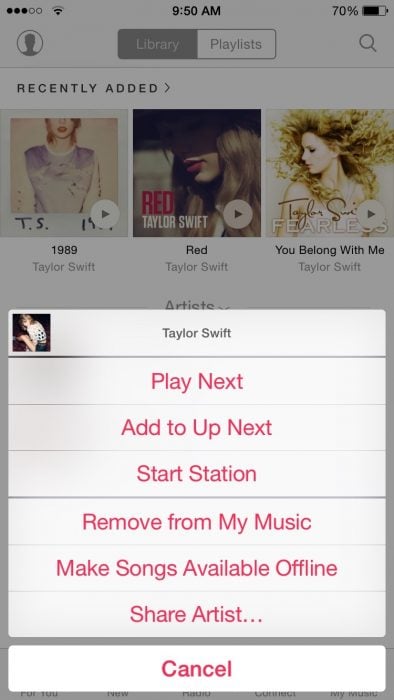 If you want to get more specific and delete a specific album, simply select an artist and any albums that you have added to your library before will appear in this list. From here, tap on the ellipses off to the right and select Remove from My Music just we did earlier.
If you want to get even more specific and delete a certain song from an album, just tap on the album that the song belongs to and the find the song in the list. From there, tap on the ellipses and select Remove from My Music.
That's all there is to it! You'll no longer have that song, album, or artist in your library. Of course, if you want to re-add to your library, simply just search for the song or album and add it like you did before.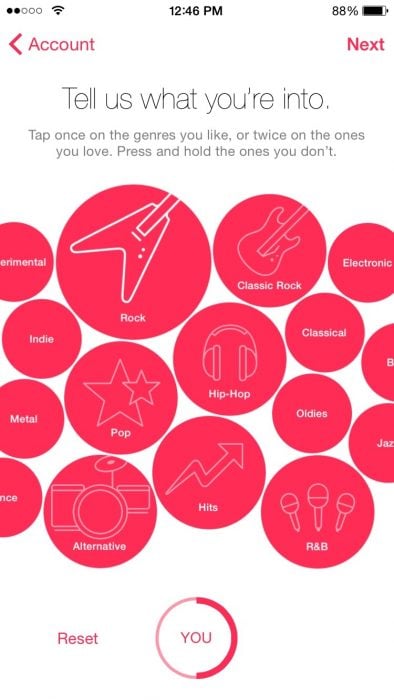 Of course, this isn't the only tip that you should know about Apple Music. In fact, there are a lot of cool features that you may not know when it comes to Apple's new music streaming service, most notably the ability to set any Apple Music song as your alarm clock in the Clock app.
You can also easily transfer your Spotify playlists to Apple Music using a neat third-party app, since Apple doesn't have a built-in feature for this. You can also teach Apple Music how to provide you with better music recommendations by taking advantage of the initial setup process where you tell the app what your favorite genres and artists are. It's also important to know the difference between the heart icon and the "Play More Like This" selection.
Apple Music is only in its infancy, so it's not perhaps the perfect music streaming platform just yet. In fact, I'm sticking with Spotify for the time being until Apple Music improves. It's a good service, but Spotify is also very good, so I see no need to switch over right now, and I'm sure many other Spotify users feel the same way.

This article may contain affiliate links. Click here for more details.