How To Rent Movies on Windows 8.1
Windows 8.1 wasn't just a reimagining of what an operating system could be. It also included a ton of apps that make doing everyday tasks a lot easier. One such task is renting videos and it's integrated into Windows through the new Xbox Video app.
Here's how to rent movies on Windows 8.1.
To be clear, Windows 8.1 isn't actually doing any of the work itself. Instead, it's the Xbox Video service that Microsoft makes available on a Windows Phone, the Xbox 360 and Xbox One too. Renting movies this way saves you from having to download different apps to achieve the same task. Plus, if you've already provided a Microsoft Account and a credit card to your Windows device, you won't need to enter that payment information again.
Let's get started.
First, you're going to need a device running Windows 8.1. Don't worry; all Windows 8 tablets, laptops and 2-in-1s are upgradable to Windows 8.1 absolutely free. Go to the Start Screen by pressing the Windows button on your tablet or 2-in-1 or by pressing the Windows key on your device's keyboard. Look for the Store Live Tile. It looks like a shopping bag with a Windows logo on it. Look for the banner that says update to Get the Free Windows 8.1 update. It'll be purple and on the right. If you don't see that banner, you're already up to date.
Go to the Windows Start Screen by pressing the Windows key on your keyboard or the Windows button near your touch device's screen.
Look for the red Xbox Video Live tile.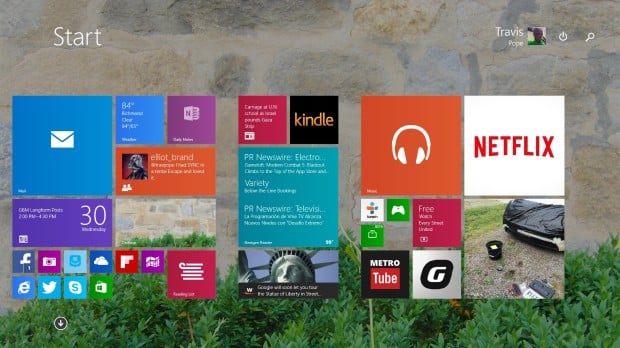 If you don't see it on your device that's ok. Touch users should place their finger anywhere and slowly slide it up to reveal the list of installed apps. Mouse and keyboard users should right-click anywhere on the Start Screen to see this same list of installed applications.
Find Video in the list of installed apps. On both the Start Screen and this list, Xbox Video will simply be referred to Video. Tap or click on it.
By default, the Xbox Video app will take you to the TV Store. Click or tap on Movie Store on the right side of your screen to browse for a movie that you'd like to rent. If you already know what movie you'd like to rent, type its title in the search box on the left side of your screen. For the purpose of this demonstration we're renting Batman: Return of the Dark Knight Part 1.
If a movie is available for rent, you'll notice a rent button with a price on it. In many cases, movies that are available for purchase, might not necessarily be available for rent and vice-versa. Batman: Return of the Dark Knight Part 1 is available for rent and purchase, which is why it shows both options.
Before you hit that rent button, decide if you'd rather watch in standard definition or high-definition. In many cases standard-definition should be enough. Renting in standard-definition saves space if you decide to download the movie for offline viewing. It also saves you a bit of money. Typically, there's a one to dollar difference in pricing for high-definition video and standard-definition video. Make your selection then tap or click on Rent to rent the movie you want.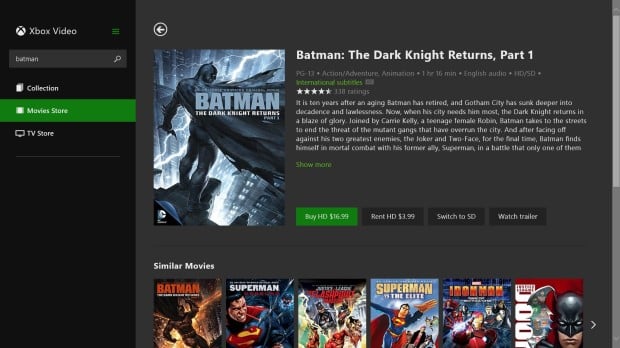 Now you'll be asked whether you want to stream the movie or download it to your device. Be careful to choose the one that's best for your situation because it can't be undone. Tap or click on Next.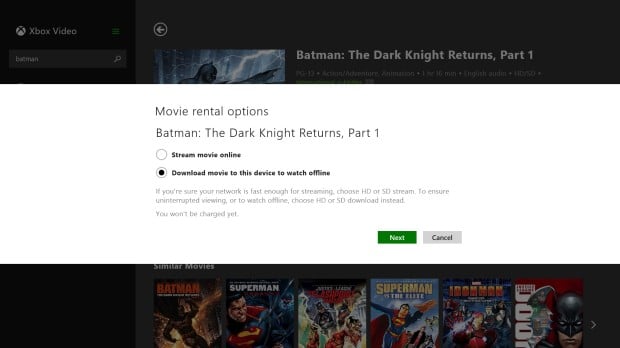 Now you'll be prompted to put in the password for the Microsoft Account you use on your device or enter the username and password of your Microsoft Account.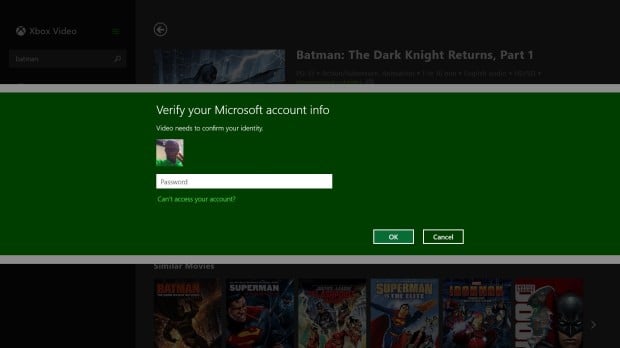 Now choose the method you'd like to pay for it with and confirm. By default this will be whatever card is associated with your Xbox One, Windows Phone or Windows device.  Tap or Click on Confirm.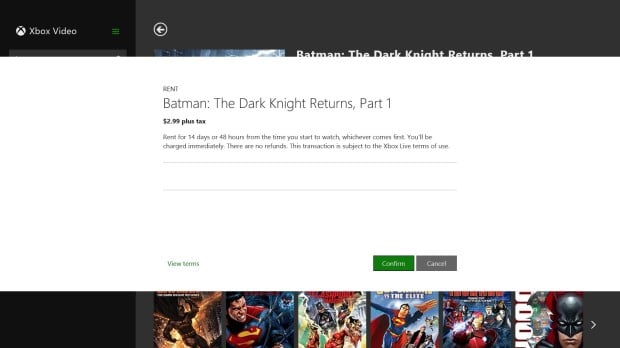 Thankfully, if you decide you want to watch the movie you rent on a different device later on you can. That's because Xbox Video actually syncs different types of content between different devices. So you may rent a movie on your tablet then decide that you'd like to finish on your Xbox One. That's totally doable.
Any movies you rent from the Xbox Video Store are available for you to start watching them for 14 days. Once you hit play on a movie your official rental period begins and you have just 48 hours to fully finish the movie before it becomes unavailable.
Currently, the Windows Xbox Video app has some issues getting rid of old movies that have expired. If that happens to you, right-click or tap and hold on the movie in the Collection view to make sure it's not stored on your device and taking up space. I should note that users can also start and stop movies through their web browser at Xbox's website, making Xbox Video available on Mac PCs too.
Happy watching.

This article may contain affiliate links. Click here for more details.