How to Reopen Closed Tabs & Reorder Open Tabs in Safari on iPad
If 25 tips for iOS 5 and the iPhone 4S aren't enough for you, here are two more for playing with tabs in Safari on the iPad.
If you close a tab in the new iOS 5 version of Safari on the iPad, you can now reopen those recently closed tabs. This helps you get back tabs you accidentally closed without having to retype the web addresses of the tabs. This only works on the iPad unfortunately, so  you will have to still use the History folder on your Bookmarks page in the iPhone version of Safari. I'm staring at you Apple!
On your iPad, after you have closed a tab, get recently closed tabs back by pressing and holding on the little + sign at the right end of the tab bar (see below). Just hold it down until the drop down box appears with a list of the recently opened list of tabs. Tap on the tab that you wish to get back and it will open in Safari in a new tab.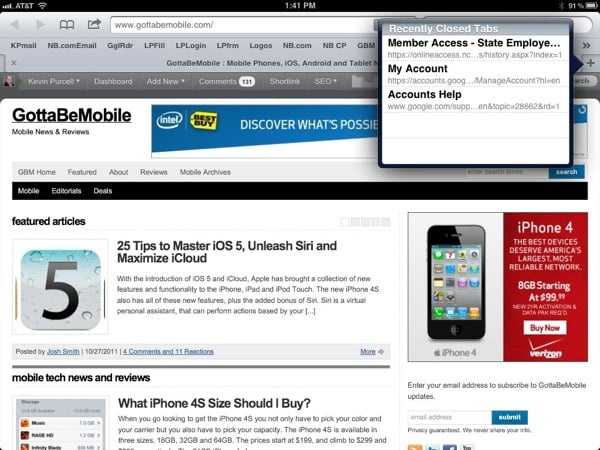 You can also reorder tabs by dragging them from one spot on the tab bar to another. Press on the tab's title and drag it to the left or right. This lets your reorder tabs in case you want to keep important ones open on one end of the tab bar and less important ones on the other end.