How to Replace an iPhone with an iPod Touch
The iPhone is one of the best smartphones on the market, but if you simply can't afford to own a smartphone, an iPod Touch can be a surprising alternative. Here's how to replace an iPhone with an iPod Touch.
While you can buy an iPhone for as low as $0 up front, that's a subsidized price that you pay in exchange for signing a two-year contract. This means that, for two years, you have to pay the monthly service fees to use that iPhone or else you'll end up paying a hefty early termination fee, which can be as much as $350.
Monthly service fees can get pretty expensive too, with the cheapest individual plans costing around $50 per month, which adds up to $1,200 over two years, and a two-person plan can go well over $100 per month.
Instead, you could get a "feature phone" that doesn't have 3G or LTE and go for a pre-paid plan that lets you pay way less than what you'd pay for a data plan, but if you still want the smartphone experience without the high monthly costs, an iPod Touch can be the perfect alternative.
Here's how you can use an iPod Touch as an iPhone of sorts.
Get a Mobile Hotspot
This isn't necessarily required, but it can really help. The biggest drawback to using an iPod Touch over an iPhone is the inability to get an internet connection pretty much anywhere.
The iPod Touch can only connect to WiFi, so if you're in a place that doesn't have WiFi, you're out of luck, unless you have a mobile hotspot. These puck-shaped devices allow you to essentially provide internet to your WiFi-only devices in places that have data service.
You can buy a mobile hotspot from Verizon for as low as $0.99 after you sign a two-year contract, and pay $50 per month for 4GB of data. Of course, if you're going to pay that much, you might as well get an iPhone and pay for a smartphone plan, but there are other options as well.
FreedomPop and Karma are two companies that provide free data that gives you a small amount each month without having to pay a penny. Granted, it's not a lot of data, but you can add on more to your plan for just a few dollars if you need it.
Use Google Voice for Phone Calls
Since the iPod Touch can't make or receive phone calls by default, you'll have to add in that capability yourself. The good news is that it's not that difficult and requires only an app download.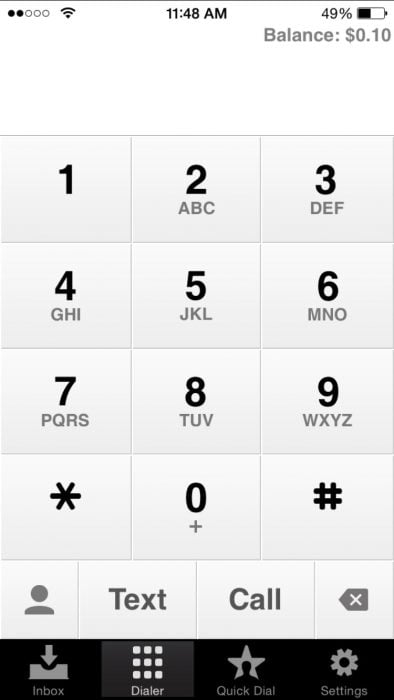 With Google Voice, you can get your own phone number, and make and receive phone calls just like on an iPhone. The only caveat is that you'll need to be on a WiFi or data connection, and will need some earbuds with a microphone, since the iPod Touch doesn't have an earpiece. However, the device does have a microphone and a speaker, so you can use Google Voice in speakerphone mode if you want.
It's free to call people from within the US and Canada if you're calling from within the US as well, but there are fees for using Google Voice in other countries, but no more than a few cents per minute.
iMessage
You can use iMessage on your iPod Touch, but other iOS device users will have to send messages to your associated email address instead of using a phone number. Unfortunately, you can't add your Google Voice phone number to iMessage.
However, the Google Voice app does include text messaging, so if anyone sends a text message to your Google Voice number, it will appear in the Google Voice app and you can reply to it from there. You can also send text messages to people through the app as well.

This article may contain affiliate links. Click here for more details.