How to Report Issues with iOS 6 Maps
One of the biggest complaints iOS 6 users have had so far with Apple's new operating system is the new Maps application which replaced Google Maps as the new native maps application for iOS powered devices. The software is far from perfect but fortunately, there is a way that iOS users can help Apple improve the service.
Read: Google Maps for iPhone in the Works for Late 2012.
It's no secret that Apple's new iOS Maps app is littered with inaccurate data and bugs. In particular, points of interest, the icons that appear on the maps themselves, are being found out of place or mislabeled in the new Maps. The Bay Area seems to be pretty spot on but in other countries, there seem to be a lot of issues.
For example, a user found a water pump labeled as a gas station in Germany.
The company has promised improvements as time goes on but while Apple works to improve its first Maps application, users can help the effort by reporting bugs that they find within the application.
The process is extremely simple and allows iOS 6 device users to submit errors from within the Maps application itself.
1. If you have discovered an error in Apple Maps that you would like to report, you'll first want to open up the Maps application itself.
2. Next, tap on the point of interest that you wish to report. You should be taken to screen that looks like the one in the screenshot below.
3. Scroll down and tap that Report a Problem option which will take you to a screen that looks like the one below.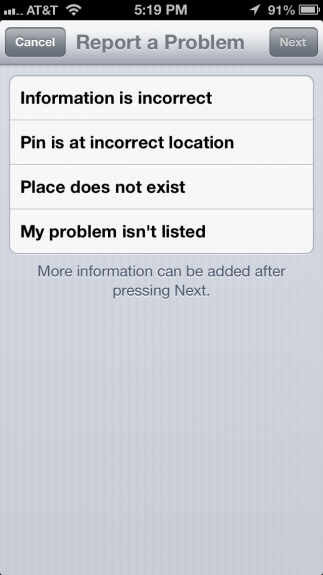 4. Here, you can select what the problem is. It could be that the pin is out of place or it could even be a problem that's not even listed that you wish to report.
In addition, users can report issues with the maps themselves although finding where to do that is a little trickier to find.
5. When you're in Apple Maps, swipe upwards from the bottom right corner. Once you do that, you'll get to a screen looking like the screen shot below.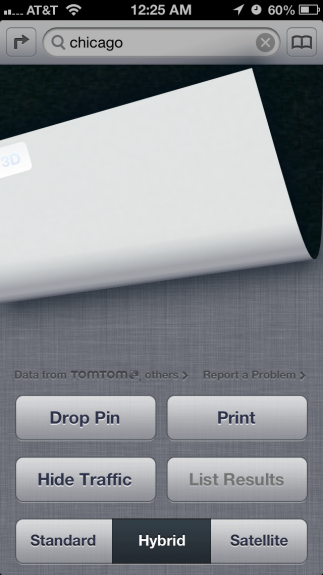 6. The Report a Problem, which resides on the right hand side above print, is hard to see. However, it will take you to another screen where you can send Apple and presumably, its partners, issues about the maps.
7. Next, you'll be taken to a screen like the one below where you can send in a specific issue, be it an issue with directions or a problem with a satellite image.
Apple doesn't specifically say what it will do with this data but we imagine that at this point, it's going to take all of the help it can get to improve its Maps application.
Hopefully, Apple's turnaround is quick and it fixes many of the errors that its users report.
At this point, Google Maps is not available for iOS 6 and Google Executive Chairman Eric Schmidt says that Google "hasn't done anything yet" as far as an Google Maps app for iOS is concerned which means a release is likely a long ways away, if a release is coming at all.
Read: 5 Navigation Apps to Replace Apple Maps in iOS 6.
For now, iPhone users who can't stand Apple Maps can check out five alternatives to the service.

As an Amazon Associate I earn from qualifying purchases.