How to Reset Your Windows 8.1 Laptop, Desktop, Tablet or 2-in 1
Whether it's due to the need to resell a device, or a virus that simply won't relinquish its control of their storage and start-up apps, every day millions of Windows users are forced to reset their device and start over from scratch. Luckily, Windows 8.1 makes it easier than ever to reset your desktop, laptop or tablet.
That is, the process is easy when the device can load its operating system. When it can't, of course, things get a bit more complicated.
Here's how to reset your Windows 8.1 laptop, desktop, tablet or 2-in-1.
How it Works
Early last decade, Windows devices came with something called restore discs. Usually, the version of Windows installed on a specific computer was kept on one DVD while a separate DVD held programs. To cut costs some companies, like HP and Dell, ditched restore discs entirely, leaving it up to users to create restore discs for themselves. Users could also head to a third-party shop like Best Buy or Staples. Someone behind a counter would create the restore discs for them. Without these discs, users couldn't return their device back to its factory settings.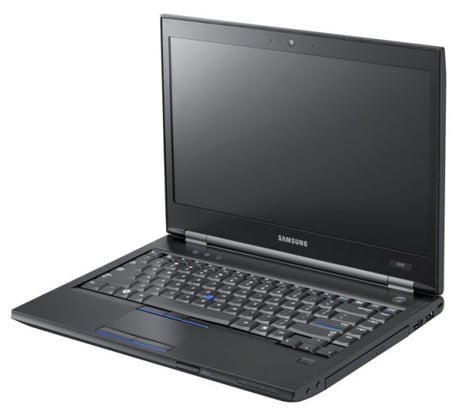 When Apple introduced the MacBook Air, which ditched the DVD drive entirely, PC makers followed suite. This meant that they had to find another easy way for users to restore their computer. The result was the bootable flash drive. Software installed on user's computers would look for a flash drive with the right amount of storage space, clear everything from it and turn it into a bootable drive that users could then plug into their device and restore from.
The history lesson is necessary because some Windows 8.1 devices still use those methods for allowing users to restore their device. However, a third and more convenient solution is also available. It requires no extra hardware, and it includes an option that allows users to reset everything without backing up the stuff on their device first. It's that option that we'll go through today.
Note that this process is very different from resetting and restoring devices that have been upgraded to Windows 10 or already come with Windows 10. Information on resetting those devices is available in How to Reset Windows 10 Notebooks, Desktops and Tablets.
How to Reset & Restore
Before we begin, save every single thing that you have on your Windows 8.1 device. Then close all the apps that you have open. Just in case something goes wrong it's not a bad idea to back up your stuff either – just in case.
Press the Windows key on your Windows 8.1 device's keyboard to go back to the Start Screen. Pressing the Windows button near your device's display will also take you to the Start Screen.
Touch users should place their finger on the right edge of their display and slowly slide it to the right to reveal the Charms Bar. Mouse and keyboard users should place their mouse cursor in the top-right corner of their display to reveal the Charms Bar. Tap or click on the Settings Charm at the bottom.
Tap or click on the Change PC Settings option in the fly out menu. It's at the bottom of Settings.
Tap or click on Update and Recovery. It's the bottom option on the left side of your screen in the menu. If you aren't seeing that option there then the account you're logged into doesn't have administrator controls. You'll have to log out and login in on an account that is allowed to make changes to your device before you can reset.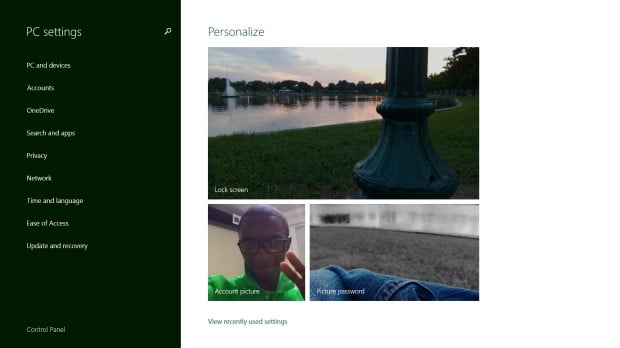 Tap or click on the Recovery option in the menu on the left side of your screen. It's at the last option.
To Reset or Restore
Before you do anything else, make sure you understand the options that are presented to you in the Update and Recovery screen.
Tapping or clicking on the button underneath Refresh your PC without affecting your files will check your device to see if you have enough space and reinstall Windows 8 around your files. For example, your pictures will remain on the device even though a new version of Windows has been installed. This means you won't need to back up your files. If you've noticed a few random issues with apps not working correctly or you think you might have a virus this is the option for you.
Absolutely plug-in a flash drive or external hard drive and back up your pictures, videos, and music if you plan on using the button below Remove everything and reinstall Windows. It will delete all of your files and you won't able to get them back. Only use this option if you plan on trading in your Windows 8 device, selling it or giving it away to a member of your family.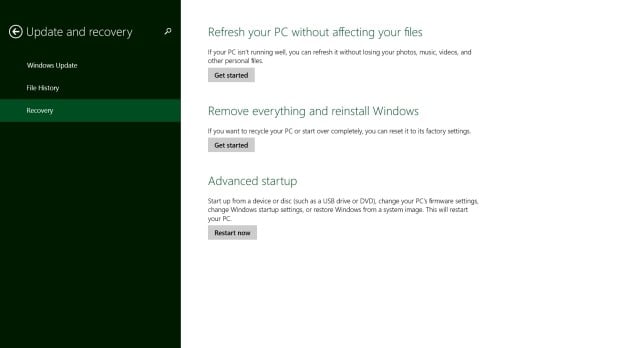 Either one you choose, be sure to keep your Windows 8.1 laptop, desktop or tablet plugged in until it's completely finished the entire process. If your device's battery dies before it finishes you could permanently damage your hard drive, rendering your device completely useless. Both will take some time to fully complete the process – sometimes as much as an hour.
If you don't feel comfortable doing this yourself, there's absolutely nothing wrong with taking your device into a service to have them do this for you. It's better to be safe with your data than be completely out of your element. Good luck.