How to Restore Hidden Users Folder after OS X 10.9.3 Update (UPDATED)
Yesterday Apple rolled out a point release operating system update to OS X Mavericks (10.9.3) as well as updates to iTunes and some of its other Apps and services. The Mavericks update listed primary features as improving 4K display support on some Macs, adding contact and calendar syncing between Mac and iOS devices via USB, an updated version of Safari (7.0.3), and improved reliability for VPN connections who use IPsec. Of course the usual bug fixes and stability improvements are also cited. Security fixes for the update have not yet been posted by Apple.
UPDATE: Apple released a patch for iTunes late Friday that fixes the hidden Users folder issue. While the file description for iTunes 11.2.1 does not mention the hidden Users folder issue, it has been confirmed that it does fix the issue. The update can be downloaded through the Mac App Store.
So, for many, except those working with 4K displays, this wasn't seen as that big of an update, especially with lots of talk about Apple unveiling major changes in OS X at WWDC next month. But an update is an update and these days they all come with the admonition that the manufacturer recommends the update for all users.
As is more typical than not these days, interesting things happen when OS updates are delivered from any mobile operating system mother ship. Sometimes things don't quite go as planned for every user and bugs crop up.
Some users are reporting just such an interesting bug in the OS X 10.9.3 update. In some cases the Users directory is now hidden from view after updating to this latest version of Mavericks. This isn't the case for all Mac users though. There are some reporting that the Users directory is still viewable as it has always been. In fact, on my iMac the Users directory shows up as normal. But, on my MacBook Pro the Users directory is missing in action. So, this doesn't look like intentional behavior on Apple's part. My iMac is a mid 2011 model and my MacBook Pro is a late 2013 model.
For Mac users who don't have multiple accounts on their device this isn't that big of a problem, but if you do have multiple accounts it can be an issue.
To tell if the issue affects you open the Finder and click on Devices and select your Mac. You should see the following depending on what you've selected to display in the Finder Preferences:
Click on Macintosh HD which brings you to the root of your hard drive. You should see "Users" listed here if you are unaffected by the bug.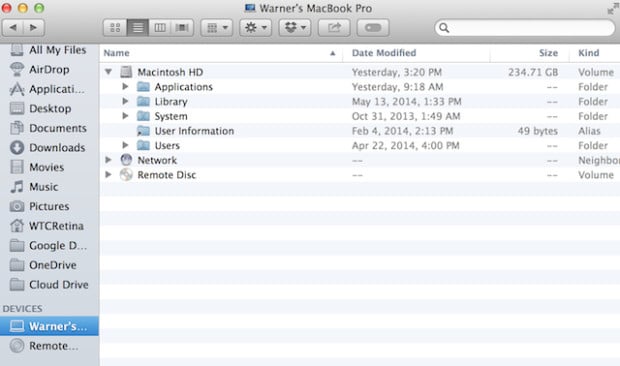 If not, the good news is that it is fairly easy to make the hidden Users directory viewable again on a temporary basis. Here's how:
Open a Terminal window. You can do this by typing "Terminal" in Spotlight or selecting Terminal from your Applications/Utilities folder.
Type the following command at the prompt:
sudo chflags nohidden /Users
You'll then be prompted for your administrator password. Go ahead and enter it. Note that when you type your password, the characters won't appear in the Terminal window, but what you enter is being accepted. Once you press Enter the temporary fix is in affect.
To verify that the change worked, go back to Finder, select your Mac under Devices, and then select Macintosh HD. The "Users" folder should appear if you've done all correctly.
All well and good. Until you reboot your Mac. And then the changes you've made don't hold and you're back to where you started. Yeah, that's frustrating.
But you can create an AppleScript that runs when you boot up that will make the change stick until Apple releases a fix. Thanks to Chris Breen at MacWorld, here's what you need to do:
First launch the AppleScript Editor via Spotlight or by selecting it in the Applications/Utilities. Then enter the following:
Replace "yourpassword" with your administrator password. Next save the Applescript as an application.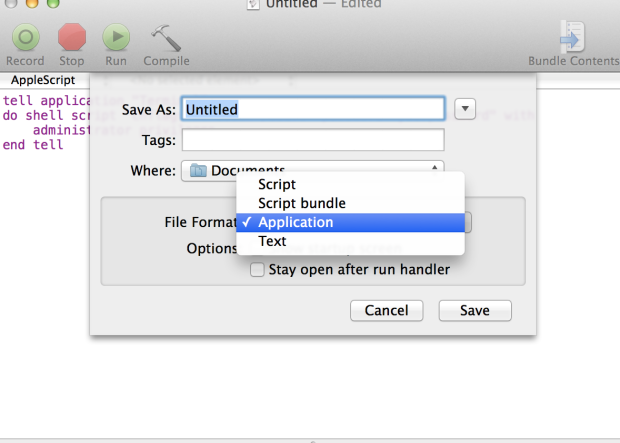 To have the Applescript you've just created launch each time you reboot, the next step is to launch System Preferences and then select Users & Groups. Once that preference pane is open select Login Items at the top of the pane. Then, click the plus (+) button that appears below the list of items that will open on login.
Navigate to the location where you stored your AppleScript application and choose your newly created application and click Add.
From this point on when you reboot your Mac the Applescript will run automatically and your Users folder will always be visible to you.
Again, not all users are experiencing this bug, so check and see if you're affected before implementing the fix.
Note that prior to the release of this operating system update, Apple recently opened up a beta of OS X Mavericks 10.9. 3. That move took many by surprise. By opening up the beta to regular users, Apple expanded the number of users testing the update and theoretically reporting bugs. It is more than likely that this bug was discovered and reported in the expanded beta process, but due to the impending announcement of the next version of OS X at WWDC, it would be somewhat surprising to see an update issued simply to address this issue.
It may be surprising but see the UPDATE to this post above. Apple released a fix.

As an Amazon Associate I earn from qualifying purchases.