How to Return to Default Theme on the HTC One M9
The HTC One M9 is finally starting to ship to buyers and is set to hit carrier shelves on April 10th. As more owners get it they'll have lots of questions. One of the best new features of the HTC One M9 is the theme engine, allowing owners to change the entire look, feel, font, icons and more in a matter of seconds. Here we explain how to return to the default theme on the HTC One M9.
With HTC Sense 7 there's a brand new theme engine that's actually extremely powerful. In a few taps you can download and apply an array of themes available out of the box, select from one of many fan-made themes, or even easily create your own. They're all nice and give the phone a unique look, but you may just want to go back to the standard look HTC owners are familiar with.
Read: HTC One M9 Review
On March 1st HTC took the stage in Barcelona Spain and announced the new HTC One M9 after months of waiting, reports, rumors and leaks. It has plenty to offer, a brand new powerful 8-core processor, a stunning new 20 megapixel camera, and of course the theme engine. It hits all major US carriers in a few days, and you'll want to read on to know how to use one of the best features.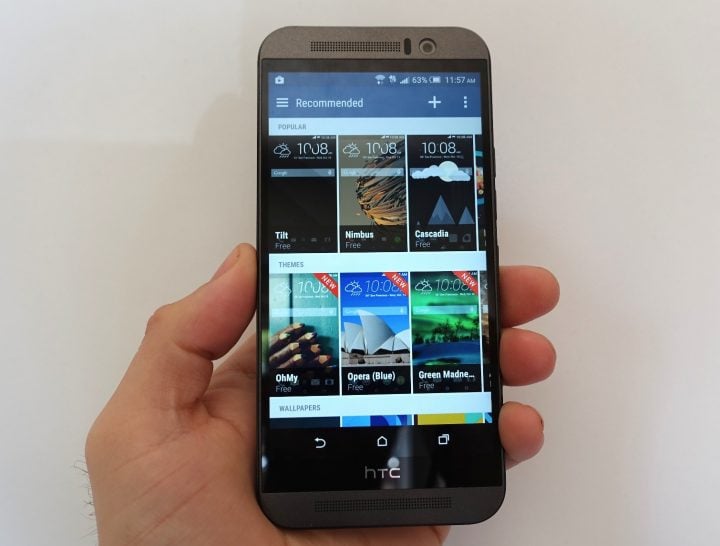 If you haven't tried it yet you'll want to find the colorful circles icon and app called "Themes" which is new to the HTC One M9 and HTC Sense UI 7.0 and give it a spin. This is one of many areas you can change the wallpaper, mess with ringtones, change the font and even change icons. Then of course there are themes that change everything.
By default there are 11 or so when you first fire it up, but heading into the theme tab, you'll find well over 50 different options to try. Many are quite nice, but a lot also change way too much of the overall experience. With that said, you'll probably want to return to the default (out of the box) look and theme on your device. If you're in themes, you won't find it. So, here's how to go back to the default look and feel on your device.
Instructions
If you've added some crazy (and neat) themes to your HTC One M9 but want to go back to the stock look on your device, it's actually quite easy. Simply start by heading into the Themes app, then tap the three lines "menu" button near the top left. The slide out navigation bar will have all your different categories, and select My themes.
Once you've done this you'll now be back to the standard themes page. This area only shows the themes you've downloaded or applied, as well as one at the top left titled "HTC Default" and all you need to do is tap this, and hit Apply, or yes. Shown below. It sounds extremely simple, but if you're in the main themes category it isn't listed, so we've received a few complaints from those who got an M9 early on T-Mobile and couldn't figure it out.
Just go into "My themes" and it's right there at the top. Apply it, and you're all done. You're now back to the standard look that your device came with out of the box. Surprisingly this doesn't appear in the general themes column, and only in My themes, which is the cause of confusion for some owners.
This is a powerful new tool introduced by HTC that will allow owners to easily change every aspect of the look and feel of the Android 5.0.2 Lollipop and Sense user interface. There are tons of options, you can make your own, or browse from the ever-expanding list right from your device.
Give it a try today, and be sure to check back for more HTC One M9 news, coverage and how to information in the coming days.