How to Root the Samsung Galaxy S5
The brand new Samsung Galaxy S5 is a powerful flagship device full of impressive specs and features. Samsung added a stunning camera on the back along with a heart rate sensor, and there's even a fingerprint scanner on the front for additional security.
Even though the Galaxy S5 is packed full of features and options, many users still love to root their device for additional functionality or control. Just like jailbreaking an iPhone, this weekend the Samsung Galaxy S5 on Verizon and AT&T (and tons of other Samsung devices) finally received root access.
Read: Is the LG G3 Better Than the Galaxy S5?
Rooting Android is a process that allows smartphone and tablet owners to have additional control or "Root Access" of the Android operating system. Which is usually done so owners can get around carrier or manufacturer limitations (like hotspot blocks) removing third party apps and bloatware, installing custom themes or icon packs, or to alter settings to each users own desire.
That all being said, the Galaxy S5 is one of the most popular Android devices as of late, and this weekend a root method was finally achieved for the device on a few additional US carriers. Not just any root either. It's an extremely simple method that will have your Galaxy S5 (and tons of other Android devices) fully rooted in under one minute. Read on to see how to root the Galaxy S5.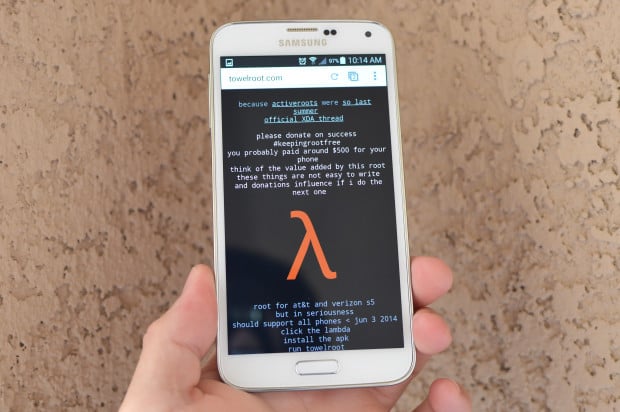 Famed developer Geohot, the hacker that put Sony and the PS3 to shame, is back with a brand new root method for an array of Android devices. The device in mind was a Galaxy S5, but this method just so happens to also root the Galaxy S5 on AT&T and Verizon, the Galaxy S5 Active, Galaxy S4 (on most carriers) the Galaxy Note 3 on Android 4.4 KitKat, and almost any other device before a June 3rd 2014 security patch. So yes, this works on tons of devices, but do research before proceeding with any other handset.
Sadly it doesn't appear to work on Motorola or HTC devices. Without getting into what devices this will root, or whether you should root or not, if you own the Galaxy S5 and would like root access here's how to do it.
Instructions
Users will be required to download an app, which on Android is known as an "APK" from a newly created website specifically for this root tool. You'll need to allow your device to install apps from unknown sources (not from Google Play). Once you download the apk, simply install and open the app, and click the "Make it Ra1n" button to root your device. In 15 seconds the Galaxy S5 will reboot, and owners will have full Galaxy S5 root. It's that easy.
For those that are somewhat new to Android or sideloading apps without the help of the Google Play Store, here's what you'll need to do.
Head into settings by pulling down the notification bar and tapping the gear-shaped icon near the top right. Then scroll down to the blue "Security" option in settings. Once in the security settings you'll scroll down to "Unknown sources" and tap to select. This will now allow you install apps that aren't from the Google Play Store. This same method is how users install apps from Amazon, or any other third party market, so don't worry.
Once you've done this you're all set. Now all you need to do is head to towelroot.com to download the app which will root your Galaxy S5 in one click. Navigate to the website linked above or head to towelroot.com in your mobile browser, then tap the orange lambda logo to download the app. Once downloaded simply pull down the notification bar and select it. Once the app is installed you'll open it like Facebook or any other app, and tap the "Let it Ra1n" button to root the Galaxy S5. Your phone will reboot and you're all done.
Luckily for you, a popular YouTuber makes easy to understand how-to videos, so below is a Galaxy S5 root how to courtesy of DroidModderX.
That's it! You're all done and you've successfully received Galaxy S5 root, or root on many other devices that are reportedly working with this new exploit.
As a reminder, rooting your Android smartphone or tablet may void your warranty, and GottaBeMobile takes no responsibility for your actions. Proceed with caution and at your own risk. Head to XDA Developers for any and all questions.

As an Amazon Associate I earn from qualifying purchases.