How to Use Safari on the iPhone
Using Safari on the iPhone is easy, but most users are missing out on the full functionality by not using all the features. Here's how to use Safari on the iPhone to its full potential to save time and avoid frustration.
Some of these features include tweaking the default search engine, clearing the history and cache, using full screen mode, and setting up iCloud Tab Sync to open tabs from another iOS or OS X device.
Although there are many web browsers to use on the iPhone, Safari is one of the most reliable. Safari is also great for Autofilling passwords, making a reading list, and using private browsing.
Safari also features a lot of hidden functionality that when explained is easy to use.
Full Screen Mode
Full screen mode is a familiar feature for Mac users ever since the update to Lion. This added feature in Safari is very useful for those who read a lot in Safari, and do not want the distractions of the top bar.
How to use Full Screen Mode:
Rotate the iPhone into the landscape position when on the webpage that the user wants full screen, and then tap the two opposing arrows to enter full screen.
To exit Full Screen tap the two facing arrows in the bottom right corner.
Auto Complete in Address Bar
Auto Complete search bars have been around for a while in Chrome and other browsers but the functionality has finally reached Safari for iPhone. The way this works is by simply entering "cnn" for example, the browser knows to go to "www.cnn.com".
It's a small tweak, but a time saver for anyone that surfs on the iPhone a lot.
Open Safari Tabs From Other Devices
Safari tab syncing is a great addition that makes working from any device a lot easier. With the help of iCloud, all the tabs in Safari on any Mac (running Mountain Lion), iPad or iPhone (both on iOS 6) that are all on the same Apple ID are accessible in a snap.
To make sure this feature is enabled Tap Settings –> iCloud and slide Safari to "ON."
How to use Safari Tab Syncing:
Tap Bookmarks as shown above.
Select iCloud Tabs.
Choose a tab from the device of your choice. The tabs stay in sync across all iOS and OS X devices.
Jump to the Top of a Webpage
Instead of scrolling up and up and up to get to the top of a webpage, tap on the clock in the iPhone status bar to quickly jump to the top of the page. This is something users can do in most iPhone or iPad apps.
Look at Browsing History
Whether the user forgot to bookmark a page, or just wondered where they started searching from going to the history of the browser is a useful tool. A quick way to do this is to hold the back button of the browser.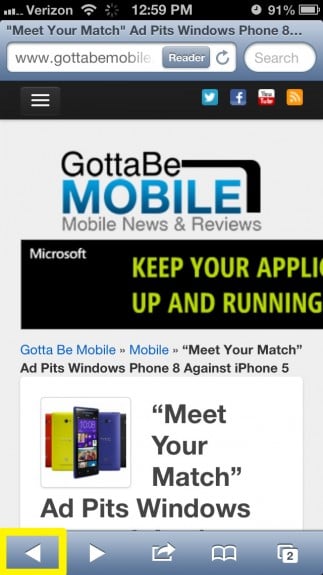 After holding the back button for about two seconds a new window with the user's history should appear like so.
Change the Search Engine
Tap Settings.
Scroll down and Select Safari.
Next Choose Search Engine.
Once done, this next screen will appear.
The choice is up to the user whether they would like to search with Google, Yahoo or Bing. The main reason that this would need changed is if Google is not what a user prefers to search with or if another search engine enabled itself without permission.
New Tab Behavior
Another helpful tip with Safari is how it handles links. By default when a link opens a new tab opens on top of what the user is currently reading. With a simple setting flip this can be changed to become less intrusive.
While still in Safari's settings Select Open Links
Once that is selected this next window will appear.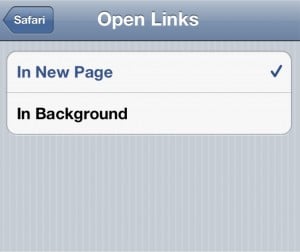 The In New Page option remains set by default and behaves by opening the selected link on top of what the user is currently reading. A better option is In Background as the links open in another tab but they go behind the tab that is currently opened.
Clear Safari History
One last tip to get the most out of Safari is to clear your history and cookies. This is fairly common practice for pc web browsers but it is mostly looked over on mobile devices.
Users that want to remove details about visiting a certain Website or who experience a slow or crash-prone Safari can use these steps to clear out the history and cookies.
While in Safari's settings Scroll down to see this screen.
To clear the history Tap Clear History and when a dialogue box pops up Tap Clear History again.
The same process applies with clearing cookies and data.
It is not necessary to do this all the time, but occasionally clearing history and cookies is good for keeping Safari snappy and as a first step in fixing any Safari issues on the iPhone.

This article may contain affiliate links. Click here for more details.