Xbox One S Upgrade Deals & More Offer Ways to Save
For lots of gaming and entertainment enthusiasts, Microsoft's Xbox One S launch earlier this week was a celebration. It's very clear that Microsoft had different priorities for the console's design than the original Xbox One. What's more, its teams seemed to have focused on improving the gaming experience while still making the Xbox One S smaller, lighter and more attractive.
For gamers who have a television that supports HDR or High Dynamic Range, the Xbox One S is a clear winner. The all-white console uses the technology standard to make blacks darker and colors more vibrant than they would have been on the original Xbox One. The Xbox One S is capable of streaming Netflix content in 4K. Games sport upscale resolutions too. New reports indicate that the Microsoft Xbox One S provides a frame rate boost in some games.
Read: Xbox One S vs Xbox One – What You Need to Know
Without question, the Xbox One S is an upgrade over the Xbox One that Microsoft offered before and will continue to offer until supplies run out. Also, it's expensive. Today, the only way to purchase the console is by handing a retailer $399. That's a lot of money, particularly for those that want the latest and greatest that Microsoft has to offer, but already invested heavily in the original Xbox One.
Luckily there are some ways to save on the Xbox One S upgrade.
GameStop Xbox One S Upgrade Deal
GameStop's Xbox One S upgrade deal is pretty much, the best thing offered by any retail store. For a limited time, trading in your current gaming hardware gets you boosted trade-in value when it's applied to the purchase of an Xbox One S.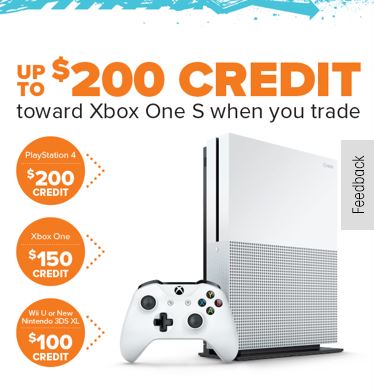 Those trading in Sony's PS4 for an Xbox One S stand to get $200 in credit. The original Xbox One console gets shoppers $150 in credit towards their Xbox One S purchase. A Nintendo Wii U or Nintendo 3DS XL gets shoppers $100 in credit.
The official advertisement of the deal on GameStops' website says that the Xbox One S upgrade deal wraps up on August 9th. As such, you'll only be able to upgrade to the Xbox One S with 2TB of storage.
Best Buy Xbox One S Upgrade Deal
Best Buy has set the minimum amount that traders can get for their old console at $125 as part of a similar Xbox One S upgrade deal. That boost in trade-in value is only on the Xbox One or Sony's PS4. Users can only trade in one console at their local store.
Read: Xbox One S Release Date Confirmed: 5 Things to Know
Trade in Your Old Xbox One Extras & Games
GameStop is one of the few retailers boosting trade-in values, but it's not the only company that offers trade-ins. Amazon does too.
Both will allow you to trade in your games, then apply the value that you're given toward the purchase of an Xbox One S. Amazon takes electronics, meaning you can also trade-in any consoles and accessories you have laying around for an Amazon gift card.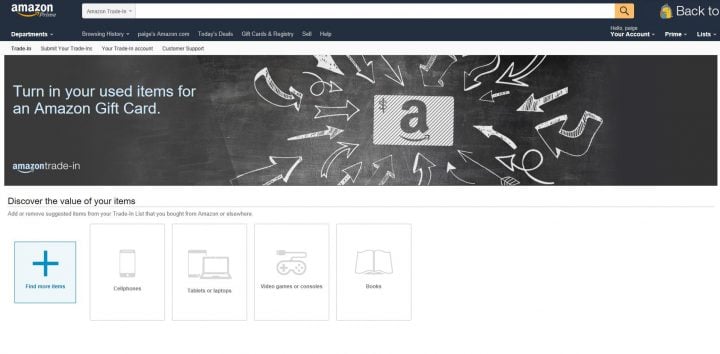 For Amazon, Xbox One consoles with 500GB of storage in Acceptable condition gets shoppers as much as $110. Consoles with more storage and in better shape could fetch more than $140.
Despite offering the Xbox One S, Microsoft isn't offering any trade-in deals on the console. If you buy there, you'll need to finance your upgrade by selling your current console on eBay or Craigslist for a decent amount. You'll want to make sure you price it just below the going rate of a used console at GameStop to move it quickly. The Xbox One with 500GB of storage sell for $219.99 used at GameStop. A PS4 with the same amount of storage in black sells for $314.99.
Xbox One S Console Bundles with Games
There are ways to save on the Xbox One S upgrade indirectly, even if you can't find an Xbox One S upgrade deal.
The Xbox One S with 2TB of storage launched on August 2nd. That version of the console doesn't come with a game or any accessories.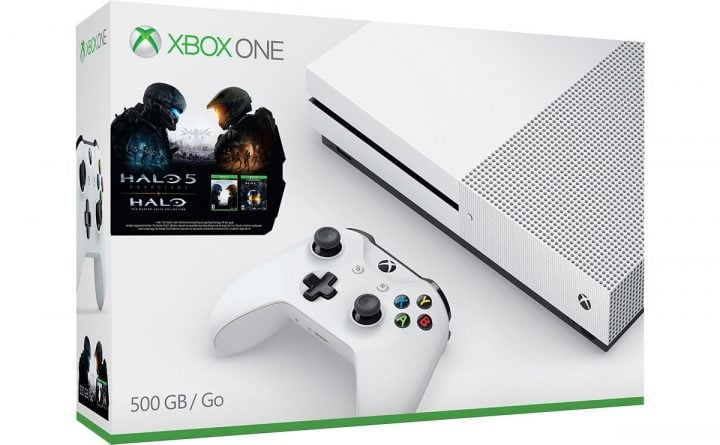 There are versions of the console bundle that will come with at least one free game, saving you cash on titles that you were likely to purchase separately. Madden NFL 17, the hotly anticipated football game set to launch in late August, comes free with the $349.99 Xbox One S 1TB bundle. The $299 Xbox One S 500GB Bundle with come with digital copies of Halo: The Master Chief Collection and Halo 5: Guardians. If you purchased Madden NFL 17 separately it'd cost $59.99, for example.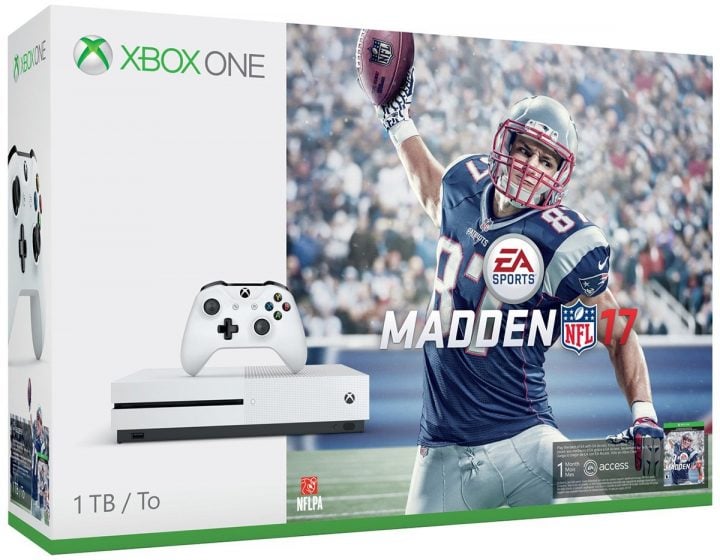 You can also try trading in any accessories that you won't find yourself using with the Xbox One S. Microsoft eliminated the Kinect port on the back of the Xbox One S. Going forward, it'll require a free USB adapter that's pretty hard to find right now. If you don't use your Kinect anyway, consider trading it in. The same goes for extra controllers and titles that you have lying around. Every trade-in will help you save money towards the upgrade.
Read: Xbox One Scorpio Release Confirmed
The Xbox One S isn't the only new piece of hardware Microsoft announced this year. The company plans to launch the Xbox One Scorpio sometime next calendar year. It'll be tailored to high-end gaming, with support for 4K resolution video games and virtual reality support. Microsoft hasn't said how much the console will cost.

As an Amazon Associate I earn from qualifying purchases.