How to Sell Your iPhone for the Best Price: RecomHub
It's getting to be that time again. You know, that time where Apple is gearing up for a new iPhone and consumers everywhere are wondering how they are going to afford the latest and greatest smartphone that Cupertino is hoping will take over the world. While Apple's World Wide Developer Conference (WWDC) kicks off next week with announcements about operating systems and maybe some hardware, no one expects an announcement about the iPhone 6 or whatever it will be called until late August or September. That's been the recent pattern and most expect that timing to stay the same this year.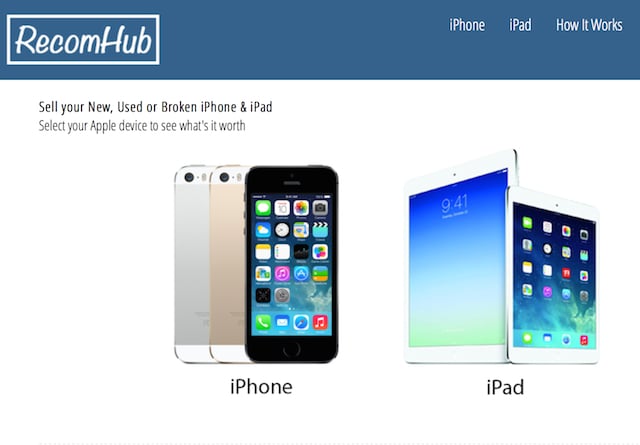 But that doesn't mean some consumers aren't trying to figure out how to refinance their lives in order to pick up a new iPhone. That of course includes folks who are ditching Apple to purchase other new smartphones that are currently on the market.
One way to help finance a new smartphone purchase is to sell the current model and get a little cash back from that investment to help finance the next one. Most consumers are aware that there are many different venues that they can use to sell an iPhone or other gadget. Sites like Gazelle, Nextworth, and a host of others, specialize in buying used gadgets and recycling them. In fact buying back used smartphones and gadgets has become quite a cottage industry. Actually that would be a rather large cottage given that the biggest name in the bunch, Gazelle.com generates over $100 million in revenue. Competition to buy your used gadgets typically heats up around the release of a new iPhone with promotions and special offers tossed about to capture your business.
But there are also other popular methods like placing adds on eBay or Craig's List in addition to local forms of traditional advertising.
If you're trying to squeeze every possible penny out of your sale of a used iPhone or iPad, you can spend quite a few hours searching around the web and comparing alternatives for the best price. If time is money that can cost you. Wouldn't it be nice to have one site to search for current prices when you decide to put your iPhone up for sale? Well there is. It's called RecomHub.com.
RecomHub.com is essentially a search engine that combs through resale sites and delivers you a list of current best prices for dealers who specialize in buying used gear. It also will look at eBay and Craig's List for current prices and provide links to those sites for you to place an ad after you've landed on a price.
RecomHub.com is only in the business of searching for prices to resell iPhones and iPads currently, so if you're trying to unload a non-Apple gadget you'll still have to do some searching on your own.
For those who have sold a gadget with companies like Gazelle, RecomHub.com follows a simple and familiar 3 step process for deterring the value of your iPhone or iPad. You provide the model of the device, the carrier and storage size. Then you declare whether the iPhone or iPad is in Flawless, Good, or Broken condition. Once you've completed those steps you get a list of dealers and their current prices.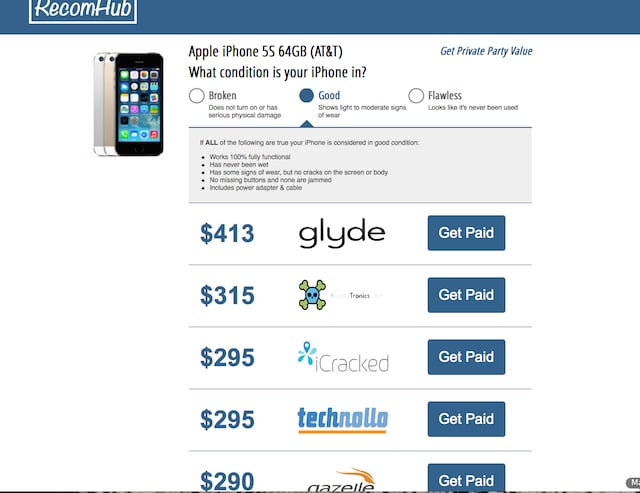 Currently the dealers list of sites includes Glyde.com, bymyTronics.com, iCracked.com, technollo, Gazelle.com, appleshark.com and Nextworth.com. Keep in mind that the company you choose to sell your used iPhone or iPad to will be the ultimate judge of the condition of your device. Also note that prices fluctuate and the closer we get to a "next version" release they will change. You can also switch to the Private Seller page, which gives you the value you'll find from the most recent eBay and Craig's List searches.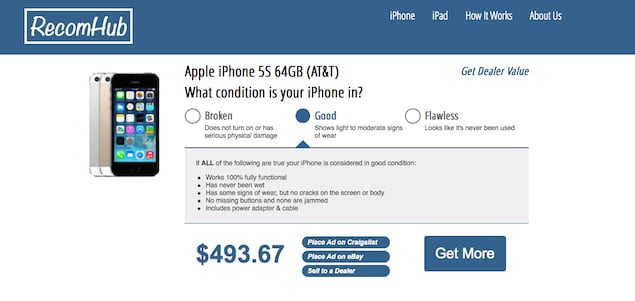 In comparing RecomHub.com searches versus searching directly on the sites I noticed that there were some differences in prices. For example an iPhone 5s with all the same listed parameters showed a higher resell price (around $10) on RecomHub for Gazelle and NextWorth. An iPad Air with the same conditions returned a RecomHub price of $400 on Gazelle versus $350 on Gazelle directly.
The cliché, "Buyer Beware", also applies when you are selling used gadgets. As a seller you should check out the reviews that a service offers before making your final decision. And as it looks from doing some preliminary searching you still might need to do some comparative price shopping as well.