How to Sell Your iPhone to Buy a new iPhone 7
Now that the iPhone 7 became official, many of you will want to sell your iPhone to buy the new iPhone 7 or iPhone 7 Plus. We'll show users how to sell an old iPhone or even another smartphone to get some money to help pay for the new iPhone 7, which starts at $649 or about $32/month on a lease.
The new iPhone 7 Plus looks appealing, with an amazing new dual-camera for better portraits and telephoto photography. The iPhone 7 and iPhone 7 Plus come with other new features like water resistance to keep users from ruining their phone if they drop it in a pool or the toilet. There's a faster processor, a new force touch home button and new colors like black and jet black replacing space gray. The phone comes out on Sep. 16 with pre-orders beginning Sep. 9 at 12:01 a.m. Pacific Time. So, you'll want to sell your iPhone soon to get help pay for the new iPhone 7.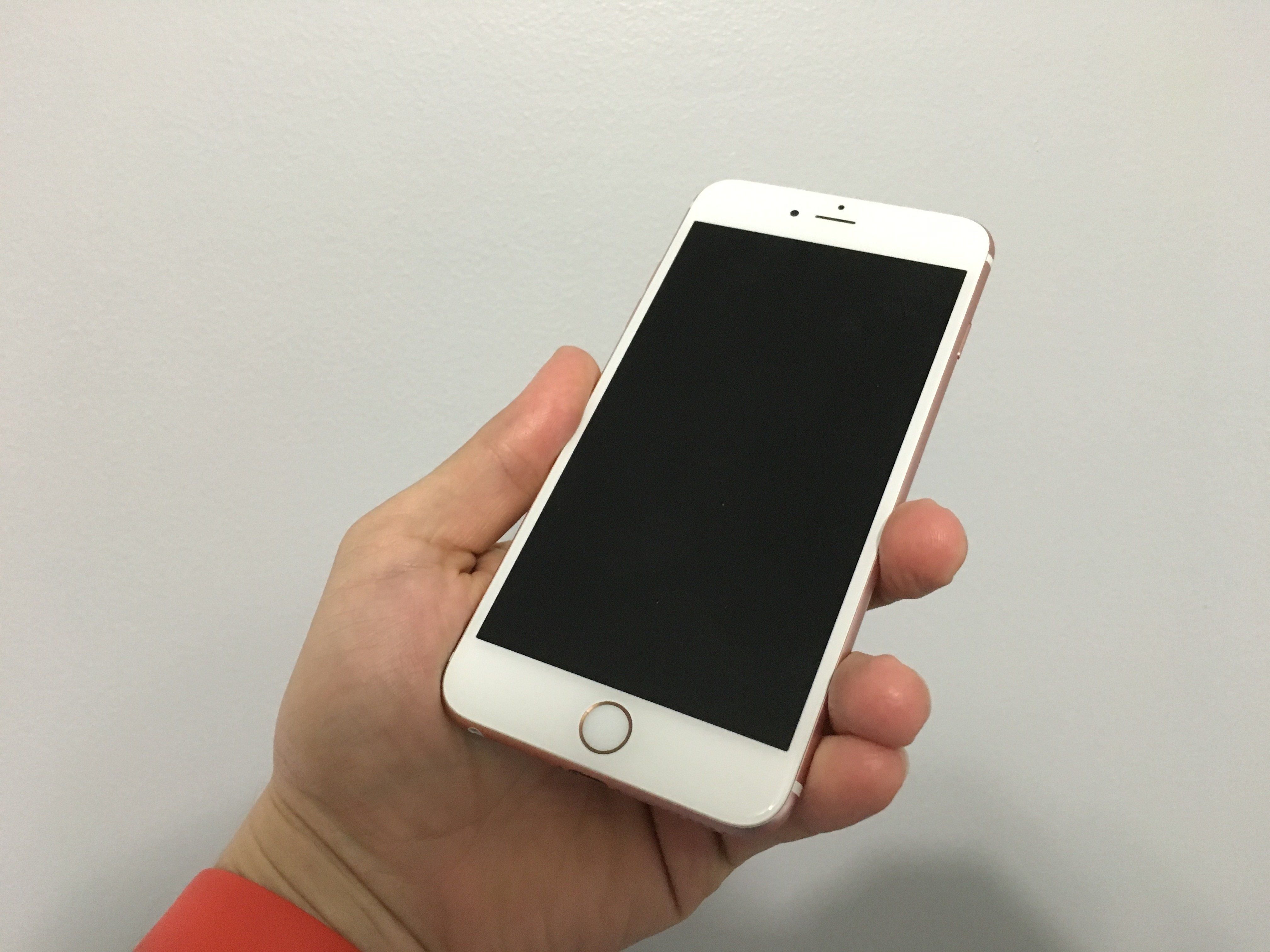 See our video below highlighting all the new announcements at Apple's September 7 event.
https://www.youtube.com/watch?v=yApLSY-bM8I
If you're an owner of an old iPhone 6 or 6 Plus you can sell your iPhone and make some money to help defer some of the cost of a new iPhone 7 or 7 Plus. In fact, you can use these tips to sell any recent model smartphone, from earlier iPhones, a Samsung Galaxy phones, LG phones or Nexus phones.
You need to decide if you want to sell your iPhone yourself or just use one of the trade-in services. A trade-in service like Gazelle or Nextworth will take your phone, check it out to see what condition it's in, and then pay you with a gift card, via PayPal or with a check. If you sell your iPhone on a site like eBay, Craigslist, Glyde or Swappa you'll usually get a better price, but this also comes with greater risk and annoyance. We'll describe the two options, offer examples of how much sellers can make, and recommend the best options.
Sell Your iPhone to Trade-in Sites
Let's start with the trade-in sites, which are more convenient, but don't pay out as much money traditionally.
Apple Recycling
People who plan to buy the new iPhone 7 from Apple directly might want to consider recycling the old iPhone with Apple. You'll select your model, the storage size and color. Then tell Apple about the phone's condition and what carrier it's tied to. Apple offered $250 for my Space Gray iPhone 6s Plus on T-Mobile with 128GB.
Gazelle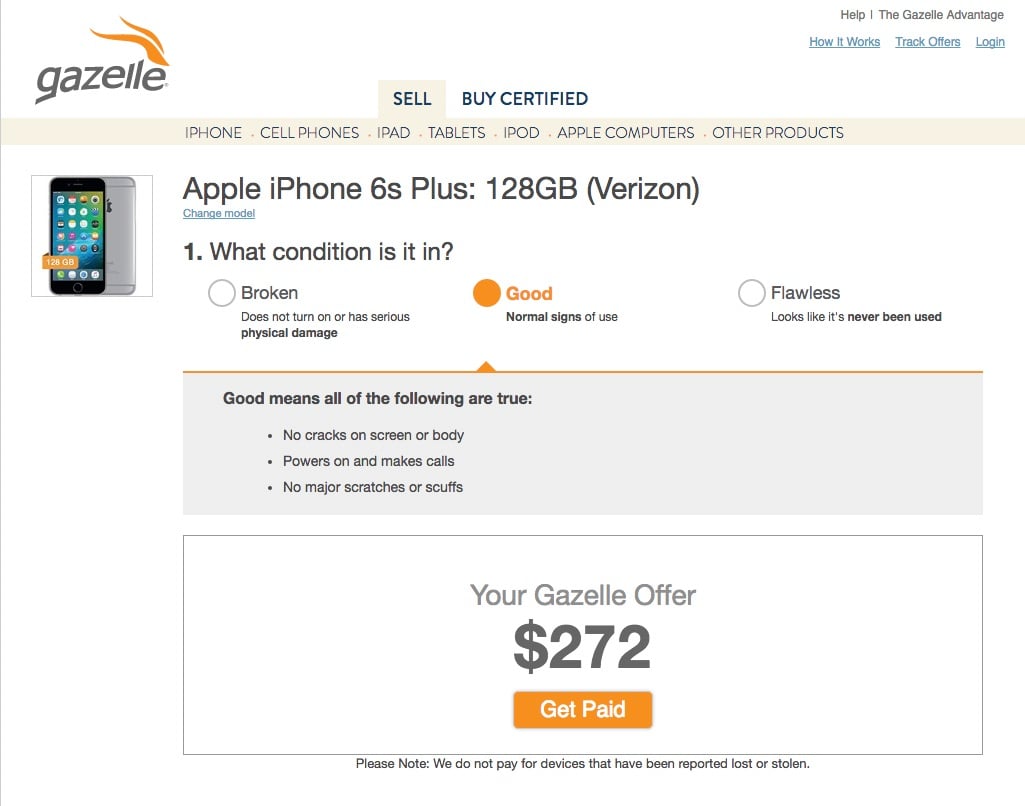 Gazelle advertises a lot and carries the most name recognition. The steps to sell your iPhone are as follows:
Choose to Sell For Cash.
Choose the device type.
Select the device manufacturer, in our case Apple.
Select the model iPhone. I have an iPhone 6s Plus.
Choose your carrier or pick Unlocked or Other.
Pick your storage size.
Pick the condition between broken, good, or flawless.
Click or tap Get Paid.
You'll sign up for an account if you don't already have one. Gazelle will send you a pre-paid mail-in box or let you print a pre-paid label so you can use your own box. Pack the phone according to the instructions and send it in. Gazelle will open the box and check, so make sure you described the condition accurately. Gazelle will then pay you with either an Amazon gift card, through PayPal, a check or you can choose to have them give the funds to a charity of your choice.
Notice above that they offered $272 for my space gray iPhone 6 Plus with 128GB storage in good condition on T-Mobile. Get your price as soon as you can since the price will drop the closer you get to release date.
Sell Your iPhone Yourself
To get more money, sell the phone yourself. However, you'll also need to deal with buyers and find your own packaging. You have to get pictures of the phone and answer questions to make sure the best results. It also takes anywhere from 3-10 days to get paid and you could end up selling it to a crook who wants to rob you or from an annoying jerk who treats your poorly.
Nextworth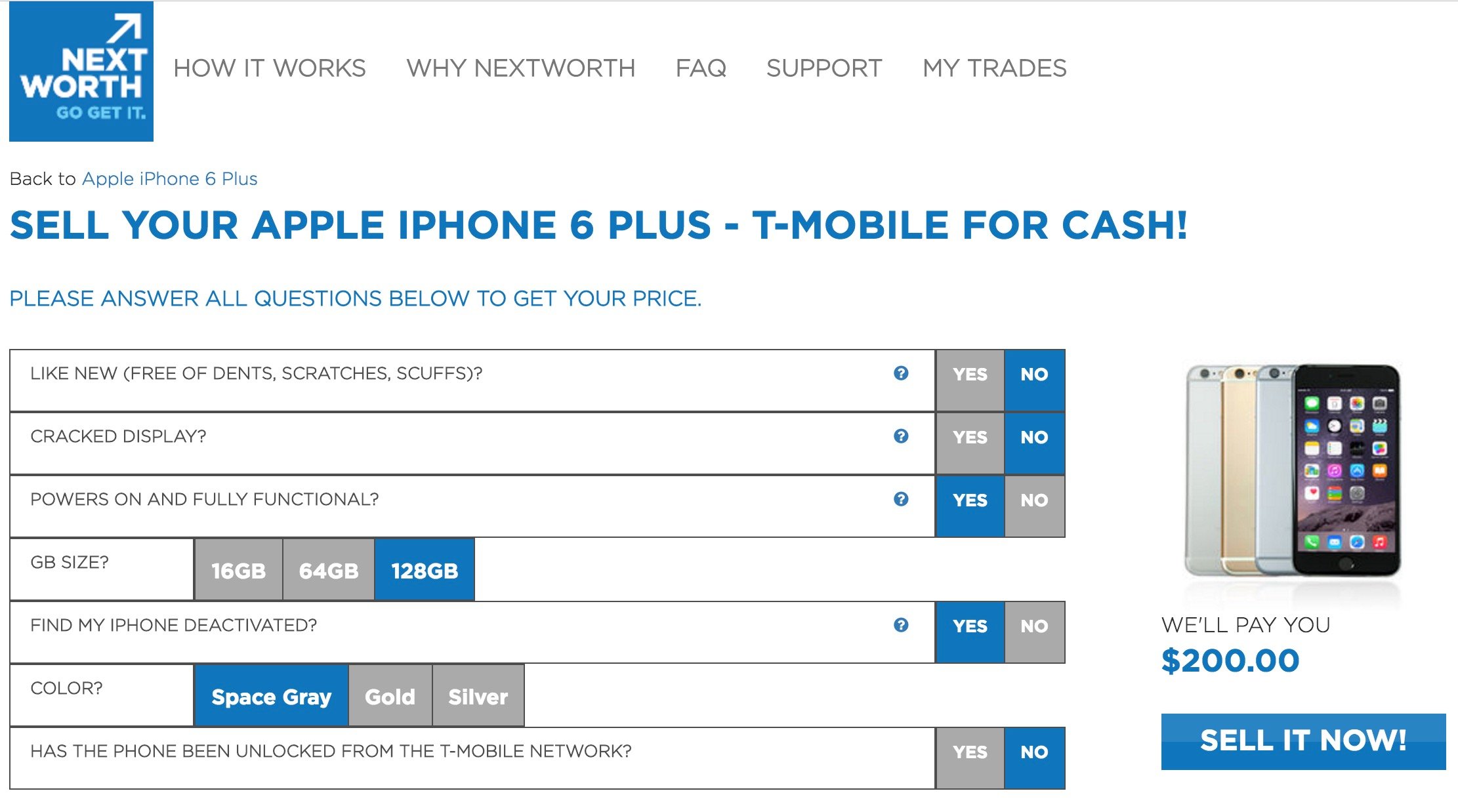 Nextworth works the same way with only a few variations. Select the device type, manufacturer, model and carrier. Nextworth asks more detailed questions about the phone's condition.
The example above shows that Nextworth, on the day of this article, offered only $200 for my iPhone 6s Plus.
Glyde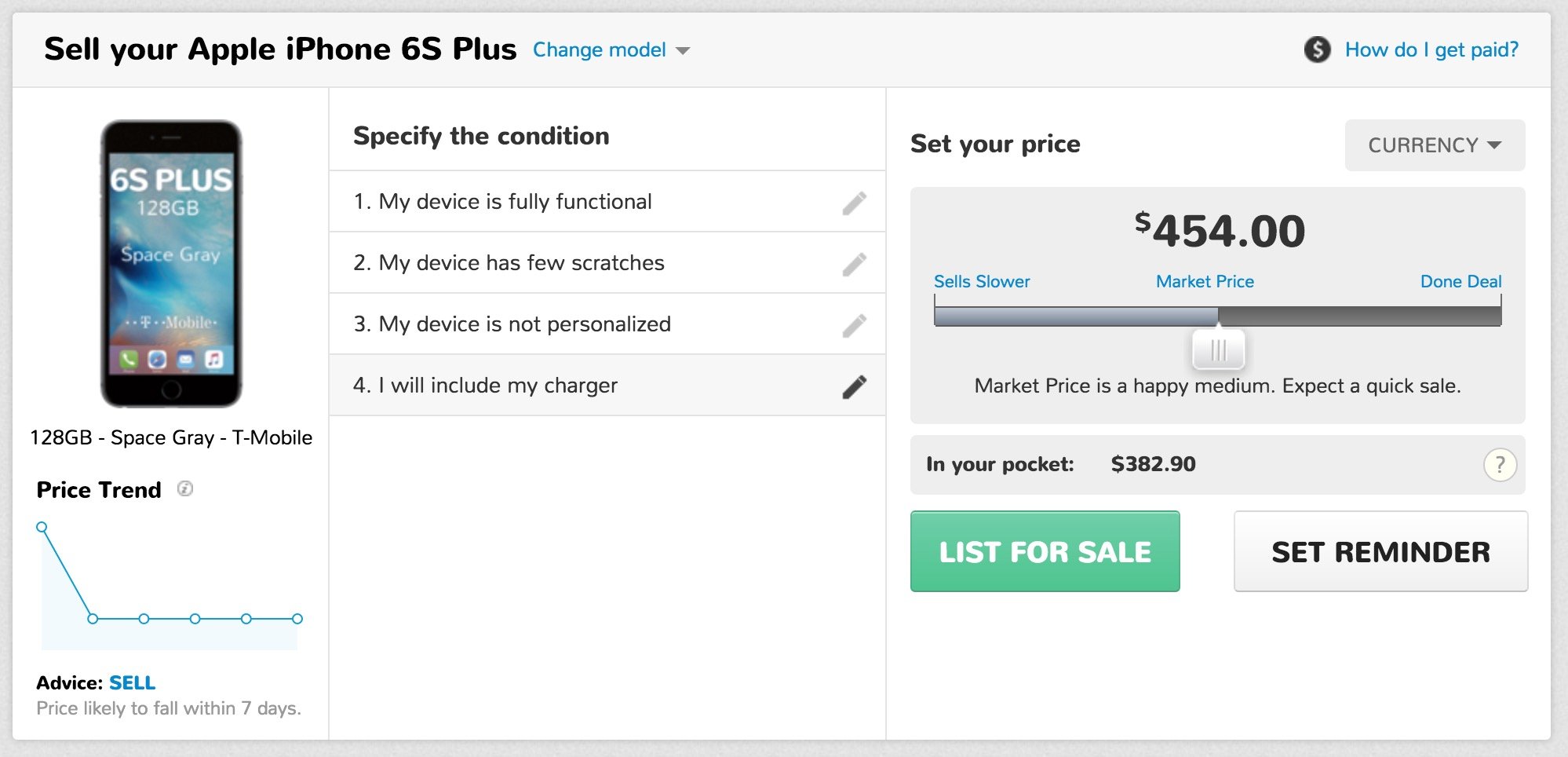 A third trade-in site, Glyde, asks you to choose if your buying or selling. Then the user searches for their phone by name. Select the carrier, storage size and color. Answer a few questions about the phone's condition.
Glyde works differently than the other two sites above. You're won't get the amount shown in bold unless someone buys it for that price. The "In your pocket" price is closer to what you'll make because Glyde takes the cost of mailing the phone in a pre-paid box and a selling fee. It does seem to offer a better price, but it's not as quick and easy as Nextworth and Gazelle.
You can also do trade-in sales on Amazon Trade-in. Also eBay Valet will handle a sale for you and works similarly to the above sites, taking away some of the sales annoyance.
eBay
eBay's the most popular site to sell your own tech. You'll have to create an auction by searching for your phone's model, manufacturer, carrier, size and color. Set a minimum price and choose to either sell it by auction alone or put a Buy It Now price on the auction. If you add a Buy It Now price, a buyer can end the auction and pay what you list as the price. You also have to decide whether you want to charge for shipping, how you will ship it and whether you'll ship internationally or not.
Notice that sold listings on eBay are going for over $500 on average (see the image above).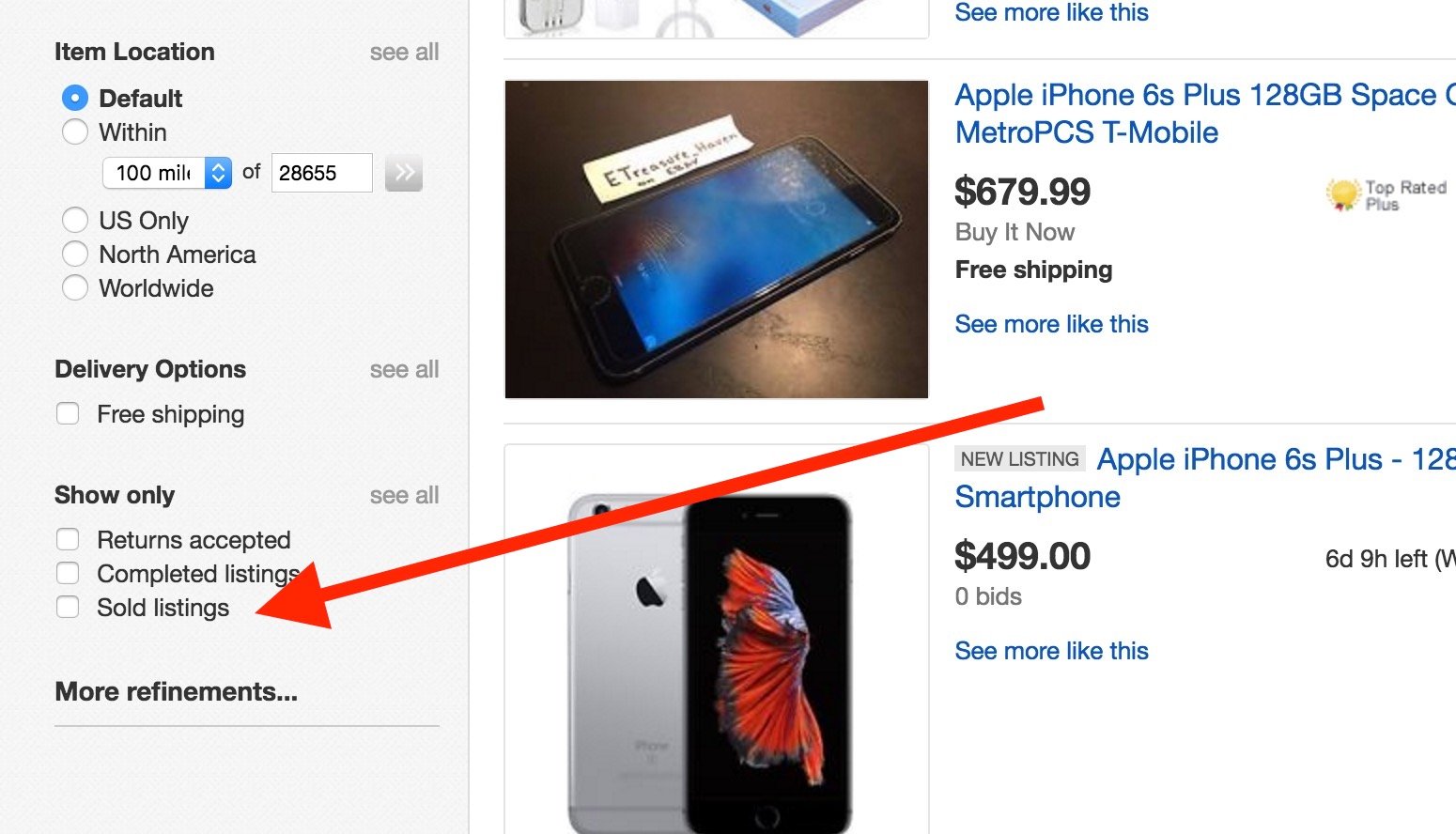 Find this option by doing a search for the model you have and then choose Sold listings along the left towards the bottom of the sidebar. See the above image to see what it looks like. Check it and it shows items that meet your search that sold recently. It shows how much they sold for and when.
Now that you know a good price, follow the instructions for how to post on eBay from their How to start selling FAQ.
craigslist

Craigslist offers another option for selling your old iPhone. You don't have to deal with selling fees or shipping, if you do it the right way. However, you can only sell to local people, which limits the market and drives the potential price down, in theory.
Sign up for an account or log in if you already have one. Choose post to classifieds in the upper left to sell your iPhone on Craigslist. Select for sale by owner and the category, cell phones – by owner. Now you'll need to fill in the form and then write a description. The site requires the items highlighted in green. Fill out the following things:
posting title – give the phone a descriptive title.
price – show a price that's in the average to above average on eBay above using the Sold listing feature, a good way to find your price even if you don't sell on eBay.
specific location – I only put my city and not an address.
make/manufacturer – enter Apple or other manufacturer.
model name/number – enter the model name, color and carrier
size/dimension – enter the storage size.
language of posting – choose your language.
condition – show an accurate description. Don't exaggerate.
mobile OS – choose apple iOS unless your selling another kind of phone.
uncheck show image on a map – I don't want people knowing where I live.
uncheck ok for others to contact your…
Fill out the description in the large box and be as detailed and accurate as you can. Click Continue at the bottom of the page. You can then add photos and list the phone. Be ready for email to start pouring in if you did a good job of posting.
I did a search on iPhone 6s Plus 128GB space gray and found a handful of phones in my area for between $575 and $650.
When you sell on Craigslist you should never ship the phone. You WILL get scammed if you do. Also, meet in a public place to make the exchange and only accept cash. Be safe and be accurate with your description. I've sold a few phones on Craigslist without any real issues. I prefer Craigslist to eBay or Swappa, but sometimes my devices don't sell for a decent price and I'm forced to go with eBay, my second choice.
Swappa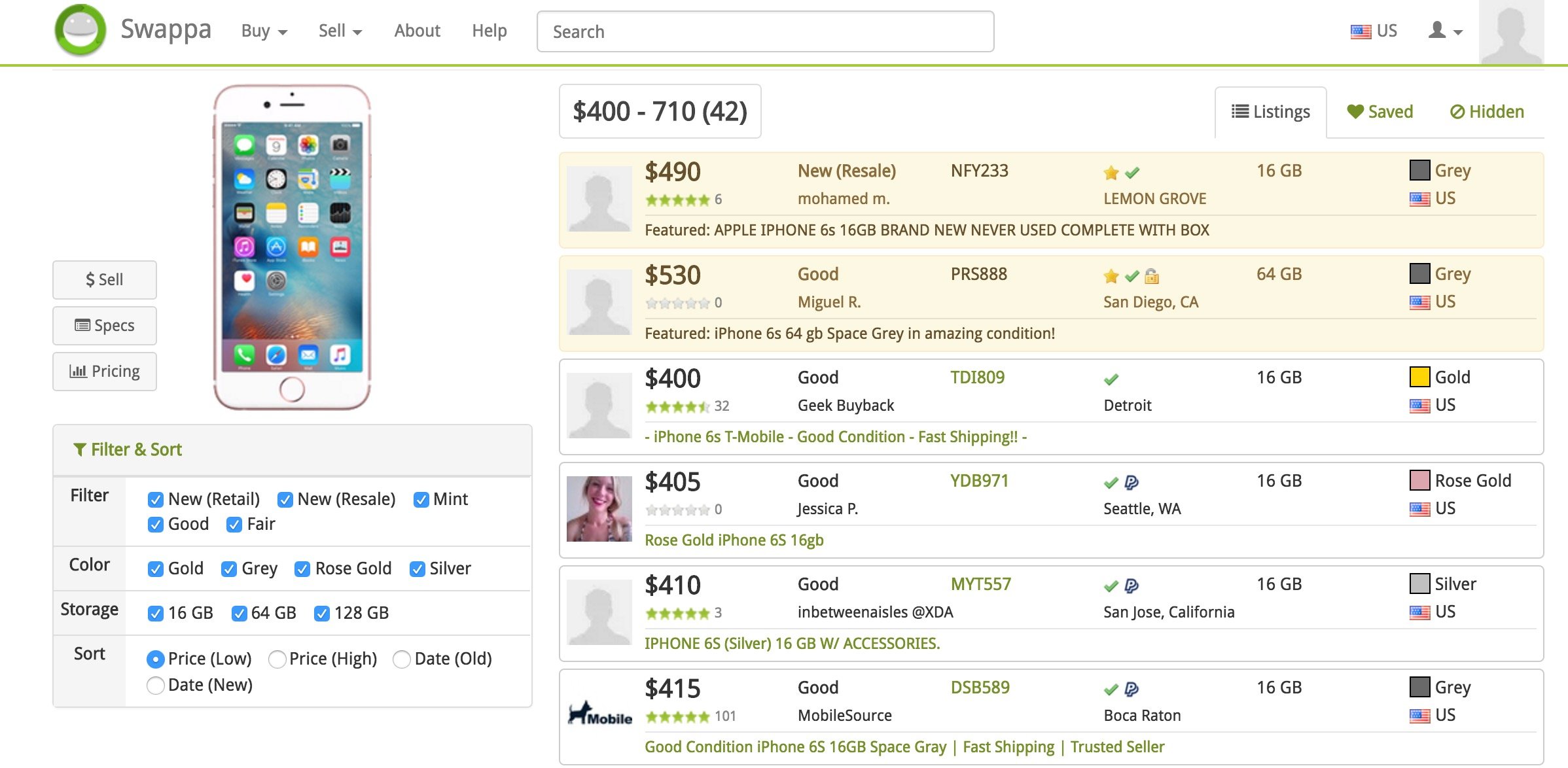 Swappa's an upcoming seller site. You can search for the phone you want to sell or select Sell from the top of the page and then choose the phone you want to sell on the resulting page, if it's shown. Otherwise search for your phone in the search box at the top.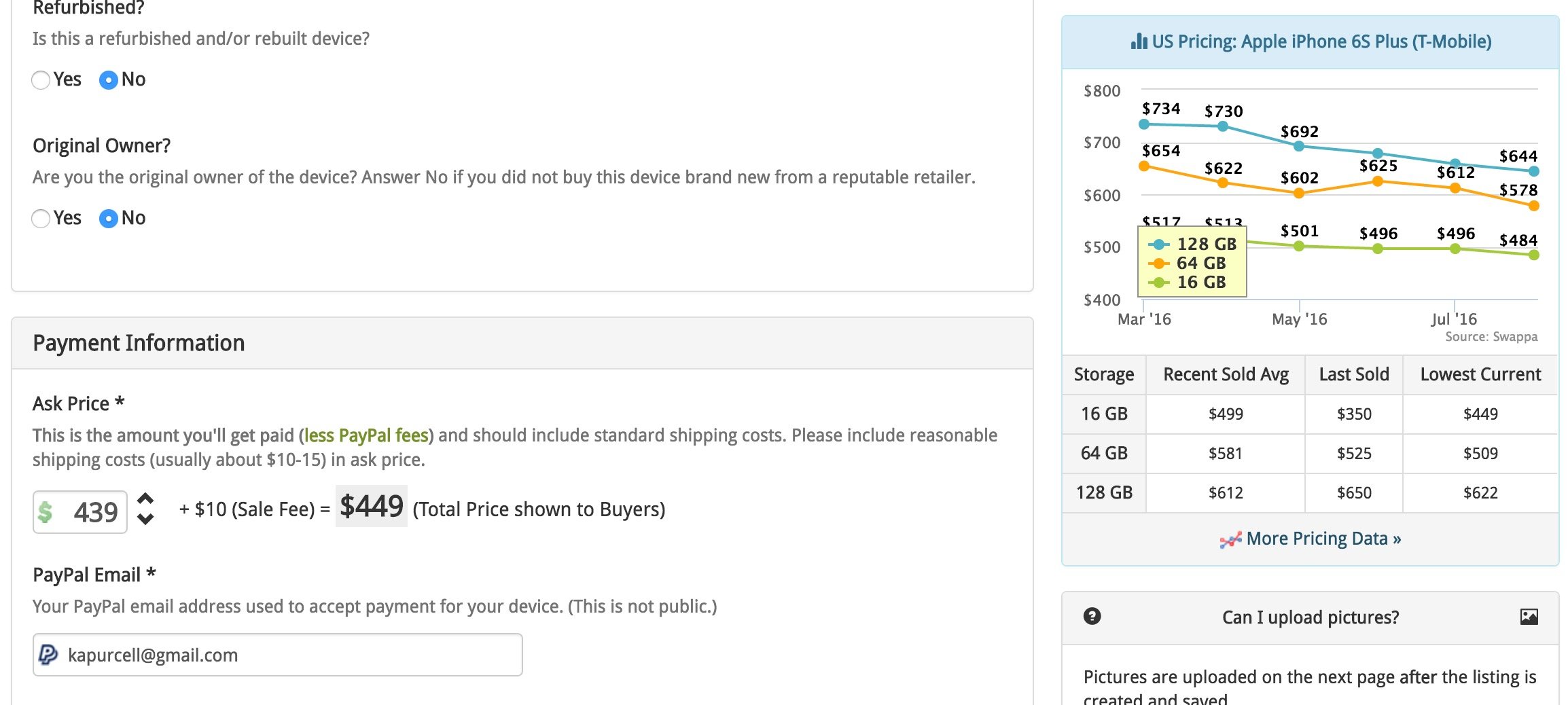 Click the button to Sell the phone. It's a large green button on the right center part of the page. Fill out the form as well and accurately as you can. It shows that the average sale price for recent phones of my kind brings in $449. They also show a graph to let you see the trends.
Amazon Reseller
You can also sell on Amazon Seller Central. You have to sign up for an account and listing items can get complicated. There's no time frame like eBay. It's more like Swappa where you set a price and wait for someone to pay that price.
Conclusion
If you want the most money, start with Craigslist and then move over to eBay, Swappa or Glyde depending on whether you want an auction or a straight sale where you set a price and wait for a buyer. If you don't want to bother with all the mess of selling yourself, then sell your iPhone on Gazelle. That's where we got the best price when we checked the various trade-in sites.