How to Send Google Maps Directions to Your iPhone from Mac
Google rolled out an update for Google Maps that now allows users to send directions from their computer to their iPhone. Here's how to do.
One of the big features of Apple Maps is that Mac users could fire up the desktop app, get directions, and then send them to their iPhone. Personally, that was one of the only things that I used Apple Maps for. Any other time I would use Google Maps, but for desktop-to-iPhone directions, Apple Maps was the only service that had such a feature before today.
Google has now jumped on board with the same offering, providing iPhone users the ability to go online on their desktop or laptop, get directions, and then send them over to their iPhone, thanks to the app's latest update.
This is extremely helpful and can come in handy in a variety of situations. Plus, it's simply just easier and quicker to get directions on a computer, especially if you want to look around on the map in the web browser. You can do this on your iPhone, but having a bigger screen, a mouse, and a keyboard makes the task way easier to accomplish.
However, once you find directions on your computer, Google Maps lets you send them over to your iPhone, and from there you can go mobile and be on your way. Here's how to send Google Maps directions to your iPhone from your Mac or other computer.
Enable Notifications in Google Maps
First off, the one thing you need to do in order for this new feature to work is to enable notifications for Google Maps. The reason for this is that when you send directions from your computer to your iPhone, you'll receive them on your iPhone via a push notification, which is why you'll need notifications enabled. Otherwise, the feature won't work.
After you update the Google Maps app on your iPhone and fire it up, you should see a message like the one above, which will allow you to quickly and easily enable notifications, as well as the send-directions-to-iPhone feature.
If you don't get that orange-colored screen, you'll have to go into the Google Maps settings on your iPhone, as well as in the Settings apps, to enable it.
First off, open up the Settings app from your home screen and select Notifications. Find Google Maps in the list and tap on it. From there, enable Allow Notifications and adjust any of the other settings to your liking.
Now, go back into the Google Maps app and click on the Menu button in the upper-left corner of the screen. Then select Settings and tap on Notifications. From there, make sure that Sent from desktop maps is turned on.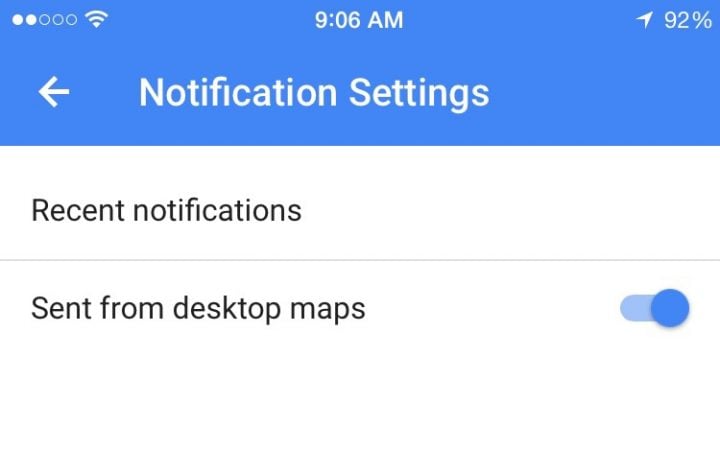 Lastly, you'll want to make sure that you're signed into your Google account in both the Google Maps iPhone app and in Google Maps in the desktop web browser. At that point, you're good to go.
Sending Google Maps Directions to iPhone
Sending directions from your Mac to your iPhone is as easy as clicking one button. You don't even have to actually get directions. All you have to do is type in the place that you're heading to and once the information card pops up in the upper-left corner, there will be an option that says Send to device.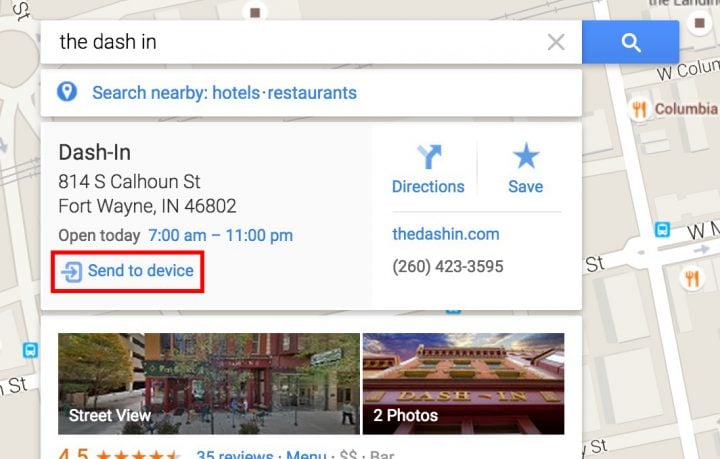 A new pop-up window will appear and your device should show up in the list. Click on it and you will receive a push notification from Google Maps on your iPhone.
From there, you can open up Google Maps and get directions to your destination.
Granted, Google Maps does come with Voice Search, which makes it surprisingly quick and easy to get directions to somewhere without having to type in a single word, but if you need to a bit of maps research before you head out onto the road, playing around with Google Maps on your computer is the easiest way to do so.
Then, once you get a lay of the land, you can send directions over to your iPhone quickly and easily.
Again, Apple Maps has this functionality, and it was one of the only reasons why I would used Apple Maps anyway, but now that Google Maps comes with this feature, I really see no reason to use Apple Maps in the future. Unless Apple pumps up the maps data for its Maps app considerably, I feel that Google Maps will always be the superior traveling app to have on my iPhone.
Apple is stepping it up, though, as iOS 9 will come with transit directions in Apple Maps, which is one feature that the app has been seriously lacking for some time now, and the company will even launch a Street View-like service in Apple Maps eventually, which was confirmed at WWDC this week. It's only a matter of time before Apple Maps becomes a powerhouse just like Google Maps, but until then, Google Maps seems to be the superior service.

As an Amazon Associate I earn from qualifying purchases.