Barnes and Noble Makes Nook Books and Apps Giftable
Finally! Only two weeks before Christmas Barnes and Noble finally gives gift givers what they need: the ability to gift Nook books and apps.
You can't delay delivery of said content until a later date, so you still have the slight inconvenience of buying right on the day of to maintain the surprise. Still, they're finally competitive with Amazon on this front.
Actually, B&N is better since there's still no way to directly gift apps from the Amazon App Store as yet. To gift an eBook just go to the product page and look for the Nook price, then click Buy as a Gift under the Buy Now button.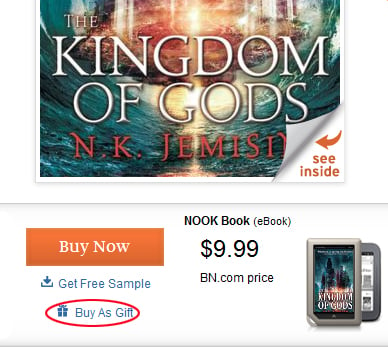 You'll need to know the email address associated with the recipient's B&N account. If you don't know it, you can send the book to any email account and the bookseller will help them apply it correctly or walk them through creating a free account.
Now that users can browse Nook Apps via B&N's website (much easier than one the Nook Tablet or Color right now), you can also buy apps as gifts, too. Same deal, just click the Buy as a Gift icon below Buy Now to get started.
The giftee will get a notification via email of the eBook or app. They can download them on any compatible device from the Nook Simple Touch to the Nook Tablet to the Nook app on other devices. Apps only work on the Nook tablet or Nook Color, though.
If you don't know which apps or books the Nook-lover in your life would like, you can give a B&N gift card, which they can now apply right from their devices.

As an Amazon Associate I earn from qualifying purchases.