How to Set Up Android Wear for iPhone
Android Wear for iPhone came out for iOS and that makes it possible to connect an Android Wear smartwatch with an iPhone.
Here are the steps to connect your Android Wear watch with an iPhone, iPad or iPod Touch.
Before spending money on an Android Wear Watch like the officially supported Huawei Watch, the Asus ZenWatch 2, and the LG Watch Urbane or an older unsupported watch, understand some things.
Android Wear for iPhone offers doesn't do all that the Apple Watch can do nor can it do as much as it does with an Android phone. You'll get notifications from iOS on the watch, Google cards, Google Fit support, watch faces, and interact with Gmail and Google Calendar. I tested it with a Samsung Gear Live but it's not officially supported so it does even less.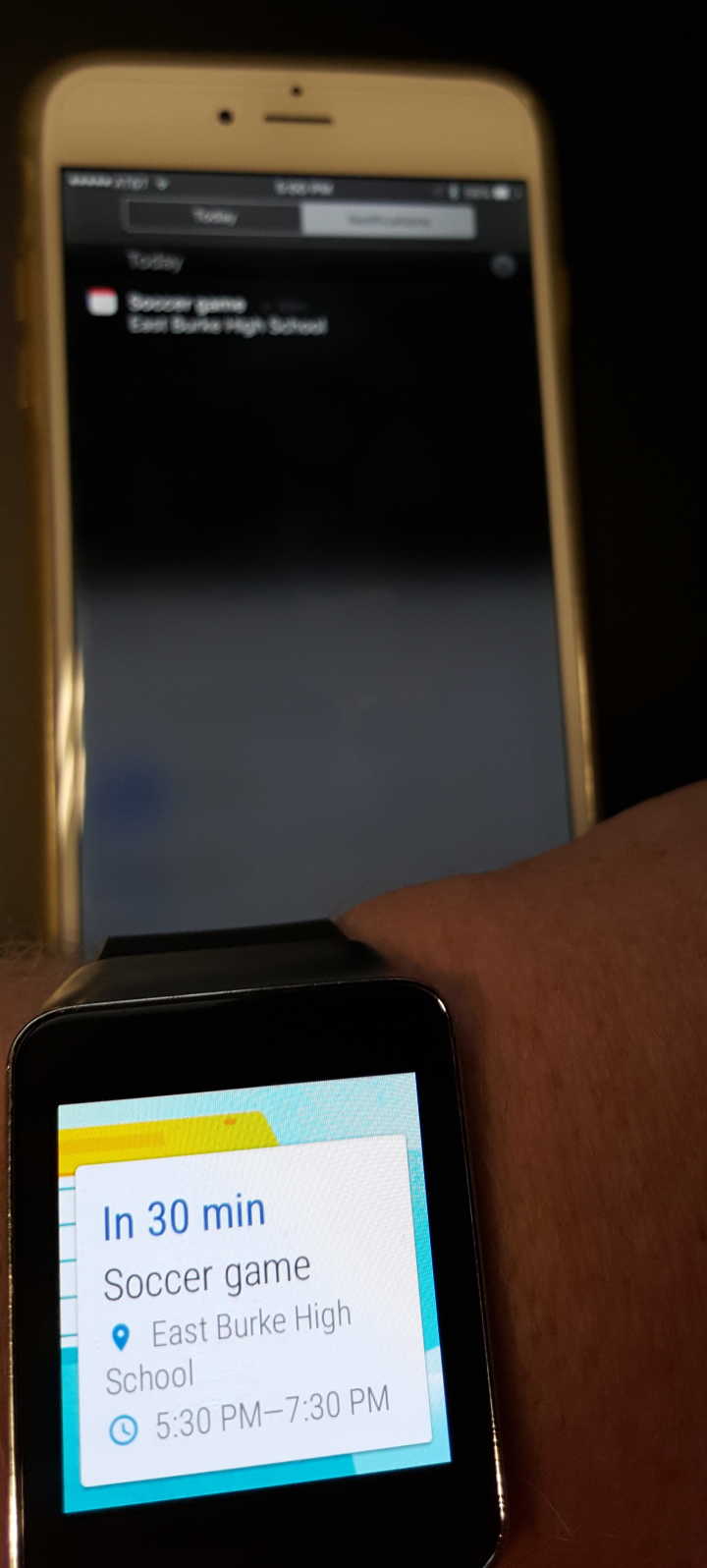 Anything that shows up as a notification in the notification center on iOS 8.2 or later will show up as a notification card on the watch, even on unsupported watches like mine. Not very many apps integrate Android Wear interactivity into their iOS apps. When a user gets a call, they only see that there's a call and caller ID info. The person can't reject or answer it on the watch like the person can with an Android Wear watch paired with an Android Phone or an Apple Watch connected to an iPhone.
Start with a Fresh Android Wear Watch
Most people who own an Android Wear Smartwatch likely paired it with an Android smartphone. To pair with an iPhone the user needs to reset the Android Wear Smartwatch.
Hold down the side button on the Android Wear watch until the menu pops up.
Scroll down till you see Settings and tap it.
Scroll down again till you see Factory reset and tap it.
Tap the green circle with a check mark in it and wait for the watch to erase and restart.
This will restore the watch to the state it came in and ready to pair with an iPhone. It can take a few minutes to restore.
Set Up Android Wear for iPhone
Now it's time to pair the Android Wear watch with iPhone. The watch boots up to a welcome screen after doing a factory reset.
Slide towards the left and select English (United States).
Install Android Wear on the iPhone from the App Store (Free).
Launch the app and tap the arrow to start.
Tap Accept to let Google Fit use and store sensor data or tap NO THANKS if you don't want to let it.
Select the name of the Android Wear Watch. If it doesn't show up, make sure that the iPhone's Bluetooth is turned on.
Look at the watch and enter the code on the watch's screen into the app on the iPhone (see image below) and tap on Pair.
Let the app update the watch which takes about a minute or more if needed.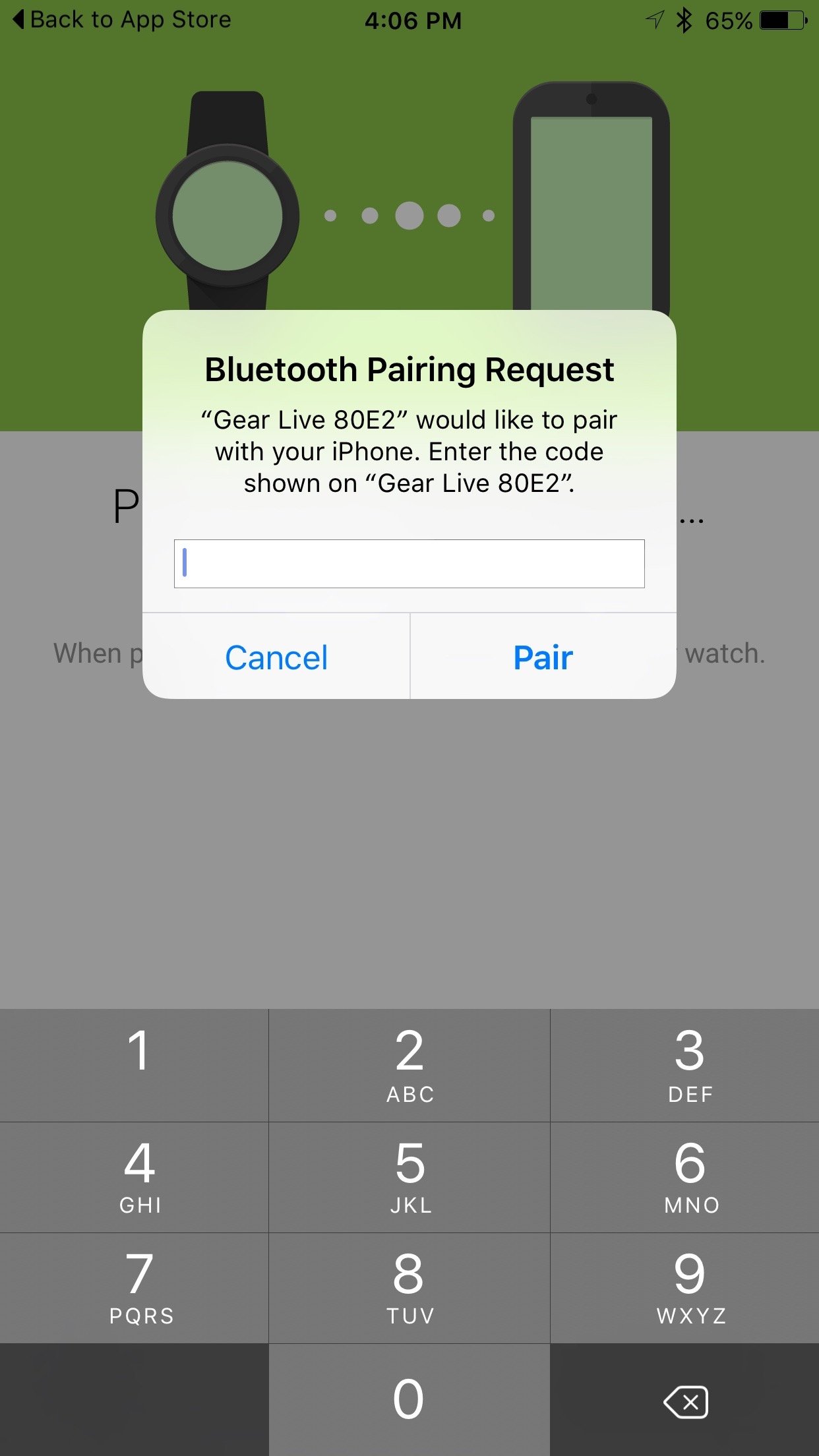 Setting Things Up the First Time in Android Wear for iPhone
After the above steps, the watch takes the user through some tutorial steps showing how to use Android Wear. Follow the onscreen instructions to learn about swiping to use the different parts of the Android Wear watch operating system and how to dim the screen by holding a palm over the screen. The user can also skip this if she already knows how to use Android Wear.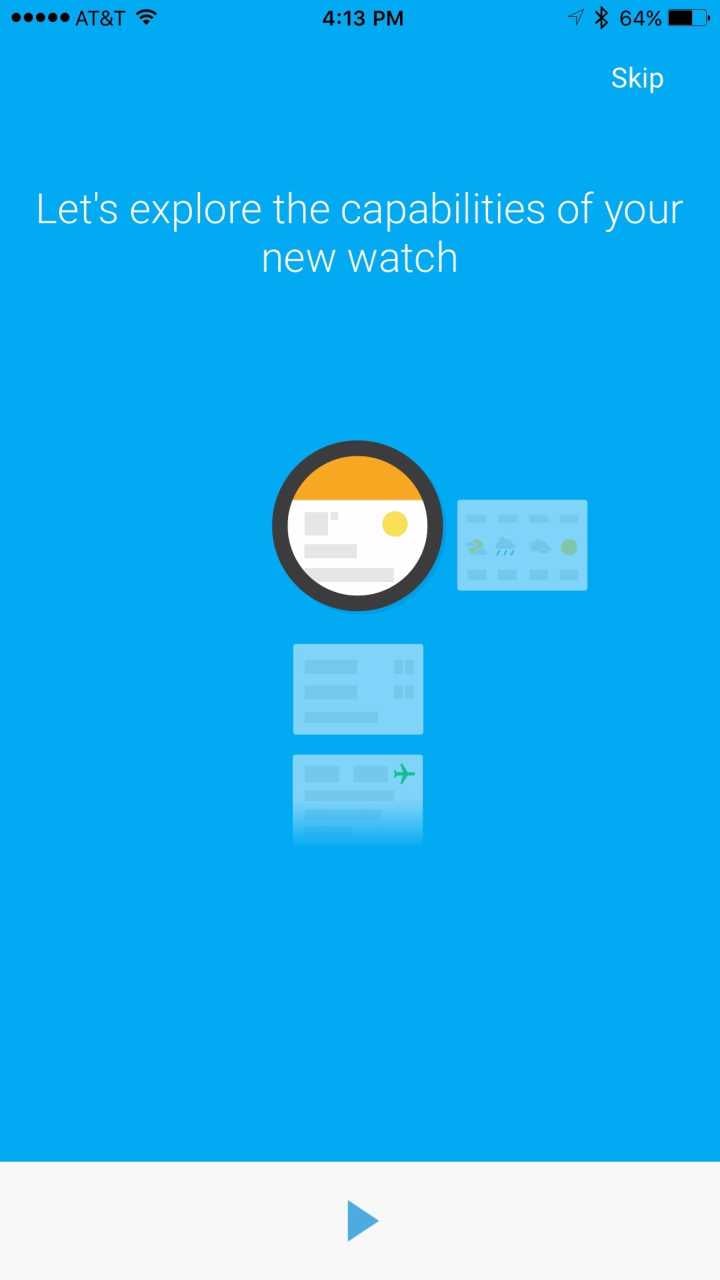 On the Android Wear for iPhone app there's a brief tutorial. Play it using the play button at the bottom of the screen. Or skip it using the Skip button at the top right (see above).
Choose to continue and select your Google email address. This step works best if the phone's already configured to use Gmail.
A box pops up asking for permission to use and store location data for traffic and such. It also asks to "Use your synced calendars, Gmail, Chrome and Google data for reminders and suggestions." Choose either NO THANKS or YES I'M IN on these screens. I recommend the latter since the Android Wear watch won't do much without these permissions enabled.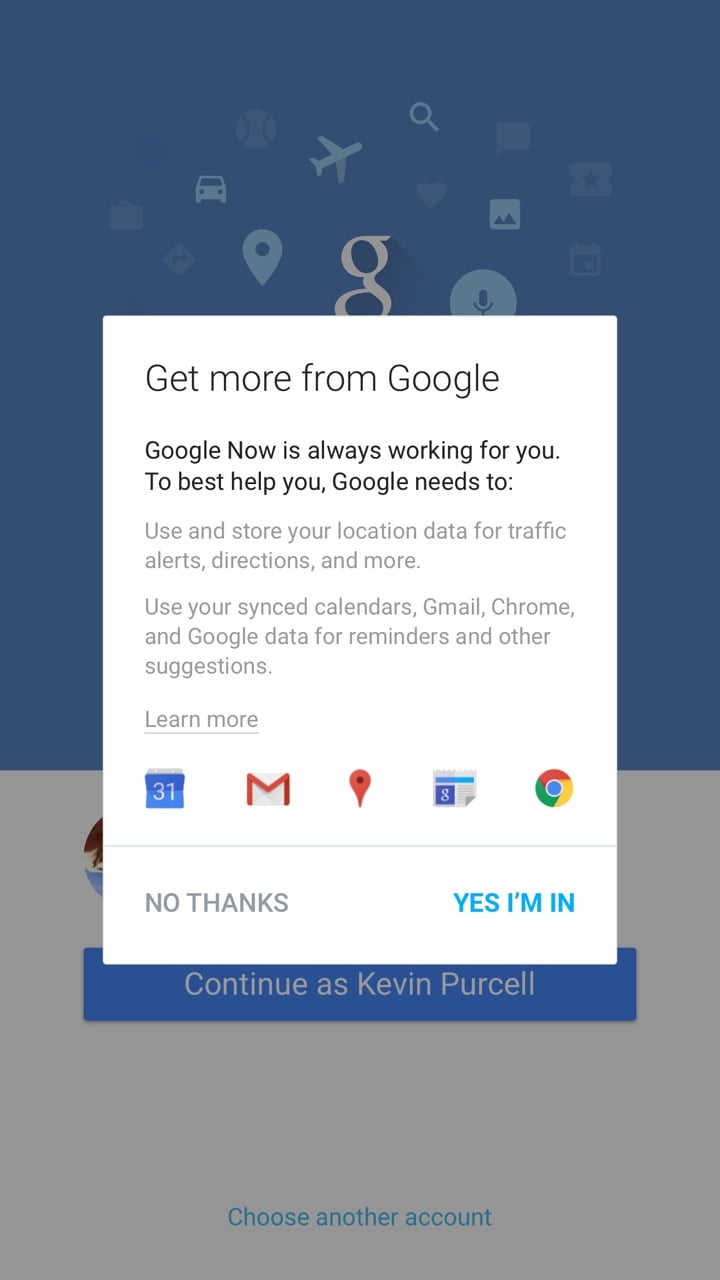 Follow the remaining steps on the screen letting the app access the various features on the iPhone including location data, notifications, calendar, email, and more. After these steps the app ends up on the main Android Wear screen (see screenshot below).
At the bottom of the main screen in Android Wear there's an option to turn on replying to Gmail on the watch. Choose either EMAIL CARD SETTINGS for more detailed control of this function or tap GOT IT to just use the default settings. This lets the user reply to Gmail via voice dictation on the watch. Now the Android Wear should work with the iPhone so long as it runs iOS 8.2 or later.
Key Settings to Change
Here a few Android Wear for iPhone settings most users will want to change or configure right away.
To change settings tap on the gear icon in the upper right corner of the Android Wear main screen. This shows the user's Gmail address/account. Under it there's a Google Now item. Tap this to change some of the Google Now settings. All of the items get set to ON by default. Turn any off if you don't want to see notifications for these items on the Android Wear watch.
The next section changes watch settings. The Always on screen setting tells the watch to always show a watch face on the watch. It might look dim compared to the chosen watch face, but you can still see it. To save battery life, turn this off.
The Tilt to wake setting turns on the face of the watch when the person tilts their wrist. Turn this off if you prefer to tap the button on the side or on the screen to show the watch face.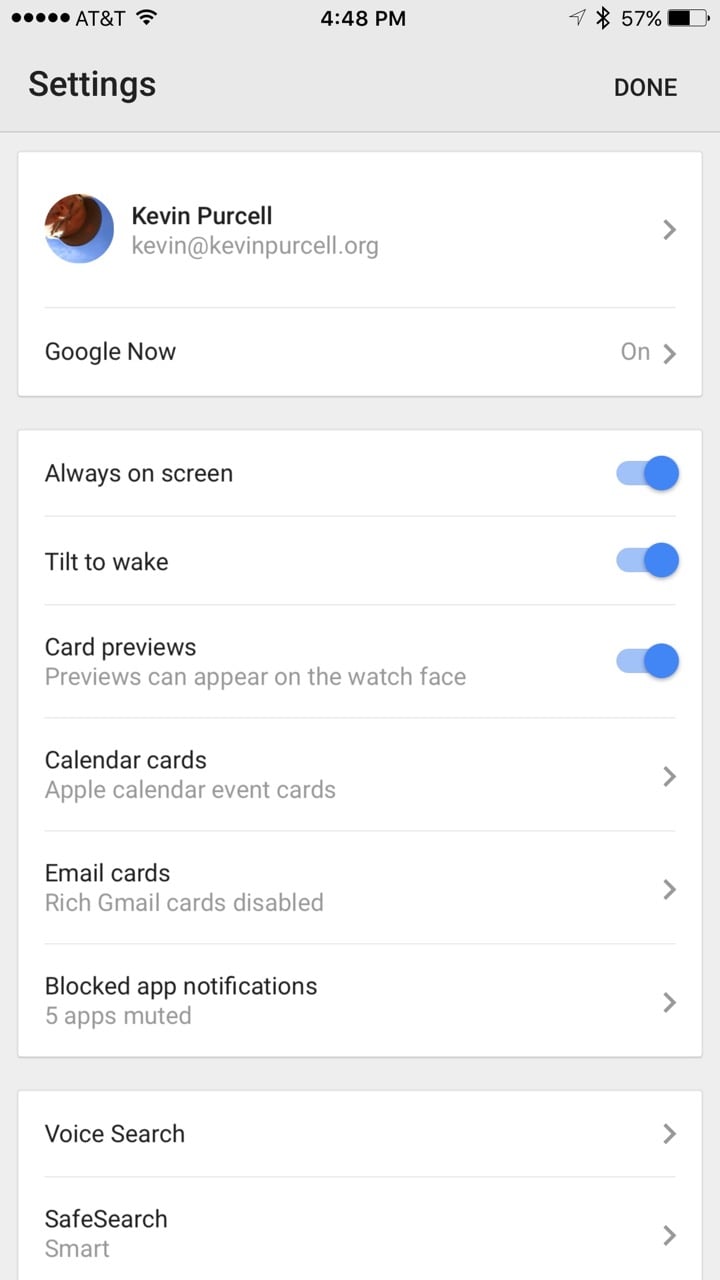 Other settings include:
Calendar Cards – choose which app to show calendar cards between Google calendar if it's installed or Apple calendar. Choose No calendar to turn this off.
Email Cards – Turn this on to use what's called Rich Gmail cards. This adds the option to reply to cards and view email or archive a message from the watch.
Blocked app notifications – Some people don't want certain app notifications to show up on their watch. Turn these blocked notifications on or off from this section. Or add apps not listed to block their notifications on the watch.
Voice Search – choose a voice search langauge.
SafeSearch – choose Smart or Strict safe searching to avoid seeing adult content in OK GOOGLE searches.
Feedback – give Google feedback about the app.
Help – learn more about the app's functions.
About – show key information about the app.
First Impressions
Don't go out and buy an Android watch if you're already an iPhone owner. Nor should an Android Wear owner go buy an iPhone just to use it with the watch. The first iteration of Android Wear for iPhone offers little more than notifications and the most basic forms of those and few available Android Wear watches fully work with iPhone. As one might expect. Using an Android phone with an Android Wear watch or an Apple Watch with an iPhone gives the user the best smartwatch/smartphone experience.
So who should use Android Wear for iPhone?
An Android Wear watch owner who wants to replace their Android phone with an iPhone but doesn't want to give up a smartwatch and can't afford an Apple Watch.
An iPhone owner who can't afford to pay $350 to $400 or doesn't want to pay that much at least for an Apple Watch and only cares about basic notifications. Grab a cheaper Android Wear watch like the Samsung Gear Live or Moto 360 knowing they don't include some of the advanced features like advanced watch faces or other app integrations.
People who like Android Wear a lot but also prefer the iPhone to an Android phone.
It's hard to imagine many people fitting these three categories. Android Wear feels like a short-term option until a person can afford to replace their Android Wear watch with an Apple Watch or replace their iPhone with a Android phone.

This article may contain affiliate links. Click here for more details.