How to Set Up Google Maps Shortcuts on iPhone
If you want to save time getting directions, here's how to set up Google Maps shortcuts on your iPhone.
There are a handful of places around town that you probably visit fairly often, or you might visit your parents or a friend's house frequently. While you most likely know their address and where they live, sometimes you need directions to these places if you're coming from a different part of town.
It's almost a given that you know how to get to certain places from your house, but if you make your way to the store and then plan to go to a friend's house afterward, you might not know exactly the best way to get there.
This, of course, is where Google Maps can come in handy. Just type in the address and you'll get turn-by-turn directions from your current location.
However, what if you could just press a button and directions to a specific location would automatically pop up without having to type anything in? Sounds pretty cool, right? Well, it's actually possible to do on the iPhone with the help of another app.
If Google Maps shortcuts sound like your cup of tea, here's how to create and set up Google Maps shortcuts on your iPhone.
Launch Center Pro
You may have heard of Launch Center Pro before, as we've talked about in the past. It's essentially an iPhone app that acts as a launcher and can provide shortcuts for apps and even execute different tasks.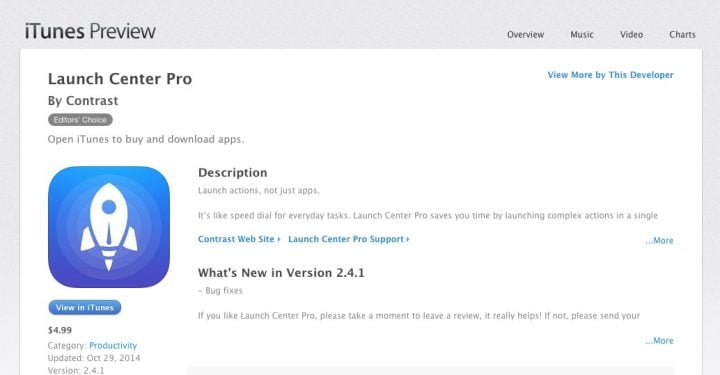 Opening it up will reveal a grid of shortcuts that you can customize to your liking. At the surface, it just looks like an app that allows you to launch other apps or other smaller features like the iPhone flashlight and such, but it can do so much more than that.
It can also provide Google Maps shortcuts, so before we can go any further, you'll want to download Launch Center Pro to your iPhone. It costs $4.99, but it's well worth it, especially considering that you can use it for so much.
Getting Google Maps Directions Quick
Once you have Launch Center Pro installed and ready to go, fire up the app and you can now begin to create new shortcuts. Here's how to set up Google Maps shortcuts on your iPhone.
First, start by tapping on the pencil icon in the top-right corner of Launch Center Pro and then select any of the boxes with a plus icon. From there, you'll see a pop-up where you'll choose Group or Action. A Group is a group of actions nested in a folder of sorts, but for this we'll just select Action.
Next, tap on Action Composer and then select Installed Apps. Find Google Maps in the list and tap on it.
Another list will appear where you'll then select Driving Directions. Give it a name, which would be the place that you're getting directions to. In the Start text field, type in "My Location," which will tell Google to begin the directions at your current location, wherever you are. Finally, in the End text field, type in the address of the place you want to get directions to.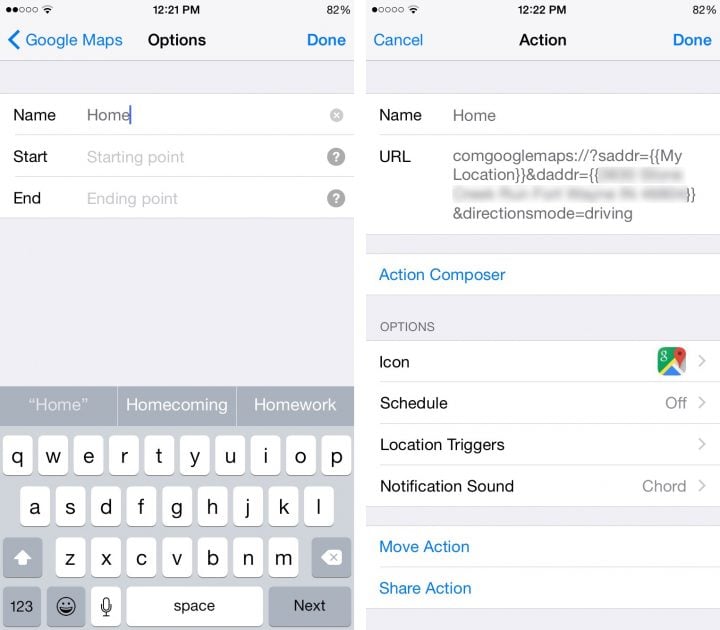 Tap on Done in the upper-right corner  and then tap Done again on the next page. Your Google Maps shortcut that you just created will now appear in the grid of other shortcuts. Tap on Done a final time to exit Edit Mode and begin using Launch Center Pro again.
From now on, you can simply open up Launch Center Pro and tap on a Google Maps shortcut to get instant directions.
Other Useful Launch Center Pro Shortcuts
Daily Routines: If you do a lot of the same thing on your iPhone when you go workout (for example), you can create a group of actions that consist of things like opening up a specific music playlist and enabling Do Not Disturb so that you can focus on your workout.
Shortcuts for Favorite Contacts: If you have a small group of close friends and family that you text or call regularly, you can set up a group of actions that can allow you to instantly call a specific contact without having to open up the Phone and finding the person in your contacts list.
Quickly Tweet a Photo: No matter what Twitter app you use on your iPhone, tweeting out a photo isn't really the quickest thing to do. However, Launch Center Pro lets you set up an action that can open up a Twitter app and instantly asks you for a photo to upload and tweet out.
Bookmark Favorite Websites: If there are a few websites that you visit often on your iPhone, why not set up bookmarks for those websites in Launch Center Pro? No need to open up Safari and find the bookmark in your bookmarks folder.
These are just a few examples of what Launch Center Pro can do, and the only true way to unlock the app's full potential is by digging deep into the settings and experimenting with different actions.
After all, it's the type of app that can provide a lot of convenience, but only if you're willing to put the effort in to learning all about its potential.