How to Set up the iOS 9 News App
iOS 9 was released last week for iPhone and iPad users, and it comes with a new app called News. Here's how to set it up.
With each new big version of iOS, there's usually one or two new apps that Apple introduces, and this time around it's News, which is a Flipboard-like news app that gives you all the news you could ever want in one place. It's essentially a digital newspaper, but instead of it being just one news outlet, the app curates articles from all sorts of different news sources.
You can get news on politics, business, sports, entertainment, and more, as well as personalize the app to only give you the types of news that you ask for. In fact, that's what the News app focuses on.
Apple News provides you only with news that you care about, so if you're not really interested in politics, you can tell the app to not show you news that deal with politics, but if you're a big sports fan, you can customize the app to give you all sorts of sports news.
The app comes stock with iOS 9, so if you're interested in trying it out, here's how to set up the iOS 9 News app.
How to Set Up iOS 9 News
Apple is looking to take on the likes of Flipboard and other news curators in the iOS field, which is a heavy task to accomplish, especially since Apple is entering the game a bit late, but the Cupertino-based company is hoping that the integration that the News app has with iOS will win users over.
To set up the News app in iOS 9, the process is fairly simple and there's very little that you have to do.
First off, you'll be greeted with the welcome screen where you'll tap on Get Started to begin setting up News.
The next will have you select some of your favorite sources for news, which offers a lot of variety and even includes generic types of news like "Baseball," "Basketball," "Football," etc. if you like sports.
You can scroll down almost infinitely and select as many as you want, but when you're done, just hit Continue at the bottom of the screen.
If you'd like to receive a news roundup from the app delivered to your email, the next screen is where you can set this up. Otherwise, tap Not Now to continue on.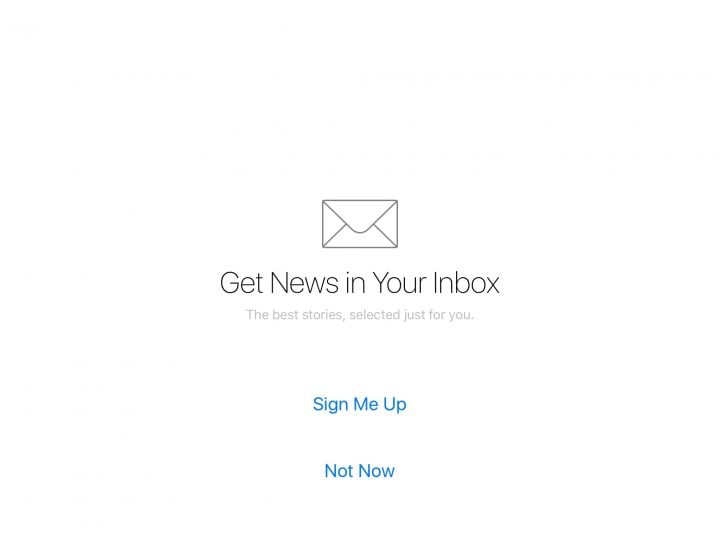 After that, you'll be greeted with the News app and will see news stories laid out with an image-heavy focus. You'll only see articles based on your favorite selections that you picked out earlier.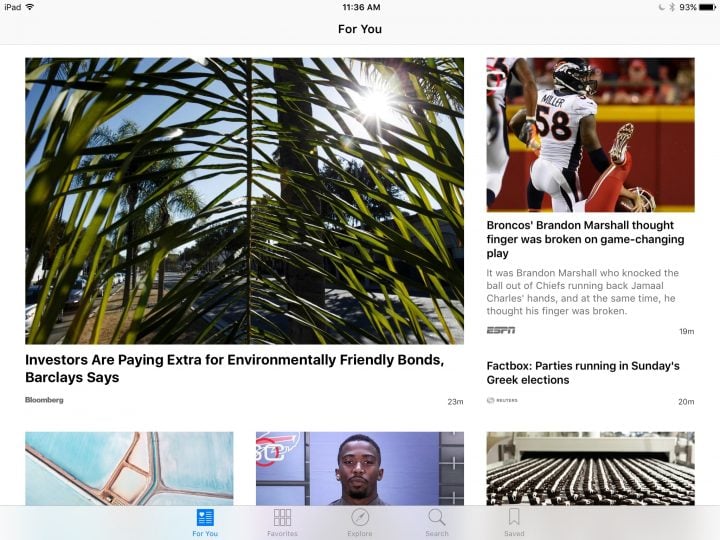 You can also edit your favorites by tapping on the Favorites tab at the bottom and selecting Edit in the top-right corner of the screen. The Favorites tab will show you all of the sources that you've personally selected.
The Explore tab will allow you explore other news sources and categories. This is where you can add more news sources to your favorites in order to have them appear on your main feed.
The Search tab lets you search for particular articles or news sources, so if I wanted to find articles that deal with the Chicago White Sox, I can type that into the search bar and get some relevant results back.
Lastly, the Saved tab is where all of the articles appear that you've saved, either to read later or to refer back to in the future. This is also where you can view your history and see all of the articles that you've ever read, which can come in handy if you need to refer back to an article, but can't quite remember what it said exactly.
That's all there is to with the News app. It's a simple app that isn't complicated to use at all, which could make it one of the better news apps for the iPhone, but we'll have to wait and see what becomes of it after a few months.

This article may contain affiliate links. Click here for more details.