How to Set Up iPhone WiFi Backups on a Mac
Many users neglect to back up their iPhones, which is just asking for trouble. Backing up an iPhone to a Mac is easier than ever thanks to WiFi Backup. There are advantages to using WiFi backup compared to iCloud backup and setup takes just a couple of minutes. 
WiFi Backups work whenever your iPhone and Mac are both on the same WiFi network. This is more convenient than plugging the iPhone directly into the computer.
WiFi Backups do take longer to complete than plugging in the iPhone, but they can work overnight without the user noticing. This way of backing up will work on battery power, but it will most likely drain your iPhone's battery if it is left unplugged overnight.
On your Mac, open iTunes.
Plug your iPhone into the computer with the USB cable. Select the iPhone in the top right.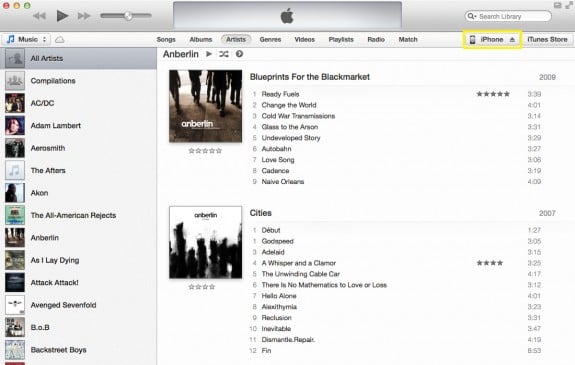 On the next page, scroll down and check the box next to Sync with this iPhone over Wi-Fi. Then select Apply.
After this is done, Eject the iPhone by clicking to the right of the battery indicator.
Go to your iPhone and tap Settings.
Tap General.
Select iTunes Wi-Fi Sync.
iTunes Wi-Fi Sync should find your iTunes library and it is now ready to sync. Plug your iPhone into the wall for power and tap Sync Now.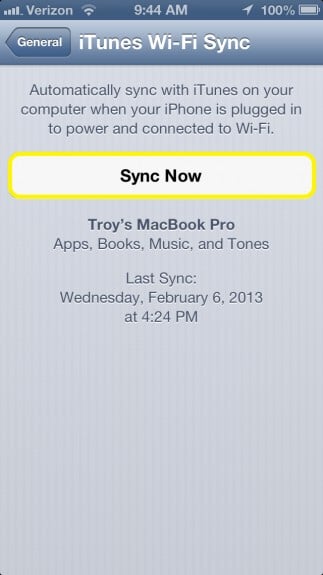 The iPhone will begin the backup process. It should look something like the screen below: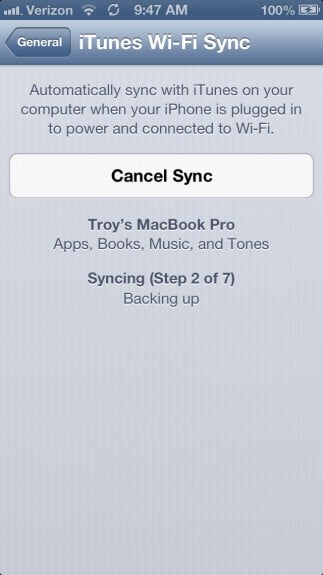 On the Mac, the backup will display like this:
It is important to note that for WiFi backups to work the Mac must be powered on and have iTunes open. After completing the above steps, iTunes will automatically run a backup when you charge your iPhone.
WiFi backups don't work on all school and work networks due to the way that they are designed. This is sometimes set up to prevent network congestion or because networks with a single WiFi identity are actually meshes of several networks that are not directly connected to each other.
Some people prefer backing up their iPhones to iCloud, but there are some limitations. Apple provides 5GB of free iCloud storage, but  charges up to $100 per year for additional storage. Apple also limits additional storage to 50GB, which means those with 64GB iPhones filled to the brim can't run iCloud backups. The additional storage is per iCloud account, which means those with multiple iOS devices will run into these limits much faster. For example, someone with just 2GB of data on an iPhone and 3.1GB of data to back up on an iPad will have to pay for additional storage. Another problem is that it can take a very long time to complete the first iCloud backup and even longer to restore from an iCloud backup should you need to replace your iPhone.

As an Amazon Associate I earn from qualifying purchases.