How to Set Up Parental Controls on Mac
If you have young ones at home and need to set up parental controls on the family Mac, here's how to set it all up.
Parental controls are essential for kids, as it keeps them safe from all of the weird stuff on the internet, as well as keeps them in line so that they're not spending all of their time on the computer. The internet can be pretty addicting, and if you're not careful, you can end up spending hours on Reddit looking at cats and funny memes. Luckily for kids, they have parents to keep them grounded (no pun intended).
OS X has built-in parental controls that are fairly comprehensive and allow parents to limit their kids' computer time and what websites they can visit.
Here's how to set up parental controls on Mac and protect your kids from all of the weird internet stuff.
Setting Up Parental Controls
Parental Controls in OS X is really easy to get to. All you have to do is open up System Preferences and then click Parental Controls. From there, click on the padlock down in the lower-left corner and enter in your admin password to unlock access to parental controls.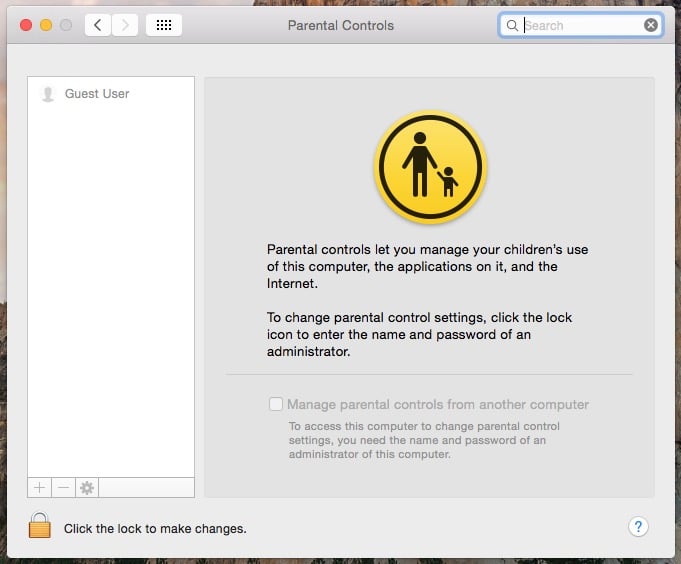 On the left-hand side, there will be a sidebar that lists all of the user accounts that are on your Mac (except for your own). For me, only the Guest account shows up, but I can still set up parental controls for it and limit access to anyone who wants to use my computer.
Simply click on a user account and you can begin setting up and adjusting different parental control options. There are five tabs at the top: Apps, Web, People, Time Limits, and Other. Here's how those different sections break down.
Apps
This section deals with what apps kids have access to and you can also dumb down Finder to make it easier to use for young ones who don't know a lot about OS X.
Parents can choose which apps in the App Store are appropriate to download by selecting an age range in the drop-down menu off the right, and you can limit which apps that your kids have access to by fiddling with the arrows and the checkboxes at the bottom of the window. You can adjust access to App Store apps, as well as other apps that weren't downloaded from the App Store.
You can also limit access to Notification Center widgets and utilities.
Web
The Web tab provides options to limit what websites kids can and can't access.
You can allow unrestricted access to all websites or let Apple try to limit access to adult websites automatically, and if it provides false positives or lets a particular adult website through, you can customize it further and manually enter in websites that made their way through the filter.
You can also allow access to only certain websites that you specify. Apple provides a list of recommended websites for kids, but you can customize this however you'd like.
People
This tab deals with Game Center, emailing, and messaging people. You can block your kids from adding friends on Game Center and joining multiplayer games.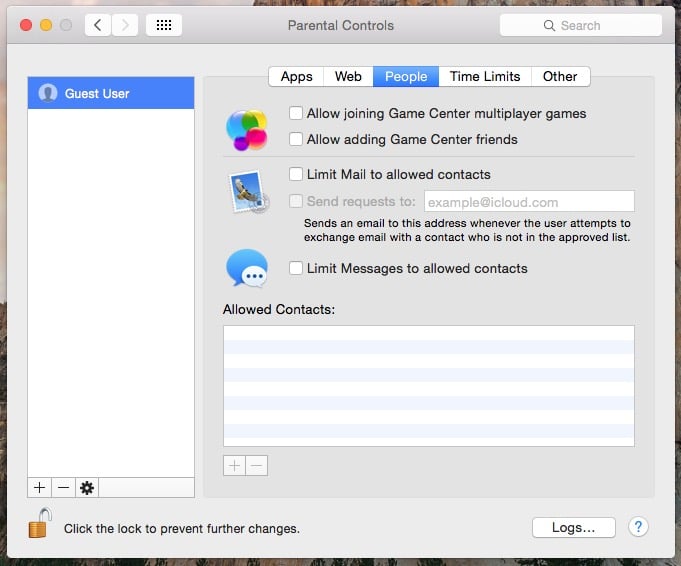 You can also limit kids emailing and messaging other people to a restricted list of approved friends and family that they can email and message through the Mail and Messages apps.
Time Limits
If you don't want your kids spending all of their free time on the computer, this section allow you to set time limits.
You can set time limits for weekdays and weekends separately by specifying how many hours they get on a per-day basis, and when they reach that time limit for the day, they'll be kicked off.
You can also set hours of the day where your kids aren't allowed on the computer at all, such as setting it so that they have to get off the computer by 9pm every night and can't get back on until the morning time.
Other
The last section is Other, which includes some miscellaneous items that you can restrict kids from accessing.
Here you can disable the front-facing camera, dictation, and burning CDs and DVDs. You can also hide profane words in the dictionary and limit printer access, which restricts kids from changing printer settings and such.

As an Amazon Associate I earn from qualifying purchases.