How to Set Up Verizon Personal Hotspot on the New iPad 3rd Gen
If you now have a New iPad with Verizon 4G LTE, then you will want to set up the Personal Hotspot feature. This turns your iPad into a mobile hotspot so that you can share your cellular data connection with up to 5 other people much like you can with a MiFi.
The Personal Hotspot features normally adds to your monthly fee from the wireless carrier, but with the new iPad you get it for free. Let's hope it remains that way and let's hope AT&T adds it soon.
(Read: New iPad Review)
Below I will show you how to turn on your Cellular Data for the first time, if you want to use the month-to-month plan that you can set up right on your iPad. Then I will show you how to turn on the iPad Personal Hotspot feature and secure it.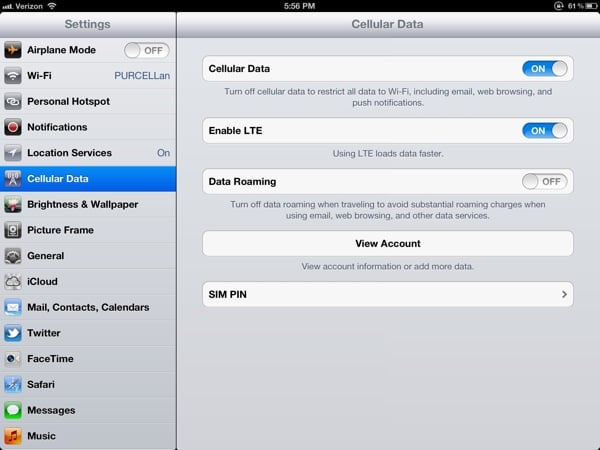 To set things up, you must first go into the Settings App and choose Cellular Data from the list along the left. In that screen choose View Account. This will let you enter your Name, email address, a new password twice to confirm it, and then your credit card data below. Choose the package you want on the next screen.
You can choose between the following:
1GB/month for $20
2GB/month for $30
5GB/month for $50
10GB/month for $80
See Which iPad 4G LTE Plan Is The Best For Me? for advice on picking a plan. I recommend the 2GB for most users. Heavy users can go with 5GB, but few will ever need the 10GB plan unless you stream a lot of video, download a bunch of content or use your iPad all day every day, and don't connect to WiFi.
After you pick your plan, you will see a screen like the one below only asking for your email and password. You can change your plan or add more data to the present month, if you're going over your limit. You will also see your data plan status at the top of  the screen (2nd picture below).
How to Set a Personal Hotspot on the Verizon iPad 4G LTE
In the video below, I show you how to share your iPad's Internet connection with the free personal hotspot feature on the new iPad.
Setting things up on Verizon's end may take a while for this to work. I had to restart my iPad and wait a long time before the Personal Hotspot link in Settings ever showed up. You will see it in the list of Settings pages along the left side of the main Settings app.
Make sure you turn on your iPad Wi-Fi, next to the top of the Settings App list, or this won't work. Now choose Personal Hotspot and turn it ON using the ON/OFF button. Under Wi-Fi Password you can either leave it as the default or change it. I recommend changing it to something you will remember but no one else can guess. Use both letters and numbers. For greater security add some symbols.
Notice that my screenshot below shows I chose "donkeykong213//". That's probably a good password with the numbers and forward slashes, but without them its a terrible password because I used actual words.
It will do some thinking after you hit the Done button on the top right corner. Your Personal Hotspot is now on.
To connect with your Wi-Fi device, go into your Wi-Fi settings and choose your iPad, identified by your iPad's name. As you can see from the screenshot of my iPhone's Wi-Fi page my iPad uses the name Kevin's New iPad.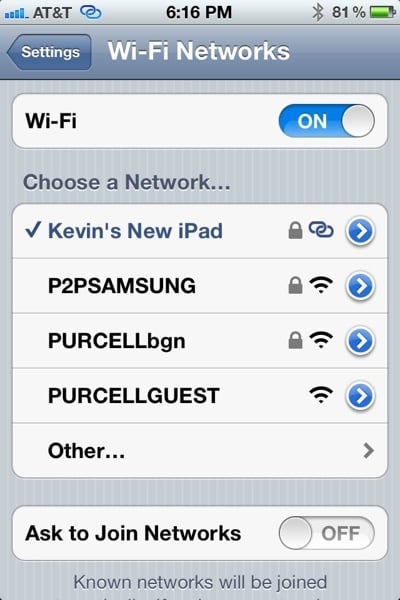 When you turn the Personal Hotspot feature on in Settings and someone connects to your iPad, then three things will happen. First, your status bar at the top turns blue and shows that someone connected. Second, your iPad disconnects itself from Wi-Fi so that other devices may use the Wi-Fi instead. Third, your battery will likely drain a little faster, so only turn it on when you need it. This is also safer since people can't access and try to crack your password.
Have any questions about setting up or using the personal hotspot on your new iPad? Let us know in the comments/

As an Amazon Associate I earn from qualifying purchases.