How to Set Up Your Apple TV the Easy Way
The Apple TV has been around for a long time, but that doesn't mean nothing has changed about the little set-top box. With iOS 7, users can automatically set up their Apple TV using an iPhone, iPad or iPod Touch over Bluetooth.
If you have a third-generation Apple TV and an iOS device that runs iOS 7 (although it has to be an iPhone 4s or newer, third-generation iPad or newer, iPad mini, or fifth-generation iPod Touch), you can set up your Apple TV the easy way without having to navigate through on-screen menus manually.
The Apple TV allows you to watch TV shows and movies from various streaming services like Netflix, Hulu Plus, HBO Go, and even live sports if you have separate subscriptions for them. You can also purchase or rent content and watch it right away without any roadblocks. Users can also access their iTunes library from other computers if they have Home Sharing enabled.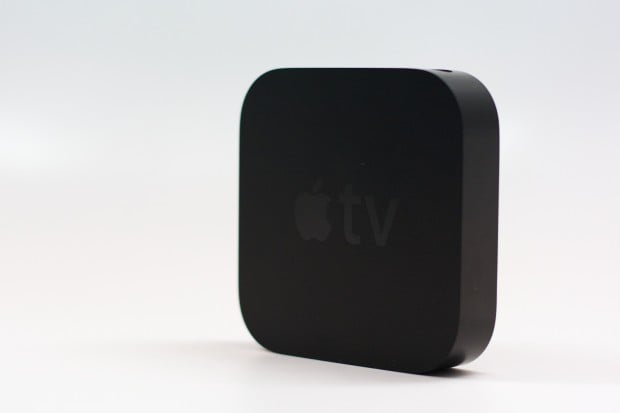 Automatically setting up your Apple TV is very simple to do and literally only takes a few seconds to get it going, although the actual setup process can take a few minutes. Here's how it's done.
Instructions
First of all, make sure that your iOS device is connected to the preferred WiFi network that you want your Apple TV to connect to, since the Apple TV will use your iPhone or iPad settings in order to set itself up. You'll also want to enable Bluetooth, but there's no need to go into the Bluetooth settings and connect to anything — the Apple TV will do all of that for you.
Then, simply just set your iPhone or iPad on top of the Apple TV and it will detect the automatic setup. We're not really sure how it detects the contact, since it merely just uses Bluetooth, but we're guessing it might use a technology similar to the Bump app, where both devices detect a bump at the same time and automatically pair them up.
In any case, this will bring up a pop-up where you'll enter in your Apple ID credentials. From this point on, you can take back your iOS device and it no longer needs o sit atop the Apple TV unit. Enter in your Apple ID information and tap OK.
You'll then be asked if you want the Apple TV to remember your password for future purchases in the iTunes Store. If you have children, this may not be a good idea, but if it's just you, then it's probably okay to have your Apple TV remember your password, and it'll be more convenient for whenever you want to rent a TV show or movie.
The next screen will ask whether or not you want to send usage data to Apple so you can help them "improve their products." If you're a privacy nut and don't like companies sniffing around the goods, go ahead and tap on No Thanks. Otherwise tap OK.
From here on out, your Apple TV will configure itself and automatically sign you in with your Apple ID. After a few minutes, you'll be taken to the home screen where you can start playing around with the Apple TV and begin watching shows and movies.
Settings Menu
Your Apple TV won't set up absolutely everything automatically. Once you get to the home screen, it's a good idea to go into Settings and download the Software Update that's most likely waiting to be downloaded and installed.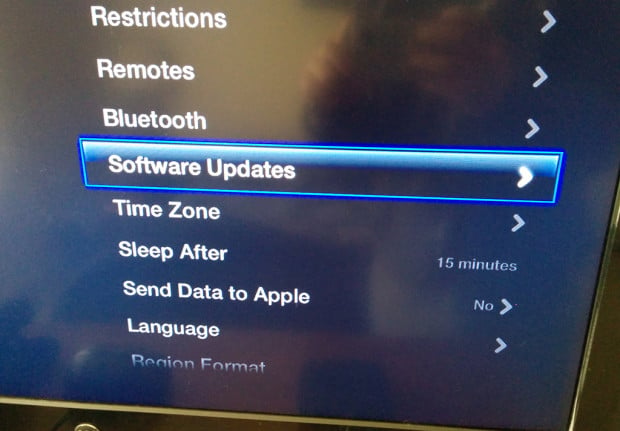 It's also a good idea to change the time zone because the Apple TV doesn't change it for you for some odd reason. If you have kids, you might want to check out Restrictions in order to restrict what kinds of TV shows and movies the young ones are allowed to watch.
AirPlay is probably the last big item in Settings that you'll want to tweak, as it will allow you to fine-control who can access AirPlay on your home network.
Have Fun
After you have your Apple TV all set up and ready to go, you're free to watch whatever TV shows or movies that you'd like. One nice upgrade you can make is to get a universal remote control and set it up with your Apple TV and your television so that you only need to use one remote, rather than two. Granted, the Apple TV remote is pretty cool and sleek, but there's no point in dealing with two different remotes if it's possible to just use one.
You can also download and install the Remote app for your iPhone or iPad, which lets you control your Apple TV using your iOS device and do things like search for shows and movies, as well as control the Apple TV using touch screen gestures.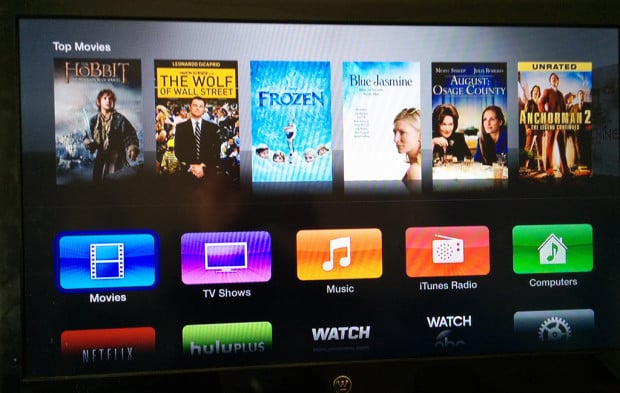 Lastly, you'll get the most out of an Apple TV if you're largely invested in Apple's ecosystem, especially iTunes. Personally, I only use the Apple TV for watching Netflix and using AirPlay, as I don't use iTunes to buy content, but I use these two features religiously, so the $99 price tag of the Apple TV is worth it to just have AirPlay and Netflix capabilities, but how you use your Apple TV specifically is up to you.

As an Amazon Associate I earn from qualifying purchases.