The Xbox One, Microsoft's most ambitious entertainment console to date, offers entertainment for the entire family. Users can watch live television, play video games and browse Internet Explorer and more. Unfortunately, all of those features don't come without a price and that price is its setup process. Here's how to setup an Xbox One and get its live television, gaming and entertainment features working as soon as possible.
Hardware Setup
Unpack your Xbox One and its bundled cables and accessories. You'll want to leave the console's included controller off to the side for now.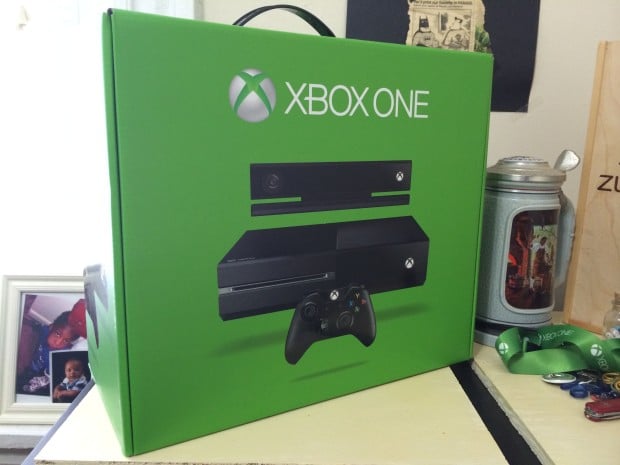 Take the included HDMI cable and plug it into your television's HDMI Output Port. If you'd like to use the console's Live TV functionality, disconnect the HDMI cable running from your cable or satellite equipment and connect it to the Xbox One's HDMI Pass through Port.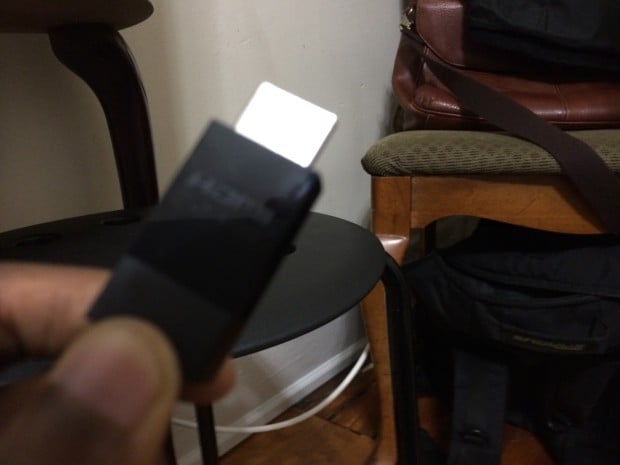 Unpack the Kinect 2 sensor and position in front of your television. You'll want to angle the Kinect 2's camera so that it can see most of your room. If you're placing the Kinect 2 sensor on a low table, angle the camera so that it looks up at the rest of the room slightly.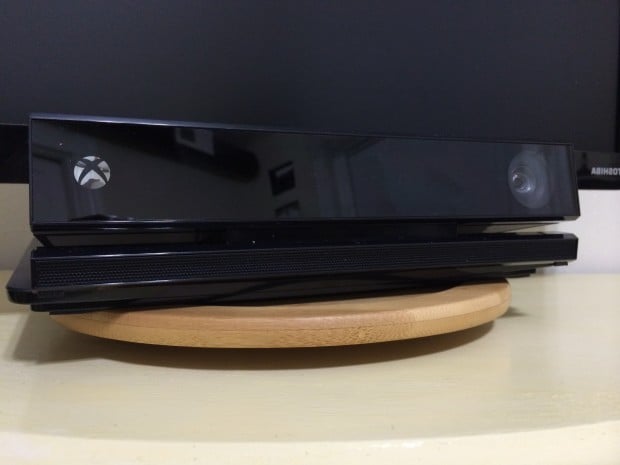 Connect the Kinect 2's cable into the Kinect port on the rear of your Xbox One.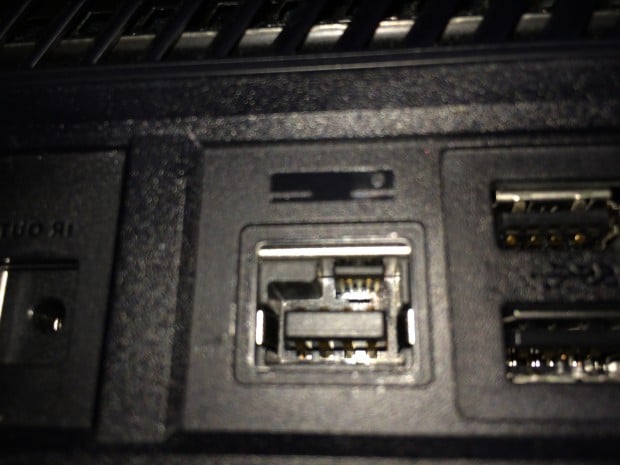 Plug in the console's power adapter in the rear of the console and your wall outlet.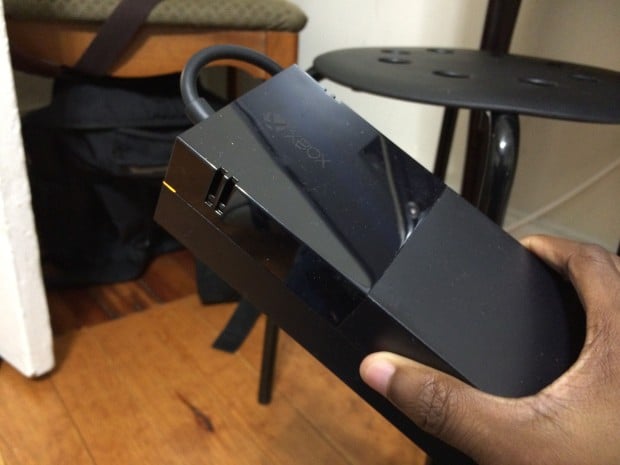 Put the included triple AAA batteries into your Xbox One controller. Hold the guide button down on the Xbox One Controller to plug it in.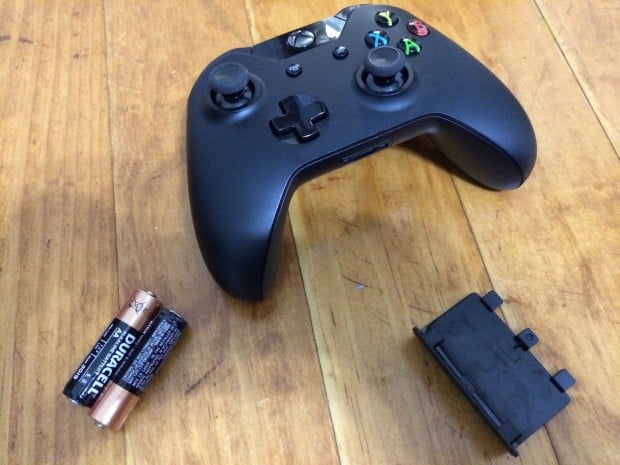 Initial Software Setup
Select your Local language.
Select your location.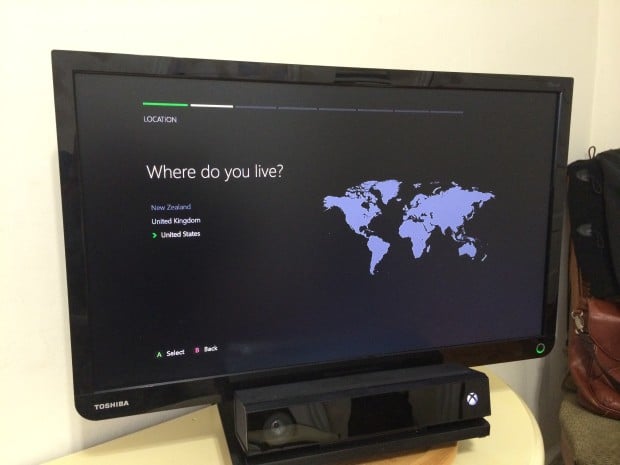 Select your wireless network. Select Used Wired Connection if the Xbox One will connect directly to your network through an Ethernet cable.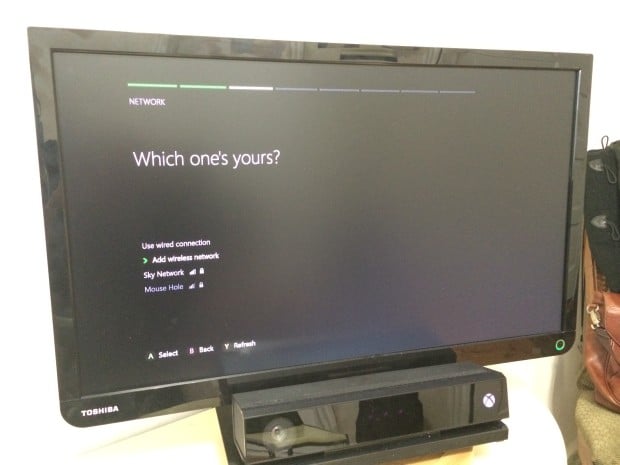 Choose your Time Zone from the drop down menu.
Select Begin Sensor Setup.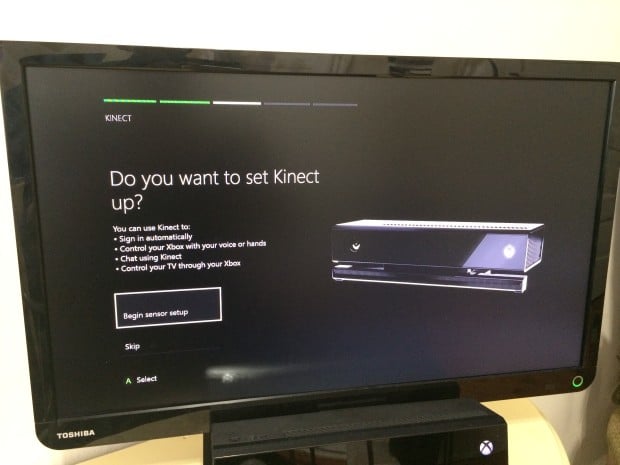 Adjust your Kinect so that it sees you in your room. Select Yes, It Can See Me.
Select Start Audio Check and let the Kinect 2 sensor run through its audio calibration. You may need to turn up the volume on your television.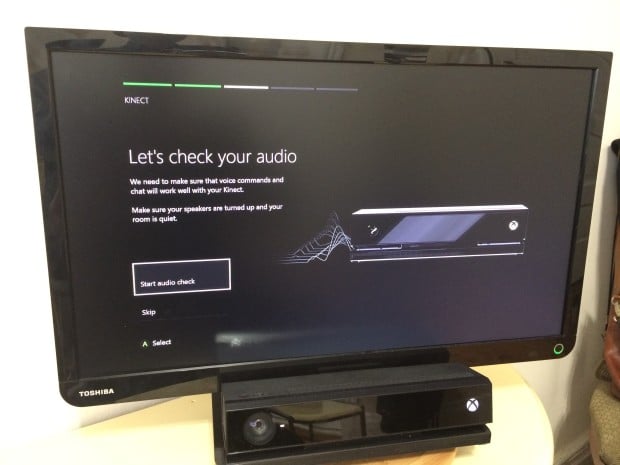 Select Next.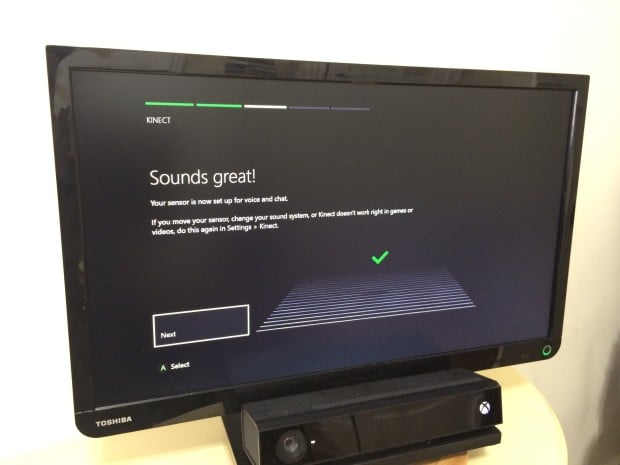 Select Next.
Select Next.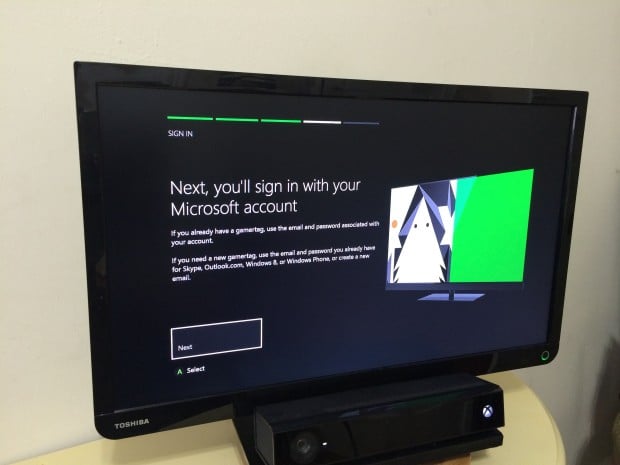 Enter your Microsoft Account username or Select Get a New Email if you'd like to use a new account on your Xbox One.  Microsoft Accounts are also created when you access SkyDrive, have a PC running Windows 8 or use Outlook.com's email services. If you use one of those products already, it's ok to use the same account for the Xbox One.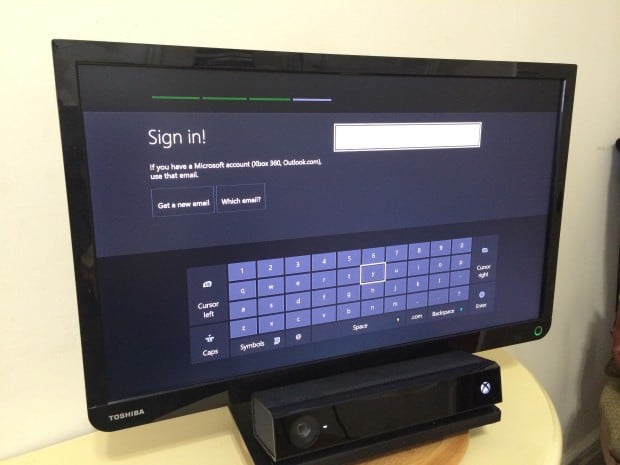 Enter your Password.
Read the Xbox One's privacy policy then select Next.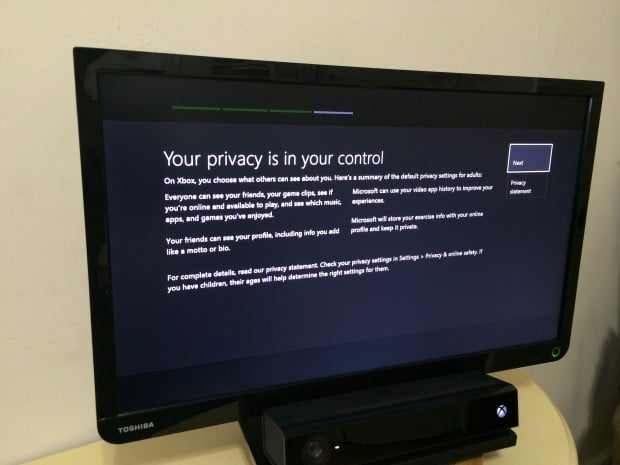 Choose an Xbox One tile color.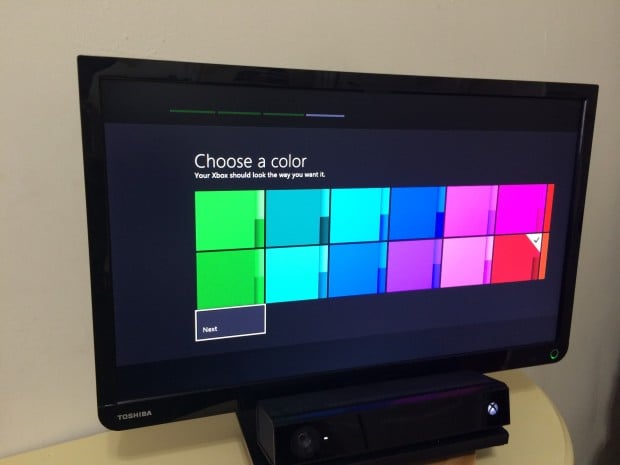 Select Next.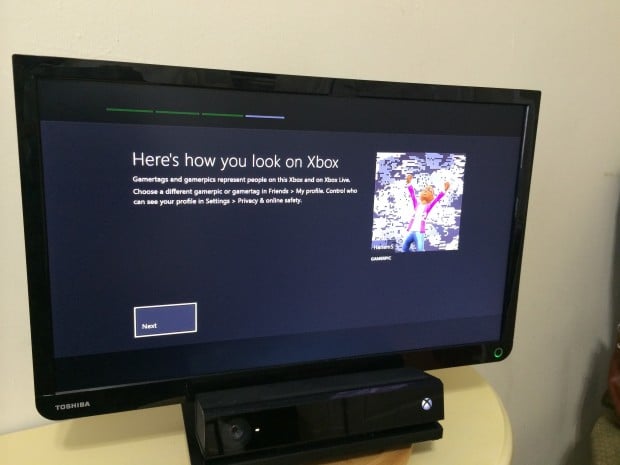 If you'd like the Xbox One to save your username and password select Save My Password. If you don't want it to sign you in automatically select Keep Asking for My Password. To be clear, letting the Xbox One automatically enter your password will give you a more seamless experience.
Select Sign Me In with Kinect if you're comfortable with your Xbox One logging you in the moment it recognizes you. If you aren't comfortable with that select Sign In Manually. Automated Kinect sign in is more seamless.
And you're ready to go. After showing you your avatar and showcasing a demo video, the Xbox One will take you to the Start Screen.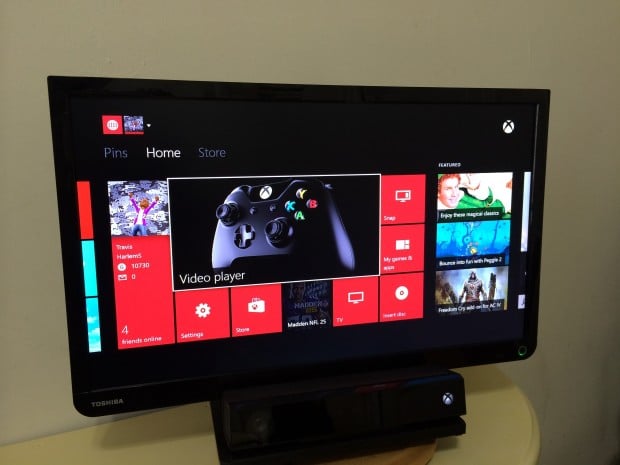 Live TV Setup
If you're looking to watch live television through your Xbox One, you'll need a supported cable box that has an HDMI output. If you don't have one already, you'll need to contact your cable or satellite to pick one up. Here's how to setup Live TV on the Xbox One.
Turn on your cable or satellite receiver.
Go the Start Screen on your Xbox One and open My Games and Apps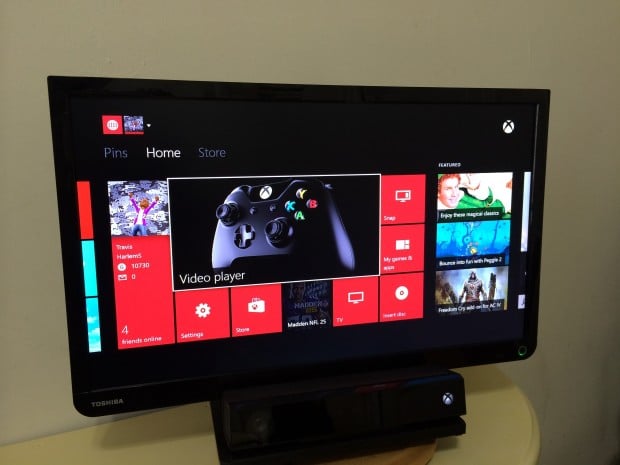 Open Settings.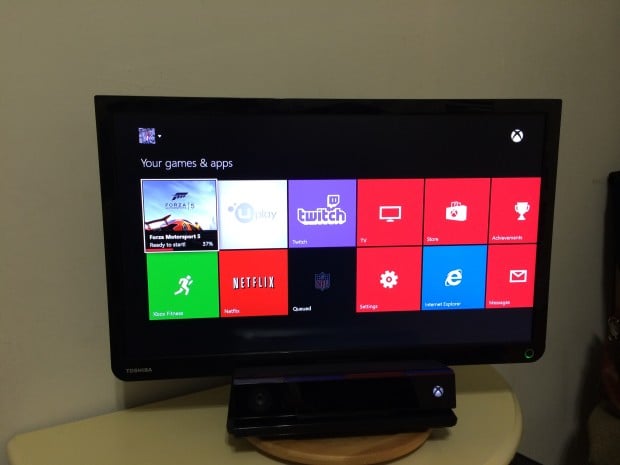 Open TV & OneGuide settings.
Open OneGuide.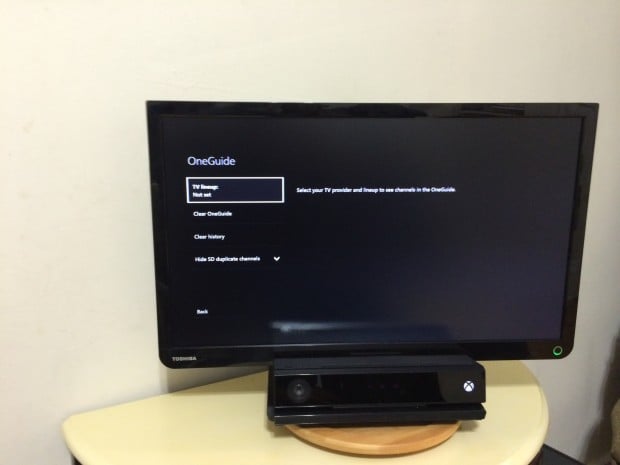 Select TV Line Up.
Enter your Zip Code.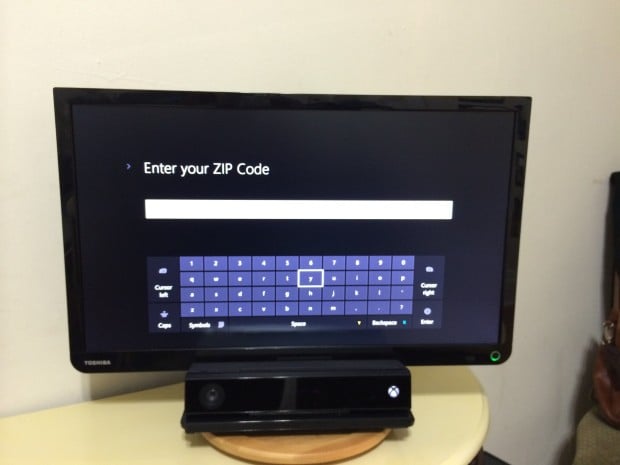 Select A TV provider from the drop down menu. Then Select Next.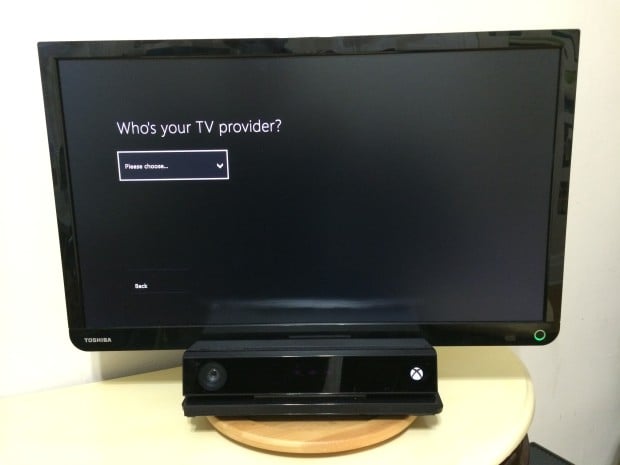 Select Devices.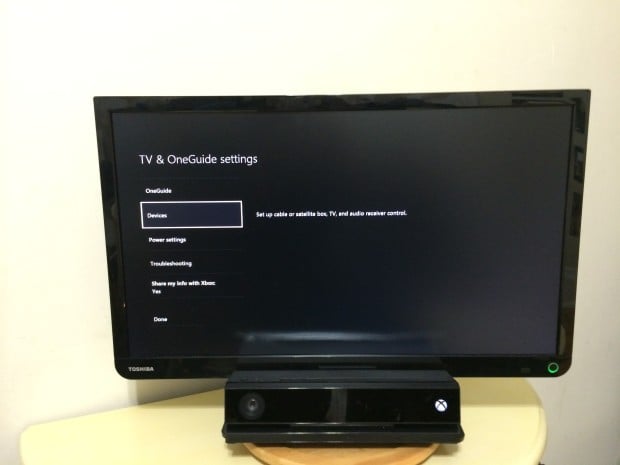 Select Cable or Satellite Box Model.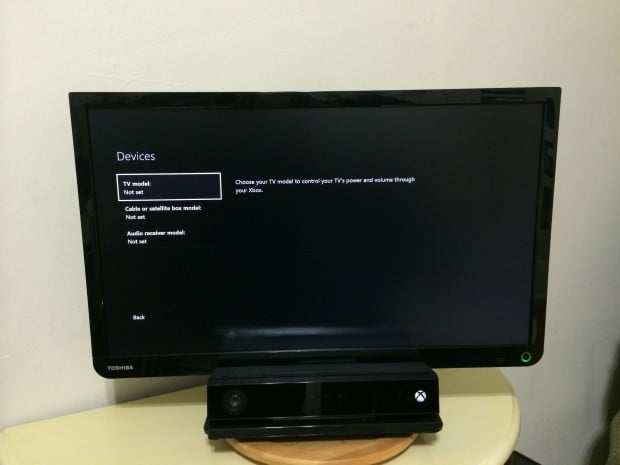 Enter the name of your provider's box.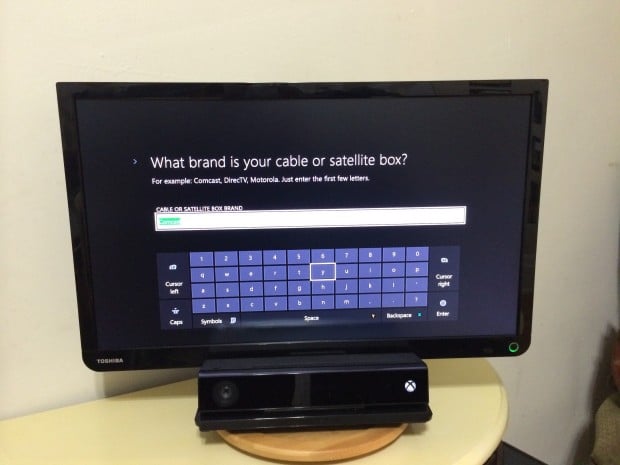 Select Automatic.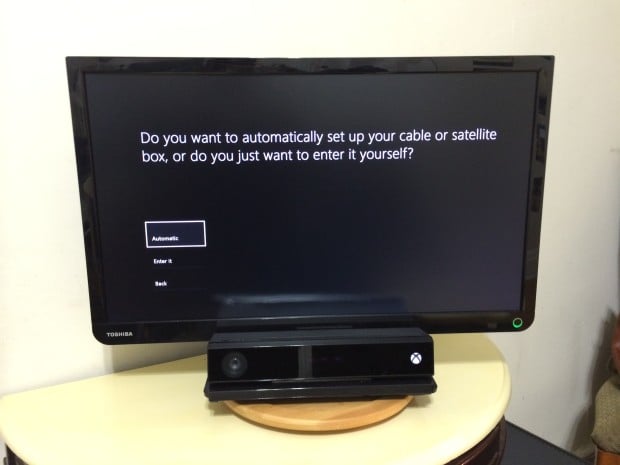 Select Yes if the Xbox One was able to turn the channel on your cable box. If it didn't select No and repeat the step until the Xbox One knows it's able to talk to your cable box.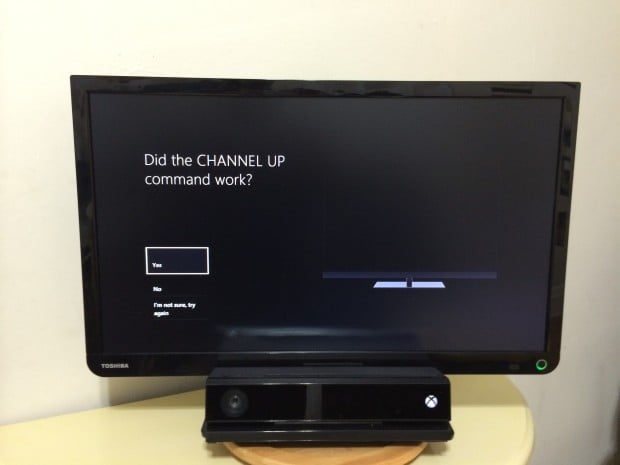 And you're good to go. You'll now be able to watch live television through your Xbox One and use its OneGuide to channel surf.
Customize the Interface
Users can pin specific apps, settings and choose their own live tile color for the Xbox One's interface. Here's how to customize the Xbox One interface and tailor it to your tastes.
Read: How to Customize the Xbox One Interface
Configure The Xbox One To Turn On Your Television
Every Xbox One's Kinect 2 sensor includes a feature that allows it to turn your television on and off and adjust its volume. Here's how to configure it.
Read: How to Get Your Xbox One to Turn On Your Television
That's how to setup an Xbox One. Now that you've completely setup your Xbox One it may be time to pick up a few accessories to complete your experience. Here are some of the best Xbox One accessories currently available or making their way to stores in the New Year.
Read: Best Xbox One Accessories
Enjoy your new Xbox One!