How to Share Amazon Prime Shipping & Video With Friends
Prime was already a good investment before Amazon, the world's largest online retailer by far, began offering new services with it. Amazon Prime started out as a way to get your packages faster and yourself out of having to pay to have everything shipped to you. All you had to do was look for a Prime badge next to an items price.
That simple way to get out of paying for shipping has become a juggernaut in its own right, easily able to compete with the subscription services of other. Instant Video streaming, music streaming and discounts on games are just three of the greatest things that are unlocked when you have an Amazon Prime subscription.
Read: Is Amazon Prime Worth It?
Today, it's hard not to find someone who has an Amazon Prime subscription already. If you know someone without an Amazon Prime subscription, you can share yours pretty effortlessly. Here's how to share Amazon Prime shipping and video with friends so that they don't have to pay extra for another subscription or so you don't have to pay for more than one subscription in your household.
Before We Begin
Before we begin, it's absolutely important that you understand what sharing Amazon Prime means and what it doesn't.
Amazon continues to offer Amazon Households. Essentially, the feature acts as glue by sharing some Amazon Prime benefits between two accounts. Most people who use Amazon Prime for streaming video will recognize the feature's name; the setting is also responsible for letting child accounts share video streaming and parents manage the media that's available to their kids on their Kindle Fire tablet.
Insert the email address of the Amazon Account that you wish to share your benefits with and you're almost ready to go. Amazon extends the second user those benefits, but also stipulates that users need to share payment information if they really want to be able to order items with Prime Two-Day shipping, read Kindle books from their library and watch different kids of content.
Because you're sharing payment information, you absolutely don't want to share Amazon Prime with anyone that you don't explicitly trust with your information.
Sharing Amazon Prime
Start by opening a web browser and going to Amazon.com. You'll need your username and password and a subscription to Amazon Prime.
Hover your mouse over the Account button in the right corner of your screen.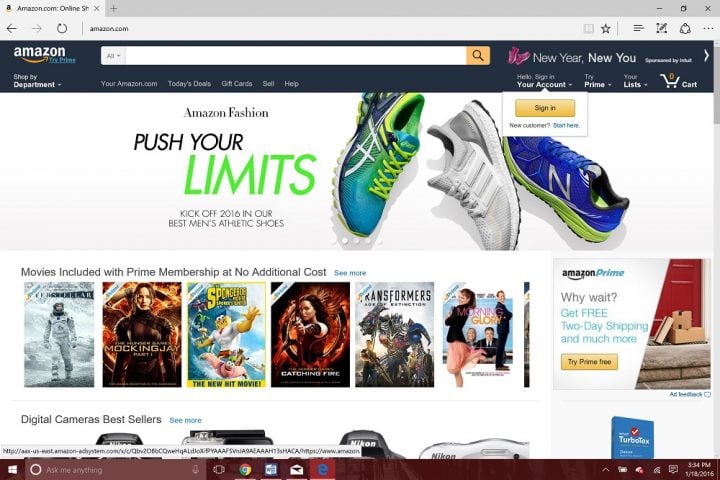 Click or tap on the Sign in button.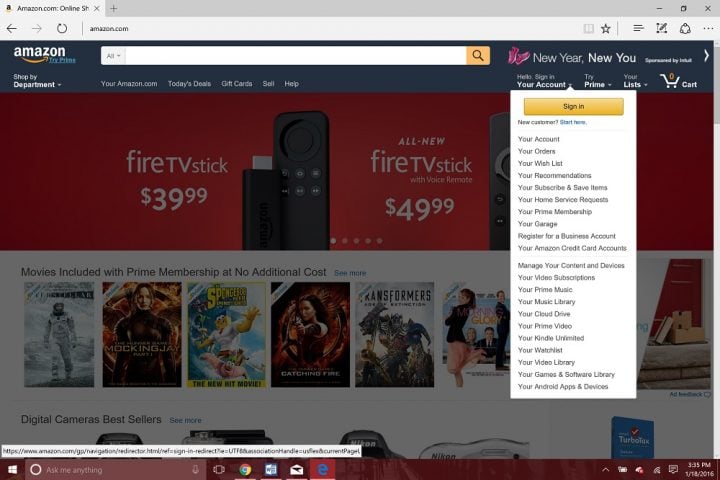 Enter your Amazon Account username and password. Remember you need the username and account of the Amazon Account that's already subscribed to Amazon Prime.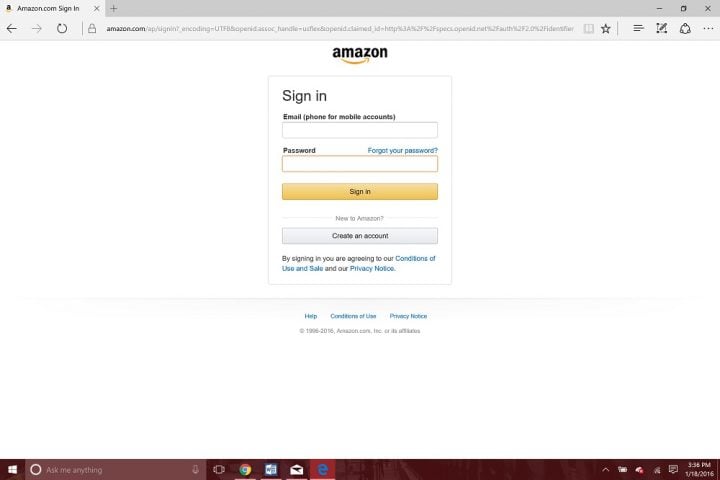 Click or tap on Account.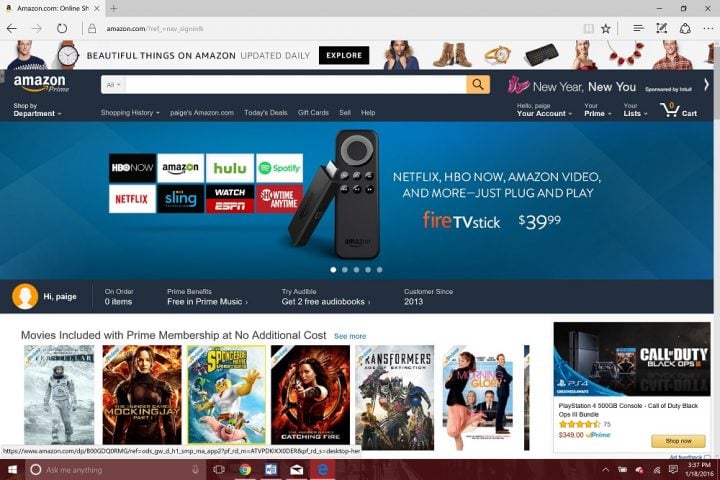 Scroll down to Account Settings.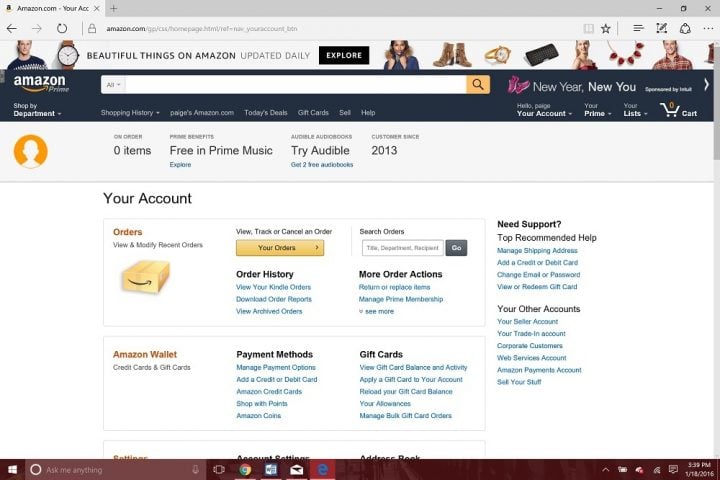 On the Account page, scroll down until you see the option for Manage Your Household. It's in the Account Settings area underneath Amazon Child Profiles. Click on it.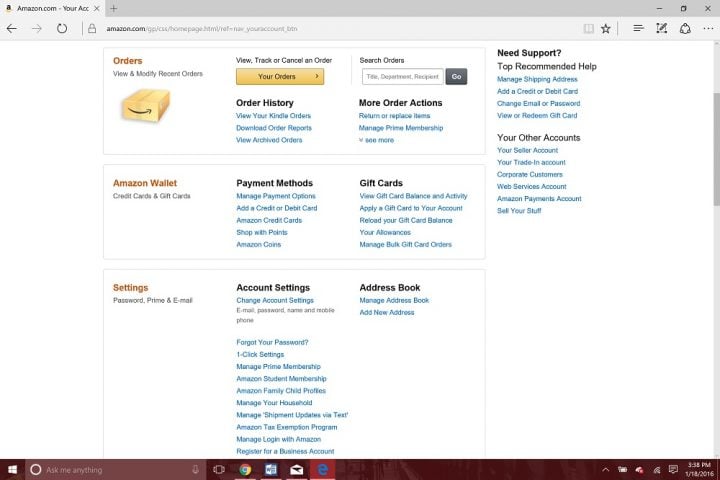 Click on the Add an Adult option on the left side of your screen to add another adult to your account. From here you can also add children. In the center are options for managing what content you share. To add that extra adult you'll need the email that they use for their account.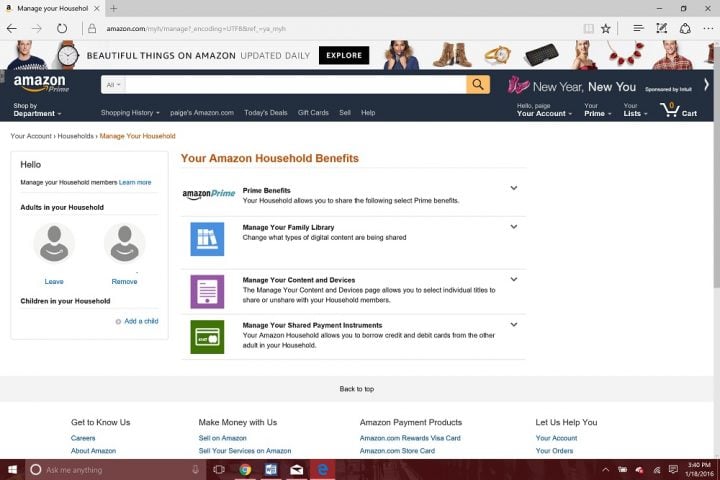 Amazon says that you can share your shipping benefits, streaming video benefits, Amazon Fresh deliveries, child items discount, early access to deals, Kindle books and music streaming.
Think for a while before you decide to sever digital ties with a person you decide to stop sharing an Amazon Prime subscription with. The company won't let either of you form a new household for at least 180 days after you've removed each other. One account will lose access to managing child accounts, payment options and any video content.