How To Share From Apps in Windows 8
Microsoft introduced a lot of changes in Windows 8. Many of these changes were made specifically so that the Windows ecosystem could catch up to its counterparts. Other changes were designed to put Windows 8 devices one step ahead of the iPad, Mac OS devices running Android. The Charms Bar, which holds Windows 8's built in sharing, is such a design change.
Before Windows 8, users only really had one way to share items on Twitter and Facebook. Simply put, users opened up a web browser and used that particular service's systems to share photos, videos and status updates with their friends. This wasn't difficult and over time users grew accustomed to that particular way of doing things.
It appears that when Microsoft examined users habits before creating Windows 8 they realized that millions of users around the world were all finding different ways of doing the same thing and sometimes those ways weren't as straight forward as they could have been. And so, as it had done with email, calendars and even media players in the past, Microsoft decided to incorporate sharing into Windows 8 itself.
This new way of sharing allows users to head to a single place every time they want to share information with their friends and family. Before we begin, it's important that you have Windows 8.1, the latest version of Windows 8, installed on your device. If you haven't done so before now, head to the Windows Store by tapping or clicking on the Store icon on the Start Screen. If you see a banner asking you to install Windows 8.1, do so now. The process will take about an hour but it'll add tons of useful features like the ability to resize Live Tiles and assign backgrounds to the Start Screen.
Taking a Screenshot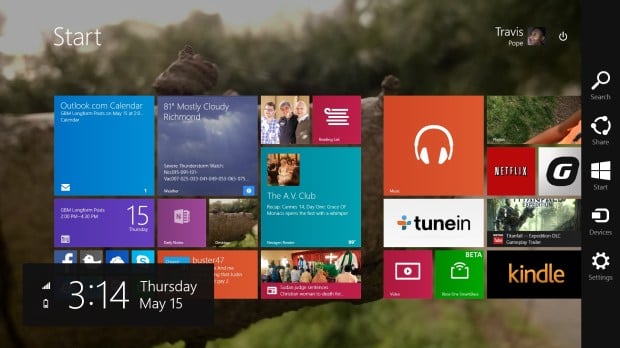 Go to the screen you'd like to take a screenshot of and place your mouse cursor in the top right-hand corner of your screen to open the Charms Bar. Touch users should place their finger on the right side of the screen and swipe slowly to the right. Tap or click on Share.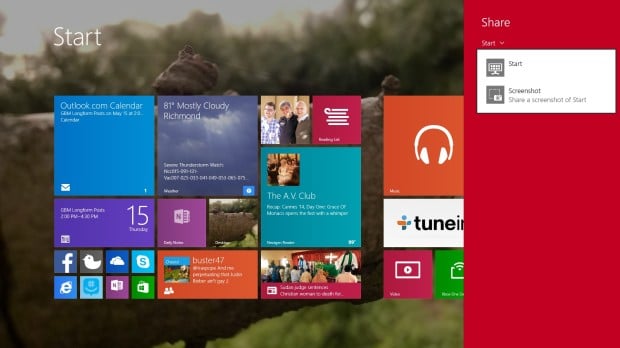 Now tap or click on the drop-down menu to select Screenshot and select an app from the list of installed apps that you'd like to share the screenshot to Default options include Mail and the People app that's built into Windows 8.1.
Sharing Anything Else
Sharing anything else like web pages, links and images works exactly the same way as taking a screenshot. In this example we're going to share a web page from Internet Explorer.
Open the app you'd like to share from. In our case that's Internet Explorer, the web browser in Windows.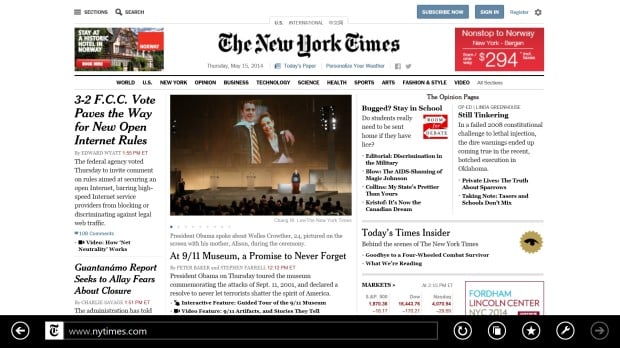 Once you've found what you'd like to search, place your finger in on the right edge of your screen and swipe slightly to the left if you have a device that uses touch. If users a mouse and keyboard place your cursor in the top-right corner of your screen to reveal the Charms Bar. Tap or click on Share.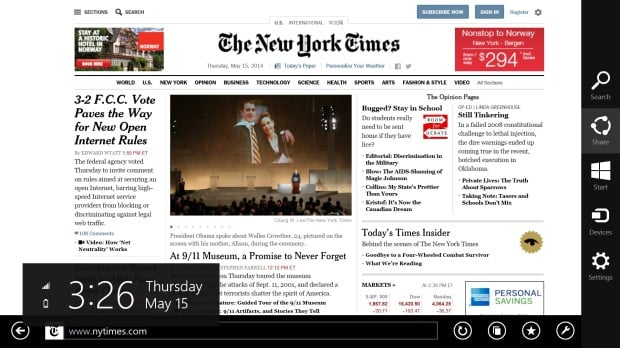 Now select the app you'd like to share to in the drop down menu.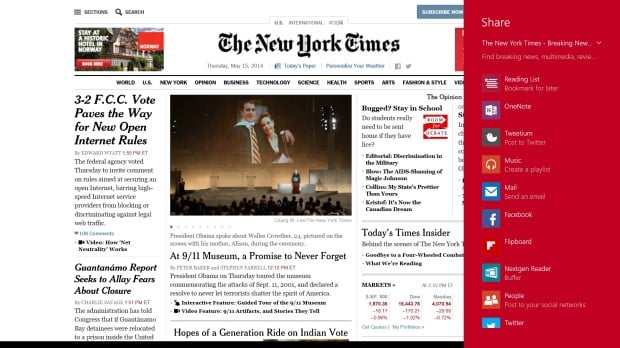 Only People, Mail and Reading List are included in this list of apps by default but the number of sharable apps grows depending on what apps you have installed. For example, the device used in this demo can create playlists that were automatically created from the web using Music. The Windows 8 version of Facebook and Twitter also allow users to share apps. OneNote allows users to share web page clips directly to their OneNote notebook so that they can keep track of them and record information about them. That share feature might be the most useful of all since there are free OneNote apps on Windows, Windows Phone, iPhone, iPad and device's running Google's Android operating system. Finally, sharing web pages to Reading List allows users to set aside their favorite stories reading a bit later. It too syncs to multiple Windows 8 and Windows Phone 8 devices.
Please note that you don't necessarily need native apps to share things on some social networks. The People app automatically connects to the Facebook, LinkedIn and Twitter accounts that are associated with a user's Microsoft Account. Tap or click on that app to share directly to those social networks from almost any application. If you haven't added Twitter or Facebook accounts to the app you can do so from the People app.
Overall, being able to share info directly into Twitter and Facebook directly from the Share Charm should cut down on a lot of the back and fourth that users have to do today. There are a few caveats that go along with this functionality. For one, you can use the Share Charm from inside the Desktop or Start Screen. You can share screenshots from those areas, but you wouldn't be able to say open Windows Media Player and share what you're listening to with your friends on Twitter. Also, apps have to be specifically made to support the Share Charm. As such, all apps can't be shared to.

As an Amazon Associate I earn from qualifying purchases.