How to Share Photos on Mac
If you have some photos that you want to share with friends and family, here's how to share photos on Mac using the new Photos app.
OS X Yosemite 10.10.3 was released just recently, and with it came an all-new Photos app that replaces iPhoto and Aperture on Mac. It's a simpler photo management tool, but it comes with a handful of features. It isn't just an updated version of iPhoto either. Instead, it's a whole new app with a plethora of new features, including the ability to access your iCloud Photo Library, which means that when you take a photo on your iPhone or iPad, that photo will automatically be viewable on your Mac through the Photos app, thanks to iCloud.
Perhaps one of the coolest features is that edits made to a photo on your iPhone or iPad in the Photos app can be automatically synced to all devices instantly, and the process can be done the other way around as well.
The design of Photos on Mac looks nearly identical to how it looks on iOS 8, with a few obvious design differences since it's on a Mac rather than your iPhone or iPad. In the app, you can do things like sort your photos and videos and even only view special files like panoramics, burst shots, slow motion, and timelapse video, separating all other photos and videos.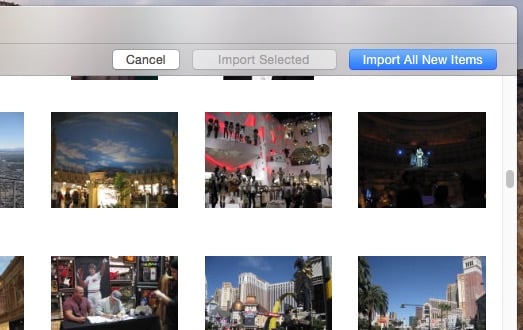 However, after you have imported all of your pictures into Photos app, you may find that there are pictures that you would like to share with friends and family. Luckily, the Photos app lets you do this.
How to Share Photos
The Photos app on your Mac provides a handful of ways to share photos, either through email, social media, iMessage, etc. To get started, let's open up the Photos app.
Once the app is open, click on a photo or a selection of photos and then click on the Share icon in the upper-right corner of the window. It will look like an arrow sticking out from a box. From there, you'll get several options for sharing your photos.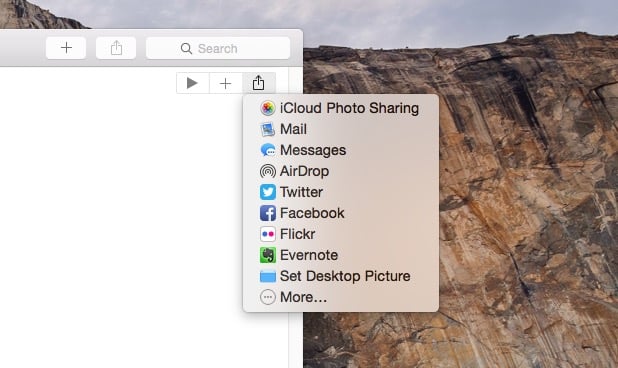 You can add it to your iCloud Photo Sharing stream (if you have it enabled). You can email it or send it through text message or iMessage. You can send it to nearby friend or family member through AirDrop if they have a Mac or an iOS device, and you can also share photos directly to Facebook or Twitter if you want to share them with the entire world and not just a specific group of people.
Other options include uploading it to Flickr or saving photos to your Evernote account. You can even instantly set a photo as your desktop background without fiddling in the settings.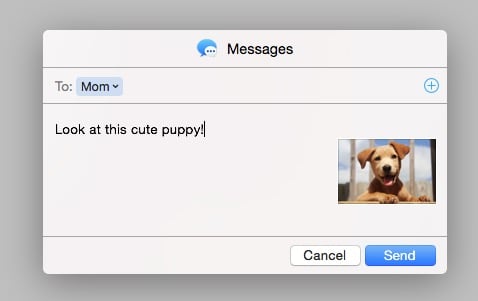 In that list, clicking on More… will take you to into System Preferences where you can select which items show up in the list, and you can more to it if you want, including options for Weibo, Youku, and Tudou, but US users don't need to worry about those.
That's all there is to it as far as sharing photos with friends and family members. You can also export photos out of the Photos app if you want more control over sharing photos. Simply just click and drag a photo out of Photos and into a folder or on your desktop. From there, you have free range to upload the photo and share it yourself.

As an Amazon Associate I earn from qualifying purchases.