How to Share Xbox One Games in 2015
In 2013, Microsoft said that focusing on digital content delivery for its Xbox One entertainment console meant that users would eventually be able to loan their games to their friends without getting off the couch. Disc games would need to be installed, but their license, the tacit agreement that gives gamers the right to play games on a disc, would stay within that disc and not transfer to a user's Xbox Live account. It was a noble, futuristic idea that never came to fruition. Fans lobbied for the company to leave the system from the Xbox 360 in place. Users got what they wanted, but a tutorial on how to share Xbox One games became next to impossible. It seemed that sharing games wasn't on the table any longer.
It is now 2015 and nothing has changed where sharing games on the Xbox One is concerned. The Xbox One still does't support sharing games explicitly. That being said, users can still share Xbox One games using two little-known features that Microsoft revealed years ago.
How to Share Xbox One Games in 2015: Xbox Live Gold Home & Xbox Live Home
Microsoft announced the Xbox One and its original set of capabilities in May. It shared more about those capabilities in June. By August the company was positioning the console to a harsher consumer climate and responding to user complaints. Part of that campaign to win back disenfranchised buyers included news about Xbox Live Home & Home Gold
Xbox Live Home Gold essentially gives you a free pass around some of gaming consoles' most fundamental restrictions. With the Xbox 360, everyone needed an Xbox Live account before they could play online, or they had to use the same account and gamertag. Games were tied to specific gamerstags and Microsoft Accounts too, meaning if a user wasn't logged in, no one else with an Xbox Live account on that console could play the first account's games. It was a logistical nightmare for families.
Using Xbox Live Gold Home and Xbox Live Home, Xbox One owners can assign a specific Xbox One console as their Home console. When they do, other players on that console can log in and enjoy their library of games – even if that game owner isn't logged at that particular time.
Sharing Digital Games with Xbox Live
Using the Xbox Live Home, you can share your games with your friends. To pull this off you'll need to have access to their console. You can, but under no circumstances should you provide your Microsoft Account and password to someone to put in their console. Microsoft makes it clear that users are responsible for protecting their accounts and private information. If you're going to share games with friends over Xbox Live, at least be safe about it.
Also, treat this option with the respect it deserves. Microsoft will only allow users to change their Home console three times within a single year, according to this help article on its website.
Turn on the friend's Xbox One and connect to Xbox Live.
Use the left joystick on the Xbox One Wireless Controller to bring up the Guide by pushing to the left once. You can also double tap the glowing logo on your Xbox One controller to bring up the guide.
Use that same joystick to go up a level and look at the users that are signed in. Select Add & manage from the list of options you have available to you. Select Add & Manage.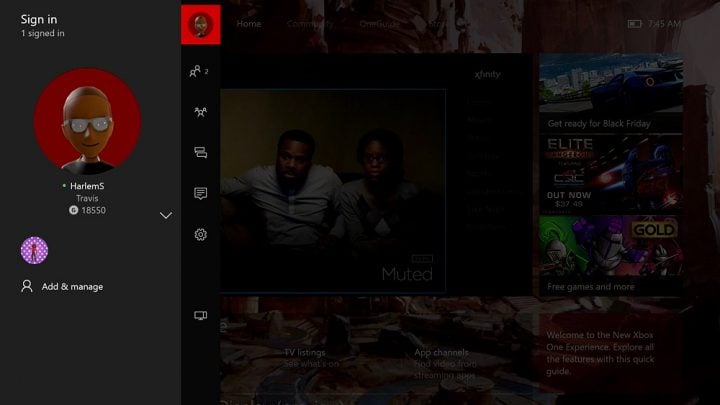 Select Add New.
Now you'll need to provide the Microsoft Account and Password for your account. Essentially, you are adding your account to the friends Xbox as if you were setting up a new Xbox One of your own. For security reasons, don't select the "Like Magic" automatic login if they have a Kinect sensor plugged. Instead, require the system to ask for a password before you're logged in.
With that done, go back to the Xbox One Home Screen and look for the tile on the right side edge of your screen that has the GOLD logo on it. It's always the third rectangle from the top. Select it to be taken to the membership area.
Once in the membership area, select the Share Gold on this Xbox button.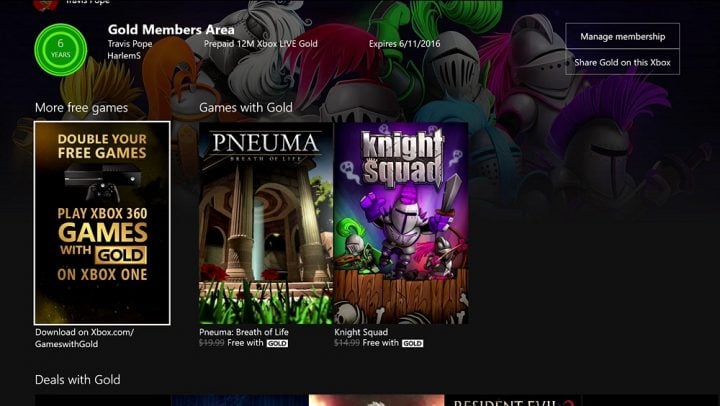 Now select Make This My Home Xbox. From here on out, anyone who plays games on this console can access the digital titles that you've downloaded, even if you're not logged in.
Sharing Digital Games with a Roaming Xbox Live Profile
Of course, switching which console you treat as your home console is a long-term solution for what could be a short-term problem for you. Roaming profiles allows Xbox One owners to sign into another users console without necessarily assigning it as their home console.
To do this you simply login into Xbox Live with your user name and password. Since all game saves over Xbox Live are stored in the cloud, you'll have all the latest progress from your titles at home – provided your console at home is connected to the internet. Additionally, you can download your digital games to the friend's Xbox One to play. When you log out, those digital games stop working.
To help make this process easier, I recommend loading all your digital Xbox One games on a hard drive at home and grabbing that drive whenever you know you'll be playing at a friend's place.
Sharing Disc Games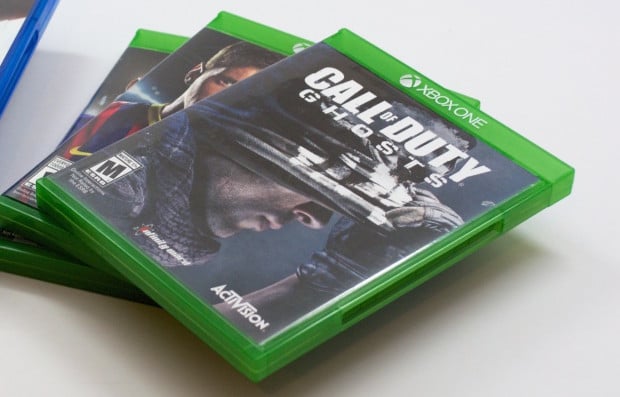 Sharing disc games is the same as it's ever been. Login with your Xbox Live account and insert your disc. Your game saves will load from Xbox Live. The Xbox One will begin installing the game, which can take twenty minutes or so. Leaving your discs behind allows your friend to keep playing long after you've left.
Good luck sharing your Xbox One games.

This article may contain affiliate links. Click here for more details.