How to Sign Out of Windows 8
There are plenty of new features in Windows 8, the operating system that's now available on tablets, desktops, 2-in-1s and notebooks, and a few of them have frustrated users. It's not these features that have made Windows 8 unusable for some. Instead, it's the simple things that have been changed, like logging out, that bother new users the most.
There are tons of reasons why users would want to log out of Windows 8. Households with multiple users rely on log outs to make sure that their children or parents don't have access to their email accounts and other information that Windows stores. Once an account has been logged out, other users can log in and use the machine.
Here's how to sign out of Windows 8.
Go to the Start Screen by pressing the Windows key on your keyboard or the Windows button below your device's display.
Inside the Start Screen click on your username and photo in the top-right corner of your screen. Touch users should tap on that photo. Doing either will reveal a drop down menu with a few options.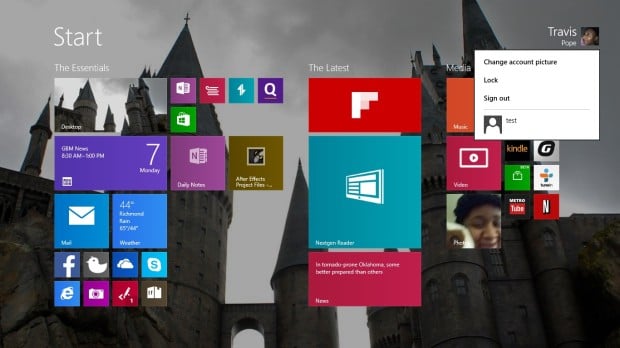 Choosing the Sign Out option is akin to logging out. Your Windows 8 device will close any programs you have running and any files you're working on and take your device back to the login screen. It's best to sign out if you know that you're not going to be using your device in the near future and have already saved your work. Sign out is also best for everyone since it frees up resources for other users.
Signing out isn't the only option that's available to users. The menu will also let you quickly access other users accounts on your device. Think of it as simply switching between apps. Because the original account is still signed in, the second user won't have as many resources available to them as they normally would – apps have less memory to run – but that should hardly affect the performance on Internet Explorer or Mail. Any apps that are open in the first account will still be there whenever you log back in, and you won't have to restart them.
Locking your account will simply take you back to the device's sign in screen. This leaves your work open but protects it from anyone who might try browsing your device without your permission.