How to Solve iPhone 4S Jailbreak iOS 5.1.1 Errors in Absinthe 2.0
The iPhone 4S jailbreak tool for iOS 5.1.1 isn't without some problems.
Namely users are getting cryptic iPhone 4s jailbreak error messages such as;
"Hmm… something seems to have gone wrong… trying to recover"
and
"Recovery completed. If you want to retry jailbreaking, unplug your device and plug it back in."
If you follow the Chronic-Dev Team's instructions to reset the iPhone from Settings, you may have seen this message.
Update: Added two more jailbreak errors and clarified final steps.
Update 2: Absinthe 2.0.1 released to fix some errors.
How to Solve iPhone 4S Jailbreak Errors in Absinthe 2.0
Thankfully, you can fix these iPhone 4S jailbreak error messages in just a few minutes by restoring the iPhone 4S on your computer.
1. Open up iTunes.
2. Click on the iPhone device name in the left side of iTunes.


3. When the iPhone settings page opens up, click Restore.

4. If you have already backed up your iPhone and you are doing this after receiving the error there is no need to back up the iPhone again. Click Don't Back Up.

5. When prompted, click Restore.
6. iTunes will download iOS 5.1.1, even if your iPhone 4S is already running iOS 5.1.1. This is normal.
7. Let the restore process complete.
8. Once the iPhone 4S shows up in iTunes go through set up as a new phone on the device until you are at the home screen.
Now you are ready to jailbreak.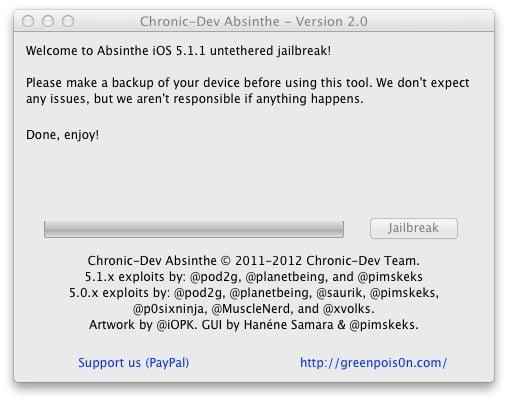 Open Absinthe 2.0 and follow our instructions on How to Jailbreak the iPhone 4S on iOS 5.1.1 Untethered and you'll soon enjoy a jailbroken iPhone 4S.
This same process should work on other Apple devices which get the same errors in Absinthe. I was able to follow these instructions to complete the jailbreak in a matter of minutes.
Turn off Passcode
If you have a passcode set, you may need to turn it off for the iPhone 4S jailbreak to work.
Turn off VPN
If you have any VPN settings enabled, turn them off as well.
Let us know if you experience any other iPhone 4s Jailbreak errors.
Thanks to readers Panduh and fcn for the tips.