How to Star Favorite Contacts on the Galaxy S5
If you're one of those social butterflies that has a lot of contacts, or just would like to make certain people more accessible on the Galaxy S5, you'll need to star or "favorite" certain contacts.
When you have tons of contacts like me scrolling through the huge list of people saved to your phone can sometimes be quite frustrating. Thankfully Samsung has the letters to the side for quicker access, but favorites makes things even easier, and we'll explain how simple it is to create them below.
Read: 5 Best Wallet Cases for the Galaxy S5
Most smartphones allow you to set favorites or star contacts for easier access. This usually allows for them to be at the top of the list when in the Phone or Dialer application, or even popular 3rd party SMS text apps like Textra from the Google Play Store. Read on to see how to easily add friends and family to your favorite contact list on the Galaxy S5 for easy access.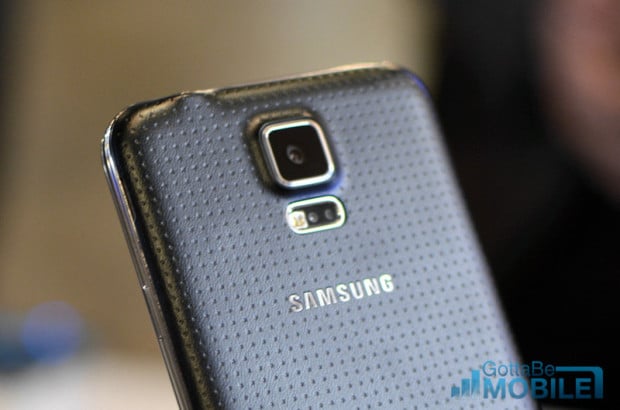 If you've ever owned an Android device in the past you've probably already starred a few contacts that are showing up at the top of the list whenever you enter the Phone app, and here we'll explain how to add certain people you'd like, and even remove the ones you don't want front and center anymore.
This is fairly simple and only requires one tap on each specific contact and you're done, but surprisingly enough many don't know just how easy this is. So without further ado, here's how to star and set favorite contacts on Android with the Galaxy S5.
Instructions
You'll need to start by launching the "Phone" app on the Galaxy S5, which is likely right on the bottom left of the device and is a green Phone icon. Once you launch the phone app there's a few different choices on top. You'll want to navigate to the far right and tap the "Contacts" column up top, which should show all of your contacts on the device, Gmail, or any other contact list you have synced.
Once you're in contacts you'll simply find the contact you'd like to set as a favorite or star (hopefully they have an avatar photo) and tap either the photo, or the generic head image. Once selected you'll be greeted with an initial popup that you can instantly star and add to favorites. Alternatively tapping the actual name and not the image will bring you directly into that contact in full, rather than a popup.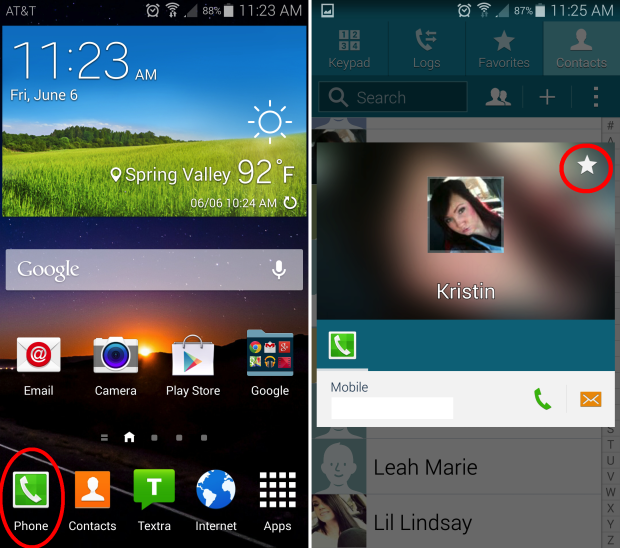 Shown above is exactly what we've just described. You'll want to select Phone, head into Contacts, and then tap the image or avatar of any particular contact for the popup shown in the screenshot on the right. From here simply tap the "star" in the red circle, and you're all done. It's seriously that easy and you'll now have quick access to easily call or text that favorite contact.
Alternatively, users can tap the name in the contacts list which brings up a full contact information page. Here is where you can also fully edit a contact, but a similar star appears on the top which does the same thing. Shown below is the prompt suggesting that if you star this contact, it will be added to favorites.
Once you star a contact simply navigate back to the phone app and tap "Favorites" rather than going to contacts or the dialer, and you'll see everyone you've starred for easy access. Celeste has now been added to my list.
By default the Samsung Galaxy S5 won't let you manually sort your favorites in order to place the most important people at the top. Instead they're all simply listed alphabetically. We'd like to be able to change this, but that's a no go. However, users that don't want the large square tile-based look can hit the three dot "menu" button in the Favorites list and select "List view" rather than grid view, which should make navigating your newly created favorites list a little easier.
Read: How to Use Your Music as an Alarm on the Galaxy S5
Of course, if there's anyone you no longer wish to have in your favorites simply navigate to the same contacts page and a single tap will uncheck their star (goes back to white) and they'll no longer appear in your favorite list. Or take extreme measures and just delete the contact.
Google Sync will sync all your favorites from device to device, so there may be some cleanup needed. Hopefully more customization comes in future updates, but for now that's all there is to it. Enjoy!

As an Amazon Associate I earn from qualifying purchases.