How To Stop Updates on Windows 8.1
Updates have never been better than they are on Windows 8. For the most part, the operating system takes care of them itself, making sure that users always have the latest versions of Microsoft installed applications, and security updates whether they want them or not. The or not, is the problem there. Windows 8 removes most of the guess-work out of making sure your Windows 8, desktop, 2-in-1, laptop or tablet is up to date. The problem is that sometimes updates might break things, or change them in a way you don't appreciate.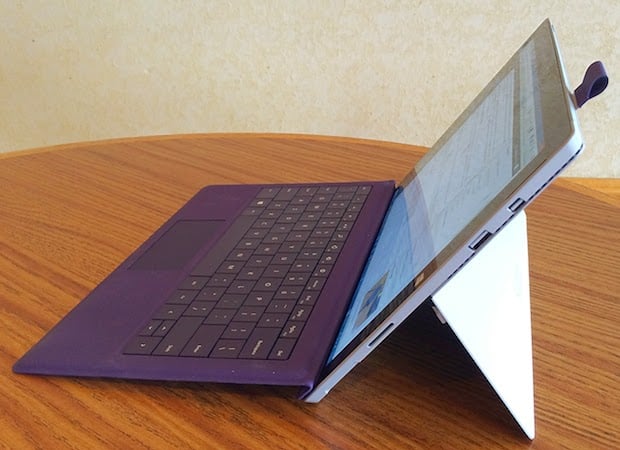 Here's how to stop updates on Windows 8.
Before we begin you need to completely understand the risk you're taking in stopping updates on your Windows 8 device. Microsoft turns on updates by default because it wants to make sure that you always have the latest security fixes and usability changes. If you turn automatic updates off there's no way to ensure that your device is running the latest updates unless you manually check them.
If you're still sure that you want to turn off automatic updates on your Windows 8 device, create a calendar appointment on your smartphone that reminds you to manually perform updates every month. Regardless of how you do it, just make sure that you always remember to run them. A Windows 8 device without the latest updates, gets more vulnerable to viruses and spyware as time progress.
For this example, we have the Windows 8.1 update already installed on our Windows 8 device. It's the free update that Microsoft began distributing through the Windows Store last year. If what you see in these slides looks different than what you have on your device you should download the update from the Windows Store now. Installing this update could take an hour. Make sure you're near a power outlet and don't need your device to be usable for a bit.
Turning Windows 8 Updates Off
Press the Windows key on your keyboard or the Windows button around your device's display to go to the Start Screen.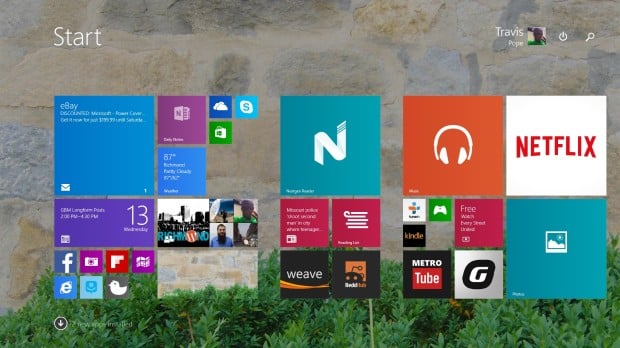 Don't click or tap on anything in the Start Screen. Instead, place your mouse cursor in the top-right corner of your screen to reveal the Charms Bar if you have a mouse and keyboard. Touch users should place their finger on the right edge of their screen and slowly side it to the left to reveal the Charms Bar.
With the Charms Bar open, tap or click on the Settings Charm. It's the gear at the bottom of the Charms Bar.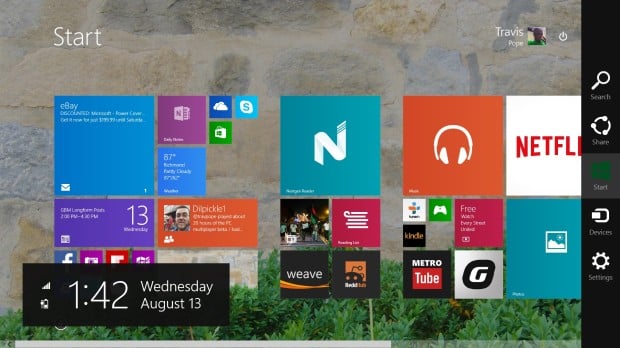 Immediately, you'll find a Settings fly out that has everything from internet settings to a power button and notification controls. Tap or click on Change PC Settings. It's the bottom option closer to the right edge of your screen.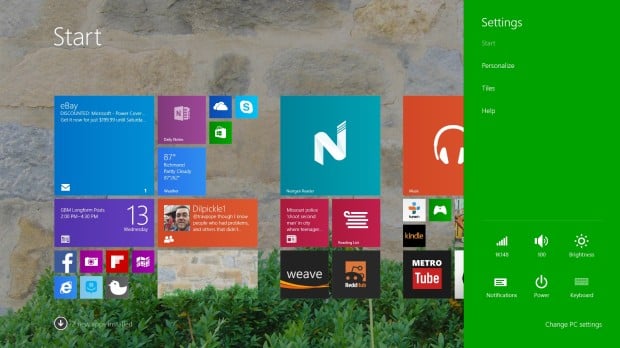 Welcome to the Settings app. Tap or click on the menu option at the bottom of your screen labeled Update and Recovery.
Tap or click on the Choose How Updates Get Installed option on the white part of your screen. It's a little less obvious than the other buttons around. You'll find it just below the Check Now button.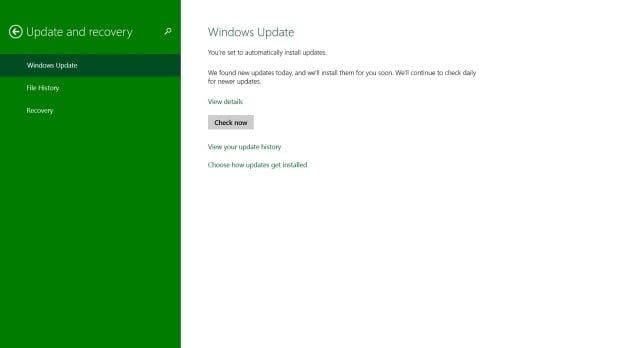 Tap or click on the drop down menu at the top of the screen to change your automated installation settings. Options include being able to download updates but let you choose to install them, checking for updates but letting you choose when to download and install them and never checking updates. Tap or click on any of these options except the last one.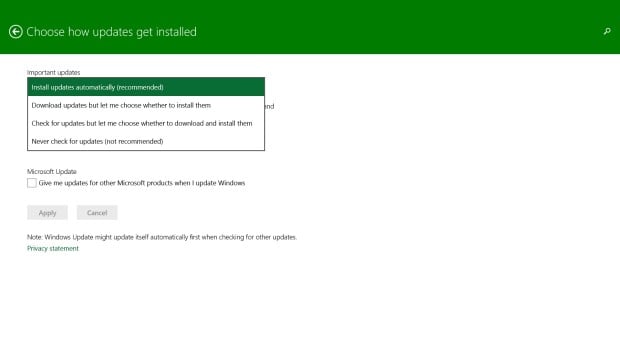 Absolutely, under no circumstances should you instruct your Windows 8 device to not check for updates automatically. Even if you aren't going to install them, it's better to be notified that you have fixes pending than to just completely ignore them. Again, it's all about keeping you device working and safe.
If you choose to be notified of Windows 8 updates a small notice will appear on the desktop letting you know that upgrades are available and asking if you want to go ahead and install them. This isn't as convenient as having Windows 8 install updates in the background, but it also saves you from losing work or having to stop doing what you're doing because Windows has automatically decided its time to download a security patch or an Internet Explorer fix.
While you're in here, it's not a bad idea to click the Microsoft Update check box that automatically installs or notifies you that you have updates for Microsoft programs like the Office suite of productivity apps. You may already be annoyed by automatic updates, but you'll need to install these updates at some point too.
Tap or click on the Apply button once you've made your selection.
There you have it. You've successfully stopped Windows 8 updates from downloading automatically. Again, before doing this come up with a plan for manually checking for Windows 8 updates. Failing to do so risks the long-term security of your device and if your device isn't secure, your data isn't secure either.

This article may contain affiliate links. Click here for more details.