How to Stream or Mirror Windows 8 to a TV
Today, the devices we get work done on have to be adaptive. The market is now filled with what Microsoft and other companies have decided to call 2-in-1s, Windows 8 devices that are able to become a tablet, laptop or even a desktop with additional accessories or altering the orientation of their screen. There are also a few new wireless technologies dedicated to enabling this future, one is Miracast.
The big deal with 2-in-1s is that in the future, the computer as we've known it will pick up the characteristics of the smartphone and the tablet, instead of smartphones and tablets picking up the complete feature set that laptops and desktops have at their disposal today. It' a radical departure from the way we used to think about tablets and portables before.
In order for this vision of computing to become a reality there has to be some sort of consensus on how accessories and connecting to other devices will work. Requiring physical connectors like a USB port or a VGA monitor port was fine until now. That one standard allowed millions of users to effortlessly connect accessories without having to worry much about whether their Windows device or their monitor were compatible with each other. It turns out that this is a very bad approach for this new world of 2-in-1s. That's because a 2-in-1 has to be light and portable. That means there's no space for extra ports and switches that aren't necessarily essential to the device's mission. That's lead to a few miniature Windows 8 2-in-1's dropping any physical display ports.
Read: How to Connect Your Windows 8 Tablet to an External Monitor
Miracast allows those devices to wirelessly connect to monitors and televisions. It's not a simple as connecting with an HDMI or VGA Cable, Miracast requires that users purchase a compatible Miracast adapter or smart television that's already equipped with Miracast technology. Users also need a Windows 8 device with a processor powerful enough to handle streaming and a wireless network.
Here's how to setup Miracast streaming from your Windows 8 device.
In our example we're using a Dell XPS 13 that has been preloaded with Windows 8.1, the latest version of Microsoft's flagship operating system. You'll need that update before your device supports Miracast streaming. Head to the Windows Store and look for the "Install Windows 8.1" banner to see if you already have the update installed on your device. If you don't see the banner, you're all set. If you do see the banner than you'll need to install the update right now. Typically, the process takes about an hour.
You'll also need a Miracast compatible device. For this tutorial we're using the Netgear NeoTV Max adapter to get streaming working. The process of sitting up a Miracast device varies depending on the specific device you use. This tutorial only covers the setup process on your Windows 8 device of choice. You should read the manual included with your Miracast device for its setup. Then come back to this tutorial when you're ready to get the stream up and running.
First, turn on your television and Miracast streaming device and prepare it to receive a stream. On the NeoTV Max this is done by powering on the device with its remote control and opening the Intel WiDi application.
Pick up your Windows 8.1 equipped 2-in-1, notebook or laptop. Head to the Start Screen by pressing the Windows key on your keyboard, the Windows button underneath or near your device's display. Touch users should place their finger on the right edge of the display and slowly slide their finger to the left. Then tap on Start.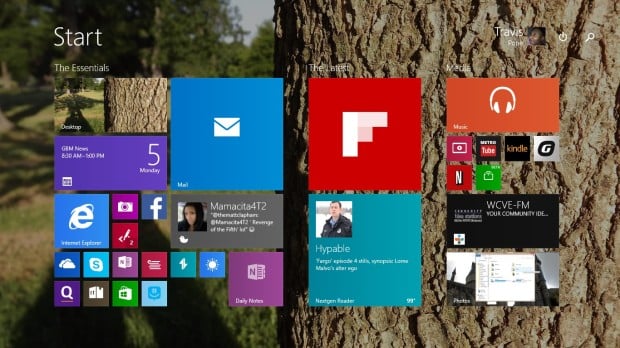 Mouse and keyboard users should place their cursor in the top right corner of their screen to open the Charms Bar. Touch users should place their finger on the right edge of their screen and slide it slight to the left. Tap or click on Devices.
Tap or click on Project.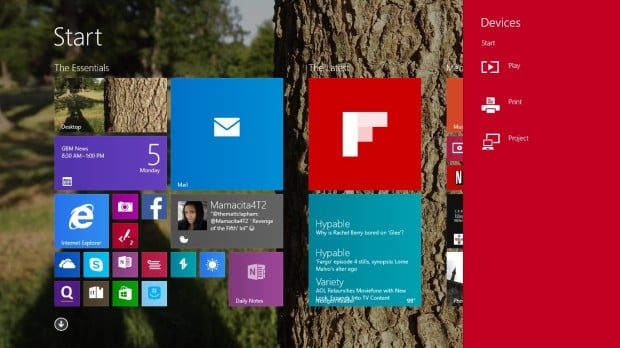 Tap or click on Add a wireless display.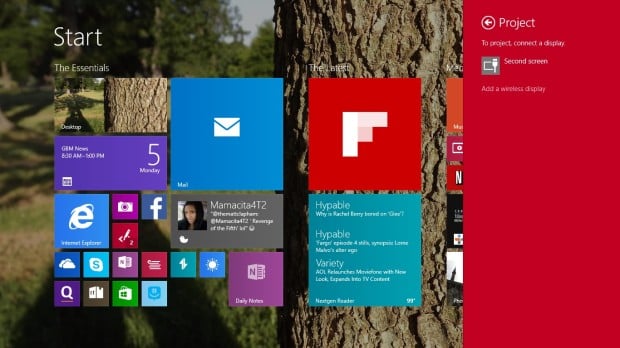 Now, Windows 8.1 will take you into the Settings app so that it can scan for any wireless Miracast receivers on your home network. If you haven't set up your streaming device, now is the time to do it. We've already configured ours and named it Room Display. Tap or click on the name of the receiver you'd like to pair with your device for Miracast streaming.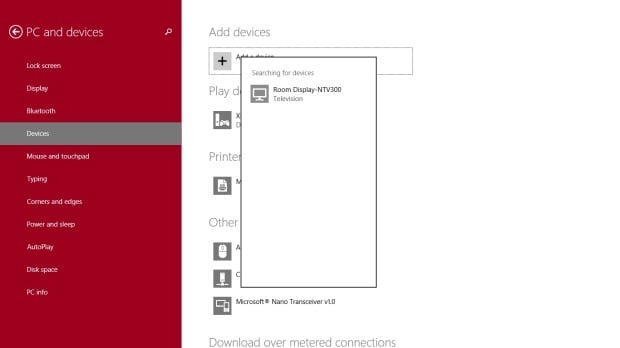 Enter the code that should now be appearing on your device.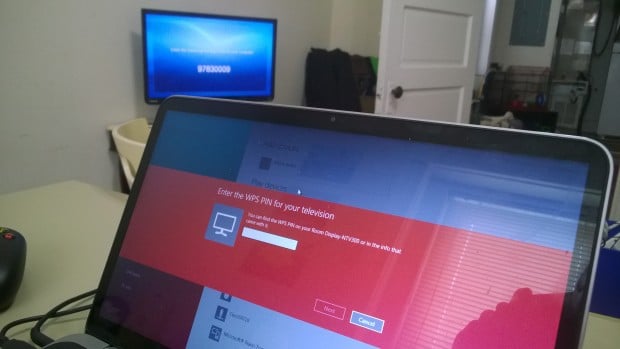 Now you should be connected.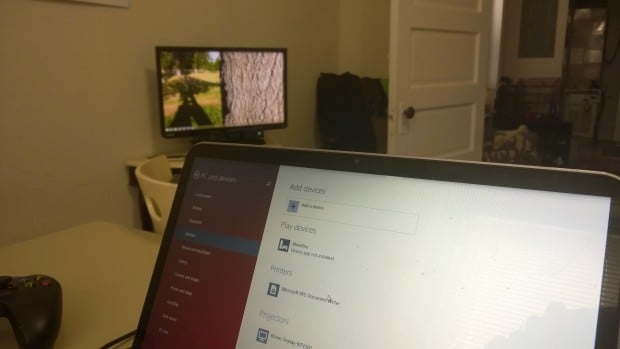 By default, activating Miracast will duplicate whatever is on your screen. This mode is great for anyone who'd like to simply showcase a presentation or watch a video on a larger screen. Going back to the Project menu after you've connected to your device also allows you to change to other modes like Extend. Extend allows users to have separate work spaces on each monitor and more. Keyboard and mouse users can quickly access this menu by holding down the Windows Key and the letter P at the same time.

As an Amazon Associate I earn from qualifying purchases.