How to Sync Documents to iCloud with Pages
With all the buzz being about "the cloud" today, many users do not know what this is and how it can help them. Syncing documents between your iPhone by using iCloud is one of many examples of how useful the cloud can be.
While there are other ways to get documents back and forth (such as emailing them) the cloud provides a much simpler and more reliable solution. By using iCloud, documents are always up to date, conveniently on any of your devices, and they are available at a moments notice.
While there are some paid versions of iCloud, if you have an Apple ID the first 5 GB is free. This may not seem like a lot, but for the average user who just has a few documents, this is a decent amount of storage to start with. Follow the guide below to set up iCloud and start syncing pages documents between your Mac and iPhone.
How to Sync Pages Documents.
To be able to sync documents between the iPhone and Mac, you need the Pages app on both devices. If you do not have the Mac version search the app store for Pages. To download the iPhone app do the same, or click this link. The pages app for the Mac is $19.99 while the iPhone app is $9.99.
If you already have pages for Mac, just make sure that it is up to date so that it will sync documents over iCloud.
Once the app downloads, some settings need changed for iCloud to sync your documents. On the iPhone, Tap Settings.
Scroll down, and select iCloud.
Once under the iCloud tab, make sure that your Apple ID is the one signed in. Once you check this, scroll down and tap the Documents and Data option.

Under this tab, set Documents & Data to ON. Also, if you would like your documents to sync while away from a WiFi network set Use Cellular Data to ON. This last option may use some of your data allowance every month, but it is worth the usage as it helps keep your documents up to date both on your Mac and iPhone.
Once these settings apply, go to the home screen and Open Pages. 
Once the app loads up tap Continue.
To allow document syncing select Use iCloud.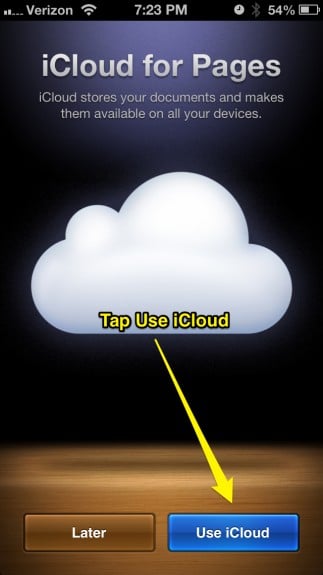 Tap Use Pages to start using the application.
If some of your Pages documents are already in iCloud, they should appear on the main screen.
Tap on one of your existing documents, or select the Plus icon in the top right to create a new document.
On the pop-up window select Create Document. 
Just like in Pages for Mac there are templates that you can choose from, or select Blank.
Using the keyboard, enter what you would like into the document. There are more advanced options for font size, color and much more by using the tools in the top right corner. Once you finish editing your document tap Done.
On the main screen the new document that you created will appear and is now available on any device with iCloud.
To view iCloud documents on the Mac open Pages and click the iCloud tab in the top right of the first Pages window that appears. You can then open and edit any documents saved in iCloud and the changes will be available when you go to edit them with your iPhone. 

As an Amazon Associate I earn from qualifying purchases.