How to Sync PDFs with Your iPad
The .PDF file format is arguably the most popular for digital paperwork and we're going to show you how to sync and view PDFs on your iPad.
With more and more people going "green" in order to keep the environment as clean as possible, many users are saving paper and printing less by taking advantage of digital books and other digital literature that might normally be printed on paper.
We've shown you how to set up iBooks and get your content synced across multiple devices, but we're gonna show you how you can manage your PDF files on your iPad
Unlike a regular computer, you simply just can't download or copy/paste a PDF to your iPad and view it right away using a PDF viewer of your choice. This is one caveat to Apple's so-called "walled garden," where the company likes to lock down its ecosystem in order to keep it secure and exclusive.
However, this doesn't mean you still can't easily view PDFs on your iPad. In fact, there are several ways to do so, some of which are easier than others, but we'll go through a couple of options that you can try out to see which one works best for you and your workflow.
Syncing PDFs with iTunes
If you want your PDF documents to be viewable on all of your Apple devices, it's currently not possible through iCloud and you'll have to do it the manual way. That is, sync your PDFs to all of your Apple devices separately through iTunes.
Read: Apple's iBooks is a Mess
It's definitely a pain in the butt, but it's the only way to have your PDFs in iBooks on all of your iOS and OS X devices. This is because Apple only syncs content in iBooks through iCloud that have been purchased from Apple, so PDFs that you downloaded yourself from a third-party source can't be synced over iCloud.
Luckily, it's pretty easy to sync PDFs from your computer to any of your iOS devices. To do this, simply open up iBooks on your Mac and drag-n-drop any PDFs into the iBooks application. They'll now appear in your iBooks library on your Mac.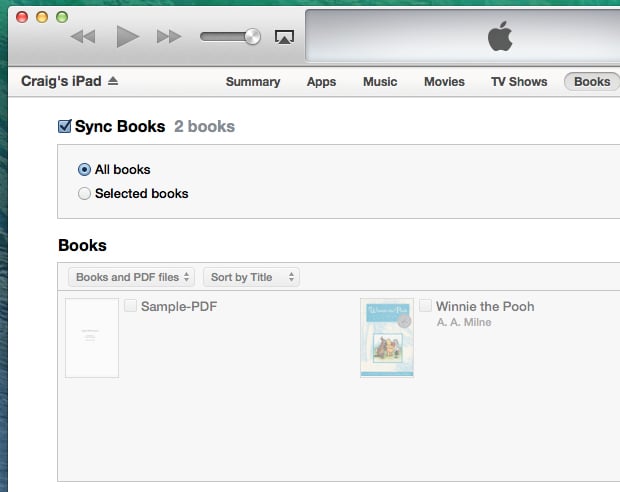 From there, plug your iPad into your Mac and open up iTunes. Then click on your iPad in iTunes and select the Books tab toward the top. Put a checkmark next to Sync Books and you can either sync all of your books in one swoop or select only certain books to be synced to your iPad. Then click Apply in the lower-right corner to start the syncing process.
Once it's done syncing, your PDFs will now be viewable on your iPad, from which you can view them in the iBooks application.
Using Cloud Storage to Sync & View PDFs
Perhaps the easiest way to sync PDFs across all of your devices is to store them on a cloud service, that way you just need to drag-n-drop PDFs into the cloud storage folder and they'll be available on all of your devices that have the cloud app installed.
Arguably the most popular choices are Dropbox and Google Drive, and we're guessing you already use one of these. All you have to do is make sure you have the app installed on all of your devices, including your computer (although you can upload files from the web interface if you want) and make sure you're logged into your account on all of them.
From there, you can add PDF files to your Dropbox or Google Drive folder and they'll show up on all of your devices in a matter of moments. To view them, both Dropbox and Google Drive have their own built-in PDF viewer, so you don't need any third-party utilities to open up your PDFs.
The only downside to using cloud storage is that you'll need an internet connection, unless you're able to save PDF files for offline use, which many cloud apps are able to do.
Email PDFs to Yourself
The next best option is to email PDF files to yourself and view them on your iPad from your email client. It's not as easy as using a cloud storage service, but it's easy to do if you don't use the cloud.
If you use Gmail, you can simply open up the PDF file right in Gmail and view it without any third-party help. If you use Apple's default Mail app, there are a couple more steps you'll need to take.
Specifically, when you tap on the PDF file, you'll want to tap the Share button in the upper-right corner and then select Open in iBooks. iBooks will open and you can view your PDF from there. Furthermore, when you use iBooks to open a PDF, the app will automatically save a copy of the PDF to your iBooks PDF shelf. These PDFs will then sync to your iTunes library the next time you sync your iOS device with iTunes.