How to Sync Your OneDrive Pictures & Documents to Windows 8 
When you're about to switch to a new computer and move between two different computers, nothing is more frustrating than having to mange your files. Today, many users still copy them to a hard drive and then sync them over, but with Windows 8 Microsoft added OneDrive, a cloud storage service that automatically backs up users' stuff.
With the free Windows 8.1 update, Windows 8's OneDrive support became more feature complete. It was automatic back up that made OneDrive on Windows 8 such a big upgrade. Never before had Windows 8 users been able to back up their files to a Microsoft-made service without having to install extra software that sometimes bogs down their PC.
Getting pictures, documents and files into OneDrive has never been easier than it is in Windows 8. Unfortunately, getting those things back onto your PC isn't always as easy.
In this tutorial you'll learn how to make OneDrive pictures, documents and more available offline in Windows 8. Before attempting this yourself, it is absolutely crucial that your Windows 8 device have Windows 8.1 installed already. To see if it is, go to the Start Screen and tap or click on the Store icon. If you see a purple banner on the left asking you to upgrade for free, you'll need to perform that update now. Typically, the update takes about an hour on a speedy internet connection.
Go to the Start Screen by pressing the Windows key on your keyboard or the Windows button near your tablet or 2-in-1's display.
Look for the OneDrive app on your device's Start Screen. It's a dark blue tile that look like it has two clouds floating in it. Open it by tapping or clicking on it if you see it.
If you don't see it than you don't have OneDrive pinned to your Start Screen. To find OneDrive mouse and keyboard users will need to click on the arrow in the bottom right corner of their screen to open all list of all installed apps. Touch users should place their finger anywhere on the Start Screen and slide their finger upwards to reveal this same list of installed apps. Find OneDrive in the list and tap or click on it.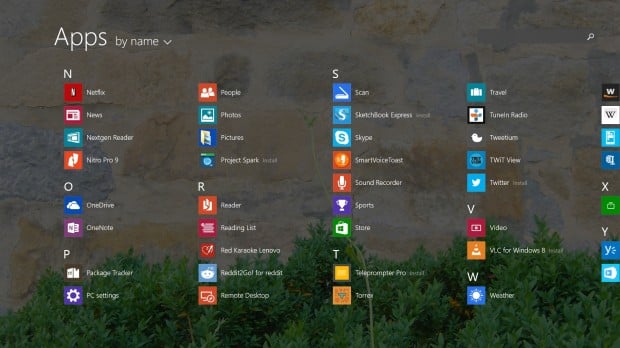 Once you open the app, you're taken to a view of every folder you have stored on OneDrive. Overtime you should have added more folders and files here from other PCs, phones or tablets. You can also add more stuff to OneDrive from the web. Earlier tutorials from Gotta Be Mobile have covered how to sync to OneDrive so we won't cover that here.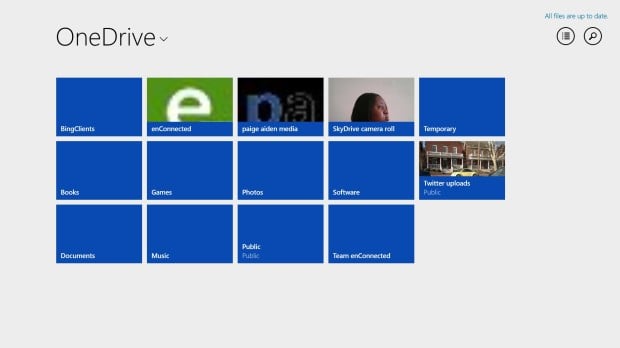 Read: How to Turn on SkyDrive Syncing in Windows 8.1
Mouse and keyboard users should place their mouse pointer in the top-right corner of their screen to reveal the Charms Bar. Then click on Settings. Touch users should place their finger on the right edge of their screen and slide it left slightly to reveal the Charms Bar. Tap on Settings.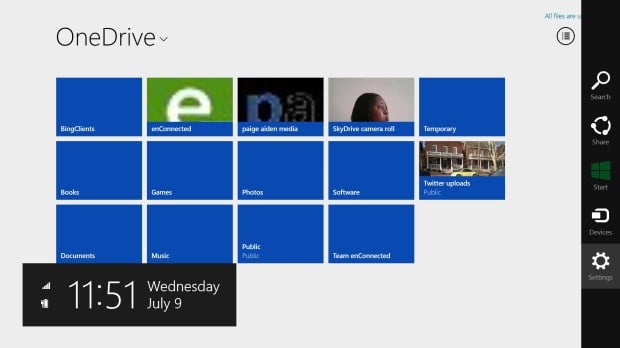 Tap or click on Options in the Settings Menu.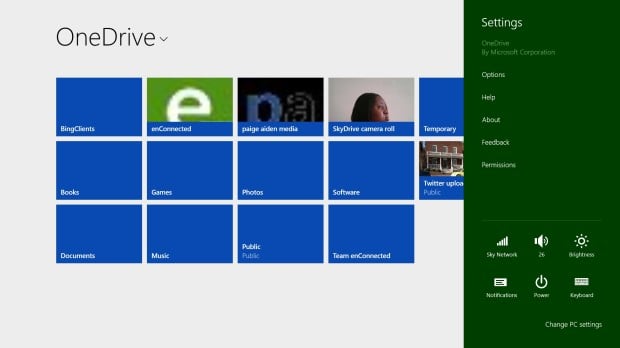 Before you sync everything to your device, it's important to see how much storage space your stuff will take up. Look at the field labeled Space Needed. If it's higher than Space Available then it's a very, very bad idea to go syncing all of your OneDrive content. You'll want to sync files and folders instead since your device doesn't have enough space.
Tap or click on the switch under Access All of My OneDrive Files Offline. if you're sure that you're ready to sync all of your content and the process will begin.
For those users who don't have a lot of stuff stored on OneDrive the sync should go rather quickly. The process could take a couple of hours or even days if there's a lot of content to be synced. For example, the computer used in this example has 13GB of data that would take a pretty long time to sync.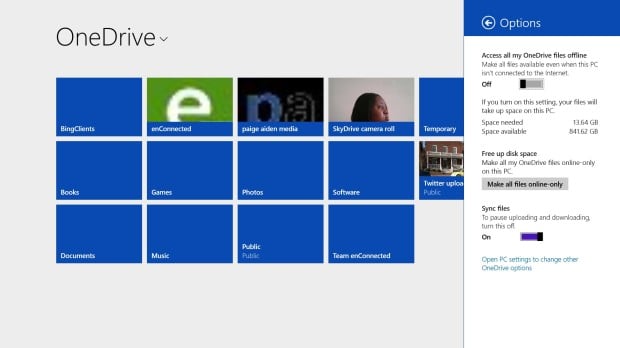 Everything is synced to a OneDrive folder on your device. That means you'll find copies of everything being synced in that folder. To open it, open the File Explorer by tapping or clicking on the folder icon at the bottom of the Desktop. Then look for the OneDrive option in the toolbar area in the left pane of the window.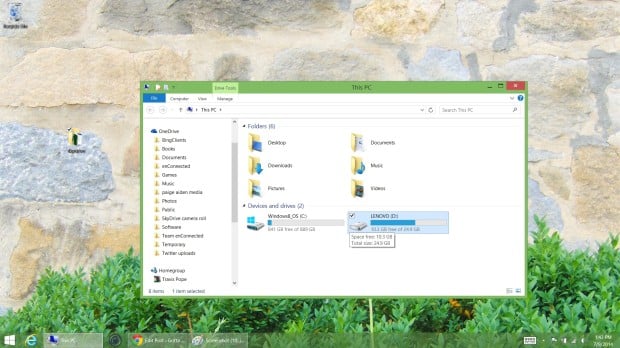 Many Windows Store apps, apps that open from the Start Screen, have OneDrive integration, so they'll already be able to detect any files that are in the OneDrive folder once you open them. For example, the Photos app automatically checks here for new pictures and videos when you open it. Xbox Music on the other hand, doesn't but you can add the OneDrive folder to it inside it's settings. You'll have to browse to the OneDrive folder in Desktop applications. For example, if you want to iTunes to find music there you'll have to tell it to check there in it's settings too.
Good luck syncing and storing all of your memories.

As an Amazon Associate I earn from qualifying purchases.