How to Take a Perfect Photo with Samsung Galaxy S4 Best Face Mode
The Samsung Galaxy S4 Best Face feature on the stock camera can take nice groups shots by grabbing the best face from a series of 5 photos. When a person takes a picture of a group of friends or family members, and the picture shows one guy blinking, another looking away and a third who didn't smile, Best Face mode can fix these otherwise ruined shots.
When should we use Best Face mode? A user can take group photos at a family reunion or after junior's big championship little league game win. The Samsung Galaxy S4 Best Face mode will help users take better group shots in these situations. Samsung makes the mode easy to use since it grabs a group of shots and automatically detects the faces of the people in those shots.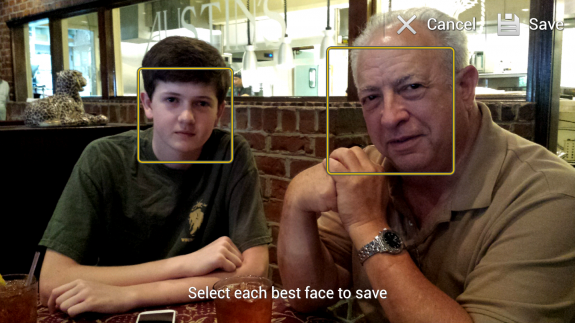 Watch our camera segment of our Samsung Galaxy S4 video review below:
To use Best Face, open the stock Camera app on the Samsung Galaxy S4.
Tap on the Mode button to bring up the carousel of modes available in the Camera app.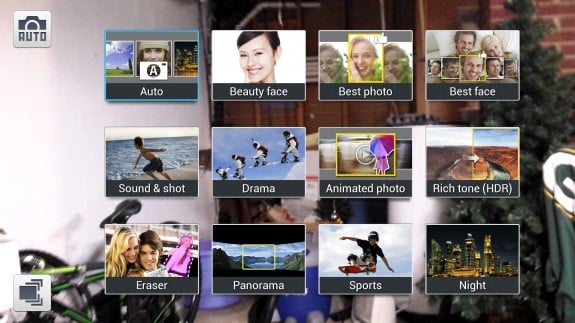 We like to toggle the mode view setting to grid view so we can see all of our Samsung Galaxy S4 Camera modes on the screen at once. It makes selecting modes faster and easier. Do this by tapping the button in the upper right corner while in portrait mode or lower right corner while in landscape mode.
Choose Best Face from the grid or carousel of modes.
The text on the Camera app screen warns the user to hold the camera steady while taking this shot. The phone will quickly snap 5 shots in just a second or two.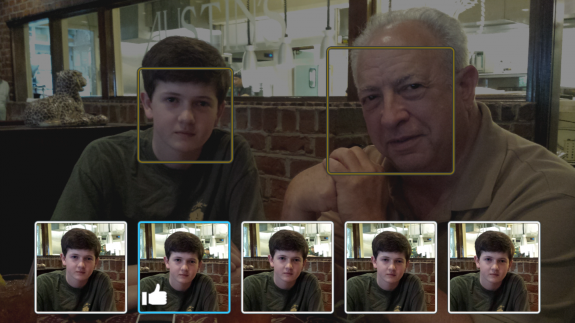 The app will detect the faces in the shot. It might show an error message that says the app can't detect any faces. If that happens get closer and retake the shot.
The app will show the picture with the faces highlighted by a yellow square. If one of those faces doesn't look right, tap the face and a menu of alternative faces shows up at the bottom. These alternative faces come from the detected faces in the other photos taken in the series of five images the camera shoots when the photographer first takes the group shot. Pick the best face for each person by tapping each face and then choosing a face from the five. The app shows which face it used by marking that face with a thumbs up icon. After the user chooses the best face, the app merges them into one shot with all the best faces.