How to Take a Screenshot on Kindle Fire HDX Tablets
Not everyone has an overwhelming need to take a screenshot on a mobile device. But it is a function that many like to have. With all of the sharing capabilities being built into smartphone operating systems and photo sharing services, the need to grab something off of your screen to send to a friend or colleague is actually diminishing. Some of those who do need the continuing ability to take screenshots include developers, bloggers and media types. I'm sure there are others. So, it is a good thing that screenshot capability is built into mobile devices. The Kindle Fire HDX Tablets are no different.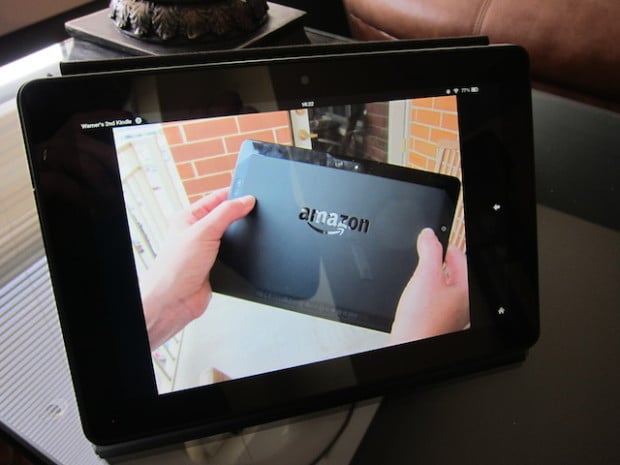 You can grab a screenshot of almost any content that is on your display and save it or share it to any number of locations around the Internet. It's actually quite easy to take a screenshot on Kindle Fire Tablets.
Read: Kindle Fire HDX 8.9: Review
Here's how:
First get the content you want on your screen. Note that you can't take a screenshot of video on the Kindle Fire HDX Tablets. If you do you'll end up with a big empty black photo. Next locate the Power and Volume buttons on the back of the device.
That's right. These button controls are located on the back of the Kindle Fire HDX tablets. The Power Button is on one side and the Volume Buttons are on the other.
Press and hold both the Power Button and the Volume Down Button simultaneously. After a second or two you'll see a copy of the image of your screen that gets smaller and then disappears. If you have the volume up you'll hear an audible click as an additional hint that you've taken the shot.
Finding the right rhythm for pressing the buttons takes some practice. You need to press them down together. If you press the Volume Down Button first you'll see the volume slider on your screen.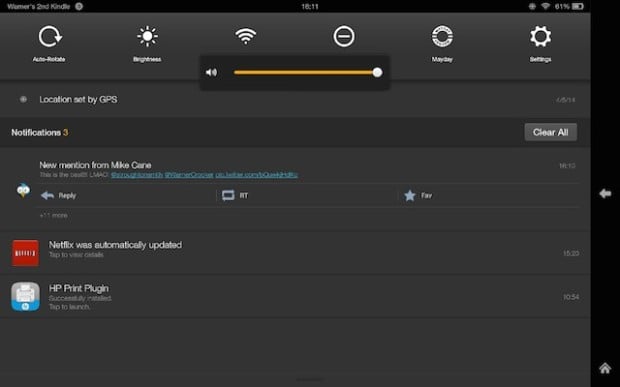 If that happens you'll need to wait until it disappears or you'll have a picture of that in your screenshot.
Using the buttons to take a screenshot actually works on all Kindle Fire Tablets from the 2nd generation on. The buttons on 2nd generation Kindle Fire Tablets are located on the side of the Tablet, not the back as they are on the Kindle Fire HDX tablets and Kindle Fire HD 3rd Generation Tablet. Here's a list of the Fire Tablets that include this hardware method of taking screenshots.
Kindle Fire HDX 8.9″ (3rd Gen)
Kindle Fire HDX 7″ (3rd Gen)
Kindle Fire HD 7″ (3rd Gen)
Kindle Fire HD 8.9″ (2nd Gen)
Kindle Fire HD 7″ (2nd Gen)
Earlier versions of the Kindle Fire Tablets required you to use Eclipse, the desktop developer tool that you can install with the Software Development Kit (SDK) for the Kindle Tablets. Things have thankfully advanced since then.
Once you've taken your screenshots where do you find them? If you go to the Menu Bar on your Home Screen you'll find a category for Photos. Select that category. This will bring you to the Photos App.
On the left you'll see a list that includes All, Videos, Camera Roll, Cloud Drive Files, Device, Add Photo, Settings, and Help. If you don't see it, tap on the hamburger button in the upper left corner of your screen to display it.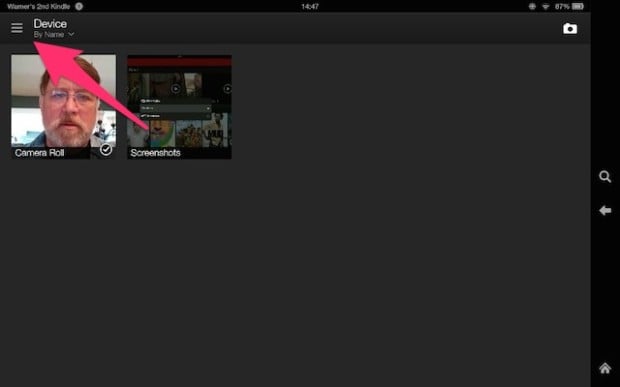 Once you have the menu selection available, select Device.
You should see two categories: Camera Roll and Screenshots. Guess which one you're looking for? Note that it can take a few seconds for screenshots to actually appear once you've taken them.
Once you open up the Screenshots category you'll see controls across the top of your screen in the upper right corner. The include a Camera icon, a Sharing icon, and a Selection icon.
This can be slightly confusing on your first go round. The Selection icon will allow you to select Screenshots to print or delete only. The Sharing icon, once you tap it reveals options to share your Screenshots on Facebook, via Email, or More. If you select the More option, you'll be prompted to select a photo first. Once you select a photo or photos you'll need to tap More again.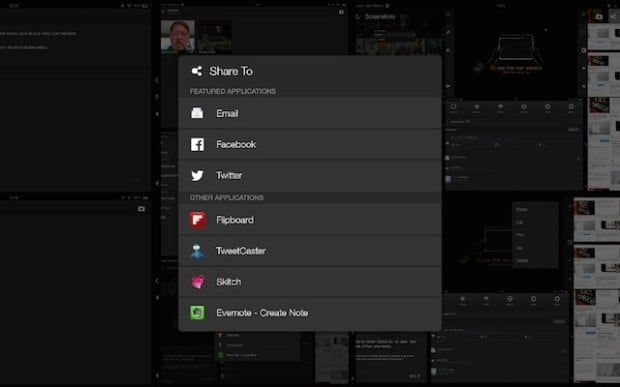 This time you'll get options to Share via Email, Facebook, Twitter, (assuming you've set up those accounts on your Fire Tablet) and other Apps you may have installed.
You can alternatively bring up an action menu by tapping and holding on a photo. This action  menu gives you options for Share, Edit, Print, Info, and Delete.
Note that if you're emailing photos to a friend or colleague you can only send up to 10 photos at one time.
Screenshots reside on your device. They don't go to Amazon's Cloud for storage or archiving, so, if you take a lot of them you may want to do some periodic house cleaning and delete a few. There's no easy option to share photos to that cloud storage either.
You can use the editing tools built into the Photos App that offer a range of options including filters.
Or, if you use a third party Photo annotating App like Skitch, you can open your screenshots in those Apps to do that kind of work.

As an Amazon Associate I earn from qualifying purchases.