How to Take a Screenshot on the Galaxy Note 7
In this quick guide we will explain how to take a screenshot on the Galaxy Note 7, and use some of its more advanced screenshot and S-Pen features. With the Note 7 now readily available owners have lots of questions. One task everyone wants to know about is taking a screenshot, the new scrolling "full page" screenshot, and using the GIF maker. The easy steps can be found below.
On August 2nd Samsung unveiled their best Note yet, the Galaxy Note 7. Adding double the storage, water resistance, an Iris eye scanner for better security, a microSD slot and a huge battery to their phablet. Once you buy yours, you'll want to learn about everything it has to offer.
Read: Best MicroSD Cards for the Galaxy Note 7
This trick is one that almost all Android users know, but Samsung uses a different method than most. The Galaxy Note 7 screenshot function can be done multiple different ways. One being a gesture swiping your palm on the screen, a button combination many have used for years, and the third is the scrolling screenshot. Read on for the quick instructions.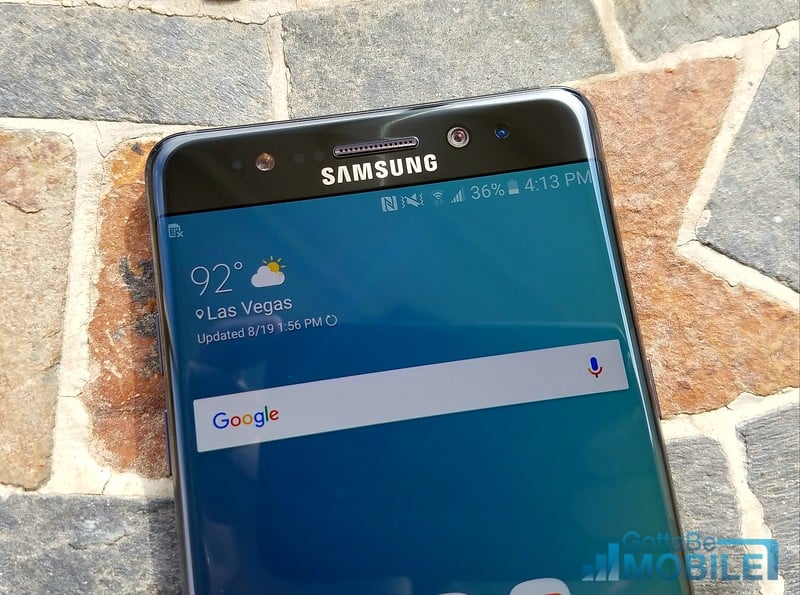 If you have used a Samsung Galaxy phone in recent years this will be nothing new, but iPhone converts or a previous Android smartphone owner will want to know how. This will show you how to take a screenshot, screengrab, or screencab, whatever you'd like to call it.
This trick allows us to capture and save whatever is on the screen. This can then be edited or cropped to get exactly what you want, shared with friend, and with the Note 7 we can even do a screenshot of video and turn it into a GIF.
Instructions
Saving a screenshot is very simple on Samsung smartphones. All you'll need to do is quickly push and hold both the power button+home button at the same time. Briefly push and hold both buttons simultaneously and let go, which will be followed by the screenshot sound and animation. That's it. Now find it in your photo gallery or the notification bar above to share, edit or view.
Read: 13 Best Samsung Galaxy Note 7 Cases
There is also a second method that's even easier, although I find myself using the above method most. Samsung has neat gestures with the Galaxy Note 7 (and all Galaxy phones) that works great. A quick swipe of the edge of your hand across the entire display will also capture a screenshot. Many owners do this by accident and don't know what they did, but it's actually a feature. The image below explains it a bit more.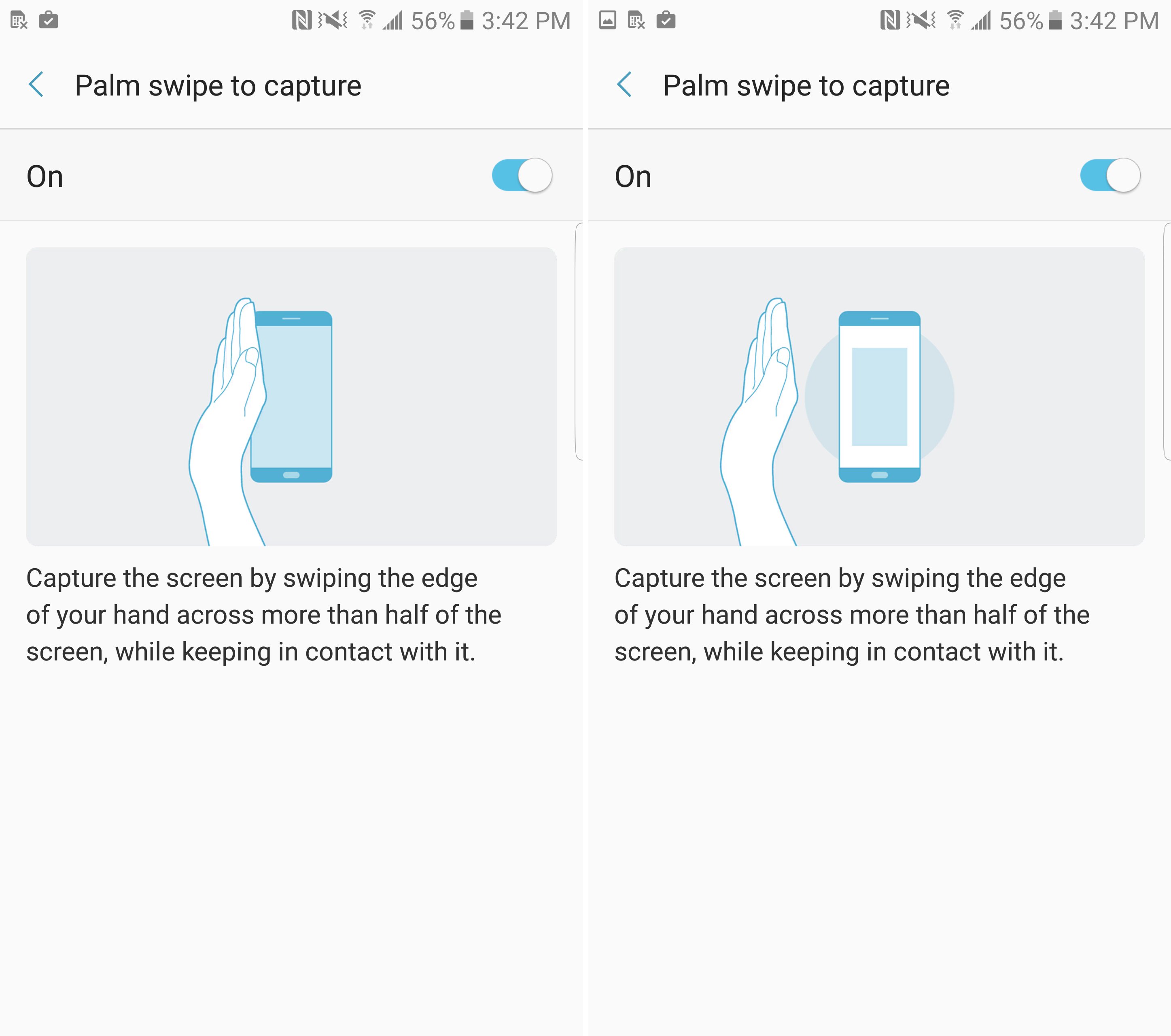 If this is something you accidentally do often, head to Settings > Advanced Features > and disable the Palm Swipe to Capture feature and just use the button combination mentioned earlier.
Scrolling Screenshot on Galaxy Note 7
Continuous or scrolling screenshot was introduced with the Note 5, and now works with or without the S-Pen on all new 2016 Samsung Galaxy devices. This option lets owners take a screenshot of an entire email, webpage, book and more. With this users can take a screenshot that's much much longer than what's being displayed on the screen, and it's extremely easy.
Pull out the S-Pen stylus and tap the "Screen Write" option. This will instantly take a screenshot of whatever is on the display. Then an edit mode will appear with options at the top and bottom of the display. Select "Scroll Capture". Or just do the same without the S-Pen after using one of the original screenshot methods mentioned earlier. This will capture and automatically scroll down an entire page. Letting us capture as little or as much as we'd like.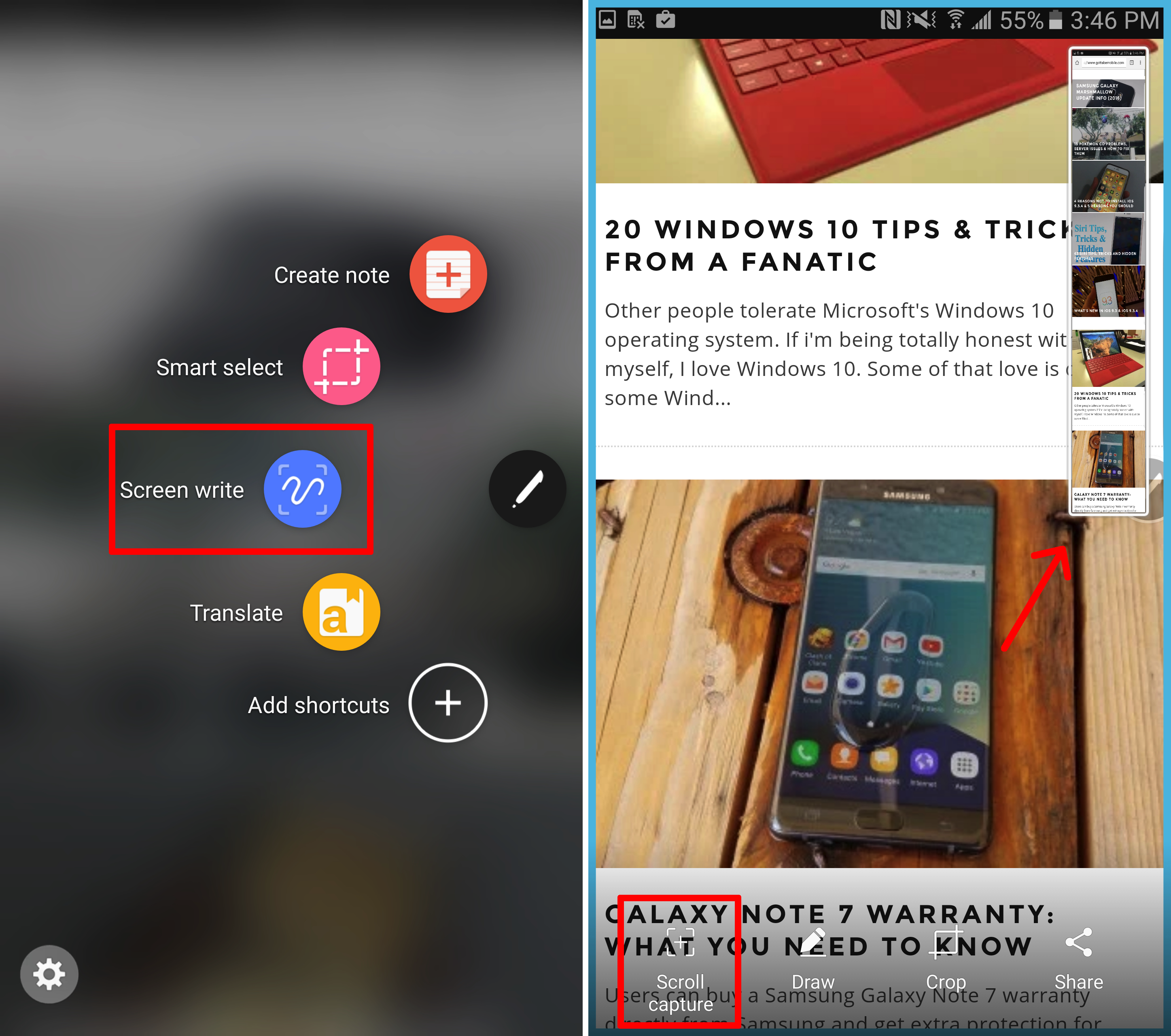 Capture more and more of the screen and go down an entire email, website and more. This is a great way to save an entire text conversation without taking 15 screenshots. It's one of many features of the Note 7 and S-Pen stylus.
Create a GIF on Note 7
This last one isn't technically a screenshot, but in a way it is and the same basic rules apply. We can make a GIF from a video right on the Galaxy Note 7 screen by capturing it. Have the video in the background, then proceed to pull out the stylus. When the pop-up menu appears tap on "Smart Select" just above the Screen Write option we just used. This will give you multiple options, and select "GIF" on the top right as shown below.
Next up simply position the box where you'd like it to record at, hit play on the video if it isn't still playing then record and capture video playing on the Note 7. This will instantly do a video screengrab and turn it into a GIF to share on social media. Perfect for funny moments, events and other things. Keep in mind the notification not to use this tool for copyright infringement. This is one of our favorite new features on the Galaxy Note 7.
That's all there is to it. You now know how to take a screenshot a few different ways, take a scrolling screenshot, and take a video screenshot and turn it into a GIF all within seconds on the Samsung Galaxy Note 7. Stay tuned, and check back soon for more Note 7 how to guides.

As an Amazon Associate I earn from qualifying purchases.