How to Take a Screenshot on the Galaxy S6
The Samsung Galaxy S6 and Galaxy S6 Edge have been available for a few months now, and we're constantly getting questions from owners. One simple task we constantly get asked about, is taking a screenshot. This quick guide will explain how to take a screenshot on the Galaxy S6.
Released in April, the Galaxy S6 and Galaxy S6 Edge are two excellent smartphones with a beautiful design, stunning big display, and a new bigger home button with an improved built-in fingerprint scanner. This home button is one of the keys you'll need to press to take a screenshot.
Read: 65 Galaxy S6 Tips & Tricks
This trick is an old one, but one that many consumers want to learn right away and start enjoying on their new phone. The Galaxy S6 screenshot function can be done in two different ways, one which has been the same for years and years, and the other arrived with the Galaxy S4. A few buttons or swipes of the wrist is all it takes, so read on to find out how.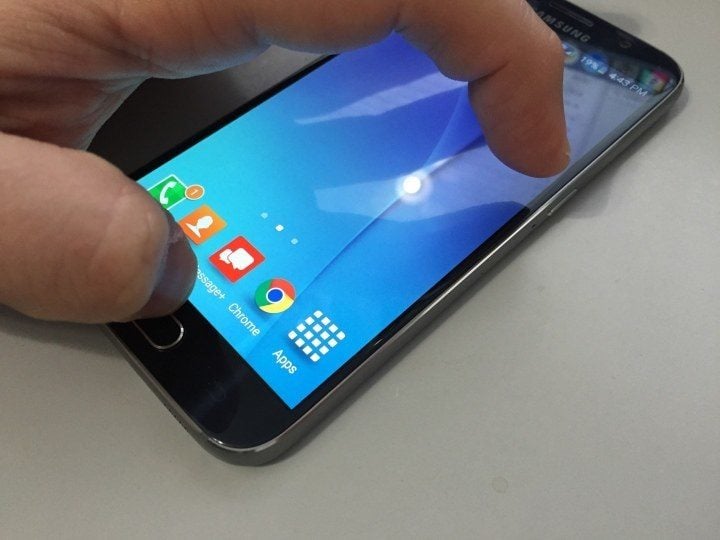 Anyone that has used a Samsung Galaxy device in the past few years you'll be right at home and probably won't even need to search how. That said, if you're an Android convert leaving the iPhone or a previous Android smartphone, below are the few simple steps you'll need to take in order to capture and save a screenshot.
For those confused. A screenshot (or screencap, screengrab) is essentially our smartphones capturing and saving whatever is on the screen. This can then be edited or cropped to get exactly what you want, and comes in extremely handy for a variety of uses.
Instructions
Now as we said above, saving a screenshot is ridiculously easy on Samsung smartphones. All you'll need to do is simply push and hold both the power button+home button at the same time. Briefly push and hold both buttons and let go, and you'll see and hear the screenshot capture. That's it. The phone saves whatever was being displayed, and can be accessed from the gallery. From here users can share as they'd like, go into edit mode and crop out anything, and easily share things with friends or family.
However, there's a second method that's technically even easier, although I find myself using the above method the most. Samsung has neat gestures with the Galaxy S6 and these also work. A simple swipe of the edge of your hand across the entire display will also capture a screenshot. You've probably done this on accident and didn't know how, but it's a feature. See the image below for an idea of what we mean.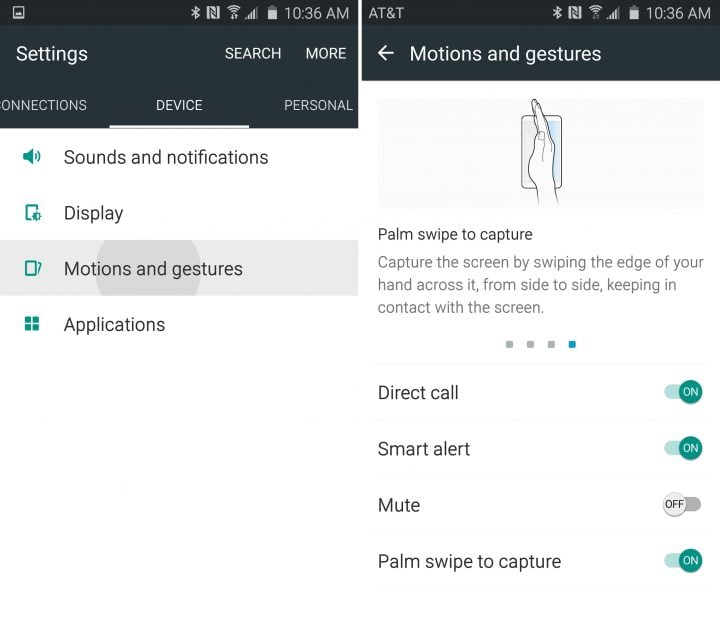 Users can head into settings > device > motion controls and make sure the "Palm-swipe" gesture is enabled. Once you've done this simply swipe the edge of your hand across the front of the screen and it takes a screenshot. Make sure your hand touches the screen the entire time, swipe quickly, and it will save whatever is on the display.
It works in either direction, and may take a few tries before you master the technique. Once figured out owners can snap a copy of the display in seconds, and share it with ease.
Read: How to Reset a Frozen Galaxy S6
The screenshot will be in the notification pulldown bar and you can instantly tap and share it right from there. However if you swipe it away and need it later, these images can be found in the gallery app, or Samsung's "My Files" application in the app drawer.
If you happen to notice you're taking screen shots accidentally, or just don't want to use the palm-swipe method here's how to turn it off. Settings > Device > Motions & gestures > Palm Swipe to capture > and toggle the on/off button.
Screenshots are very handy and something I use on a daily basis. That's all owners need to know. Press both power and home at the same time and let do, or use the palm gesture motion detailed above. It's that easy, and only takes a few seconds.

As an Amazon Associate I earn from qualifying purchases.