How to Take a Screenshot on the HTC One M8
The new shiny aluminum HTC One M8 was announced and released earlier this year after being one of the most leaked devices in recent history. Now that consumers are starting to get their hands on it, we're getting asked a lot of questions.
HTC's new handset is completely packed full of advanced features (like that camera) but one thing we constantly receive questions about is something as simple as taking a screenshot. Whether you want to screenshot something funny posted to Facebook, a meme of your least favorite NFL team, or even important emails snippets, screenshots are an easy way to save things.
Read: HTC One M8 vs LG G3: 5 Key Differences & Features
Taking a screenshot or screengrab is one of the oldest tricks on Android, but the way it has been achieved may of changed a few times, not to mention some manufacturers do things differently than others. To take a screenshot with the HTC One M8 you'll just need to hold a few buttons, and you're all set.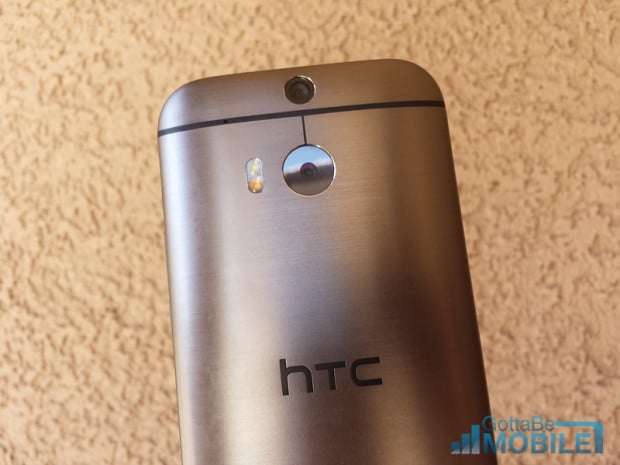 If you've used an Android device in the past few years you'll be right at home and its the exact same as almost every device that isn't made by Samsung. The Galaxy series does things a little different, but HTC screenshots are just like any other Android device, and very similar to the iPhone.
With the iPhone if you hit the home and power/sleep button at the same time and hold for a moment (and get the timing perfect) you'll hear the shutter sound and the screenshot is captured and saved. The same exact situation works on Android, only without the home button. Whether you've used a Galaxy device, iPhone, or some other Android in the past below is how to take a screenshot on the HTC One M8.
Instructions
Just like we mentioned above, saving what is on the screen of your new HTC One M8 smartphone is extremely easy. So easy in fact, that you'll probably be upset you didn't try this before.
Press the Power/Sleep button on top of your HTC One along with the volume down button at the exact same time. Simply position what is likely your pointer finger and thumb then push both power+volume down at the same time, hold until you see the visual screenshot on screen (or the camera shutter sound) and let go. It's that easy.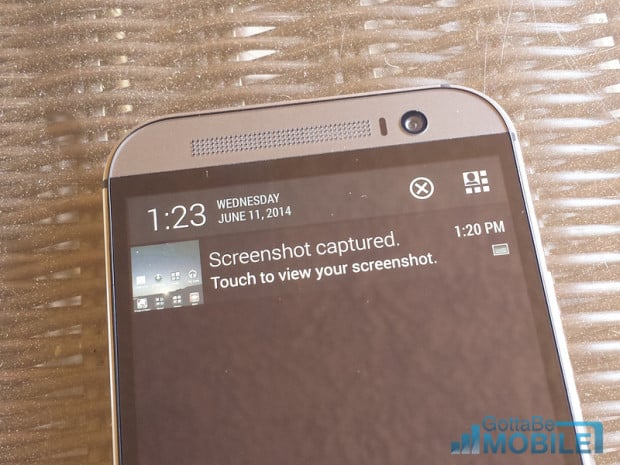 Once done you'll see and hear the screenshot capture, which can then be accessed in multiple ways. Pulling down the notification bar as shown above will instantly show the screenshot has been captured and saved, and you can even share it right from the notification bar.
Tap the Circle and two arrows "share" icon in the notification pulldown bar of the screenshot and you can instantly send to a friend in a text message, add to an email, or any of the many share integrations with Android.
Read: HTC One M8 Setup Guide: 5 Steps to Get Started
Alternatively all screenshots are also saved to the HTC One M8 internal storage and users can simply navigate to the gallery just like you would to retrieve and view a photo. In the HTC gallery app you'll notice everything is categorized, and if this is your first time you'll see a new album or category for "screenshots" and that's where they'll all be.
That is it, you're all done! You've now learned how to quickly and easily capture whatever is on the screen of your smartphone to share and do with it as you please. Stay tuned for more HTC One M8 coverage, details, and how to's in the near future.