How to Take a Screenshot on the LG G3
The new LG G3 is finally available throughout the world and coming this week to all major US carriers, and consumers are finally starting to get their hands on the brand new smartphone.
LG's handset is packed full of advanced features and technology, like the laser auto-focus on the back for the camera, but one thing we constantly get questions about is something as simple as taking a screenshot. Whether you want to screenshot funny posts on Facebook, memes from the World Cup, or even important emails, screenshots are an easy way to save important things from your screen.
Read: LG G3 vs Samsung Galaxy S5: Battle of the Flagships
This feature or trick is an old one that's been available from the same method on Android for years, but one that many consumers want to learn right away and start enjoying. There are two ways LG G3 owners can take a screenshot. One which has been the same for years and years, and the other is the same as other LG phones like the G2, using QuickMemo. A few buttons or swipes on screen are all you'll need to do.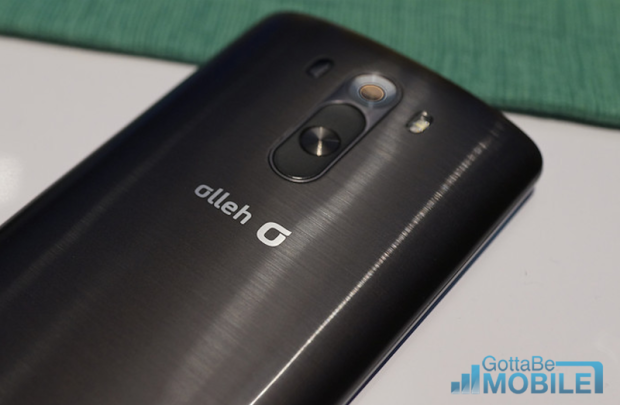 If you've ever owned or used an Android device in the past few years you'll be right at home and probably won't even need to search how. However, if you're new to smartphones, an Android convert leaving the iPhone or Windows Phone, below are the few simple steps you'll need to take in order to capture and save a screenshot.
For those confused. A screenshot (or screencap) is essentially our smartphones capturing and saving whatever is on the screen. This can then be edited or cropped to get exactly what you want, and comes in extremely handy for a variety of uses.
Instructions
As mentioned above, saving a screenshot is ridiculously easy on Android devices, and the same can be said for all LG phones. All you'll need to do is simply push and hold both the power button and the volume down key at the same time. Since the G3 has the buttons on the back this may feel odd, but place your finger in a location in which it can press both at the same time.
Briefly push and hold both buttons and let go, and you'll see the animation on screen and hear the screenshot capture. That's it. Your phone saves whatever was being displayed, and can be accessed from the gallery. From here you can share it as you'd like, or go into edit mode and crop out the edges while adding some flair with any of the many editing tools available to Android.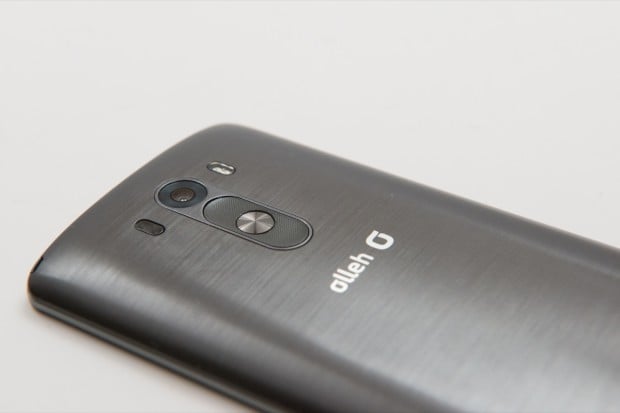 If you try and it doesn't work, try again. It's all about hitting them at the same time with a brief pause, then letting go. Timing is everything, and it's easy one you figure it out.
However, there's a second method that's technically even easier, although I still find myself using the above method out of habit. LG has a feature called QuickMemo+ which is essentially a way to quickly and easily take notes or reminders, as well as screenshots.
If fumbling with the rear buttons and trying to get the timing down right isn't your thing, the QMemo+ option might be your best bet instead. This built-in feature is just a swipe away. Check out the video above. Simply slide your finger from the bottom bezel of the screen up, and you'll get a circle of options as shown below. These are Google Voice commands, Google Now, and QuickMemo+.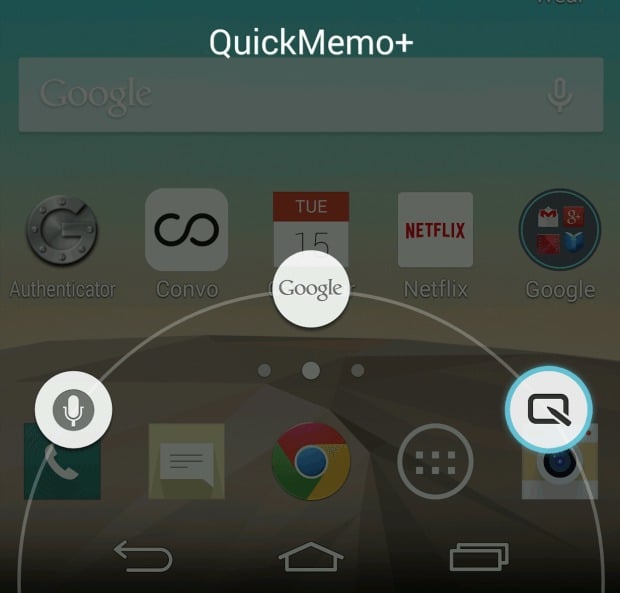 Slide your finger to the QuickMemo+ option and it will instantly take a screenshot of whatever was on the display. Then LG has tools to draw on the screen, take notes, and much more, but this works equally as well for screenshots and simply hit save up top. Head into your picture gallery and find the image, and you're all set.
That's it, you're all done. Those are the two extremely quick and simple ways to take a screenshot on the brand new LG G3 smartphone.

As an Amazon Associate I earn from qualifying purchases.