How to Take a Screenshot on the Samsung Galaxy S5
The new Samsung Galaxy S5 is finally available throughout the world and from all major US carriers, and consumers are finally starting to get their hands on the brand new smartphone.
While the phone is completely packed full of advanced features and uses, one thing we constantly have received questions about is something as simple as taking a screenshot. Whether you want to screenshot something funny posted to Facebook, your favorite NFL teams new 2014 schedule, or even important emails, screenshots are an easy way to save things.
Read: Galaxy S5 vs LG G3: 5 Things You Should Know
This trick is an old one, but one that many consumers want to learn right away and start enjoying on their new phone. The Galaxy S5 screenshot function can be done in two different ways, one which has been the same for years and years, and the other debuted last year with the Galaxy S4. A few buttons or swipes of the wrist is all it takes, so read on to find out how.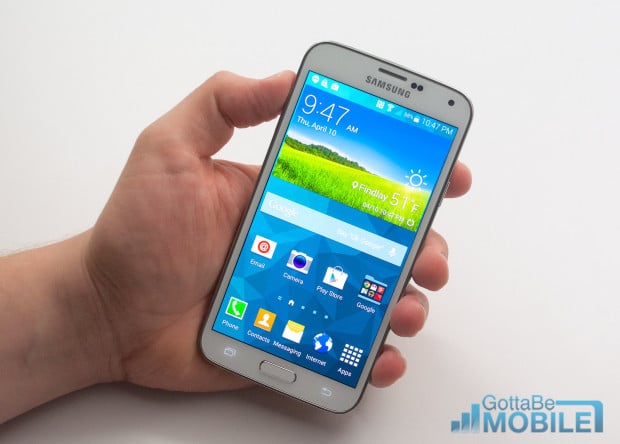 If you've used a Samsung Galaxy device in the past few years you'll be right at home and probably won't even need to search how. If you're an Android convert leaving the iPhone or a previous Android smartphone, below are the few simple steps you'll need to take in order to capture and save a screenshot.
For those who've just purchased a Galaxy S5 as their first smartphone, or their first Android smartphone, before we get into the simple steps you'll want to check out our entire 50 Tips, Tricks & Hidden Features for the Galaxy S5 first.
Instructions
Now as we said above, saving a screenshot is ridiculously easy on Samsung smartphones. All you'll need to do is simply push and hold both the power button+home button at the same time. Briefly push and hold both buttons and let go, and you'll see and hear the screenshot capture. That's it. Your phone saves whatever was being displayed, and can be accessed from the gallery. From here you can share as you'd like, go into edit mode and crop out anything you'd like to remove.
However, there's a second method that's technically even easier, although I find myself using the above method the most. Samsung has neat gestures with the Galaxy S5 and these also work. A simple swipe of the edge of your hand across the entire display will also capture a screenshot. You've probably done this on accident and didn't know how, but it's a feature. See the image below for an idea of what we mean.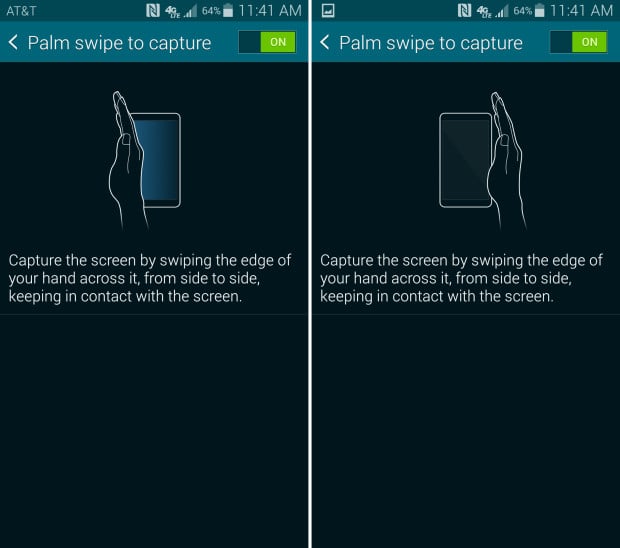 In one swift and quick motion slide the edge of your hand across the majority of the screen from side to side, keeping your hand in contact with the display. It works in either direction, and may take a few tries before you master your technique. Once figured out you can snap a copy of the display in seconds, and share it with ease.
If you happen to notice you're taking screen shots accidentally, or just don't want to use the palm-swipe method here's how to turn it off. Settings > scroll down to Motion > choose Motions & gestures > Palm Swipe to capture > and toggle the on/off button.
The screenshot will be in the notification pulldown bar and you can instantly tap and share it right from there. However if you swipe it away and need it later, these images can be found in the gallery app, or Samsung's "My Files" application in the app drawer.
Read: How to Remove My Magazine on the Galaxy S5
That's all there is to it. Once you've taken a screenshot you're free to do as you please and share it wherever you'd like. It's nearly the same on all Samsung devices, and these methods should work for the Galaxy Note 3, Galaxy S4, and even older devices like the Galaxy Note II as well.
Stay tuned for more Samsung Galaxy S5 coverage, and plenty of how to's for any and all things Samsung.

As an Amazon Associate I earn from qualifying purchases.