How to Take Panorama Photos on a Samsung Galaxy S4
The Samsung Galaxy S4 camera makes taking a panorama photo easy. A panorama photo stitches together a number of shots taken in succession to create one shot of a landscape or wide subject, like a huge group shot. The camera on the phone does all the work.
The process of taking panorama photos on Samsung Galaxy S4 begins with opening the camera app.
Tap on the mode button, which sits next to the shutter release button. It looks just like a camera inside an oval. The modes will show up looking like a carousel.
Slide through the available modes untill the Panorama mode shows up.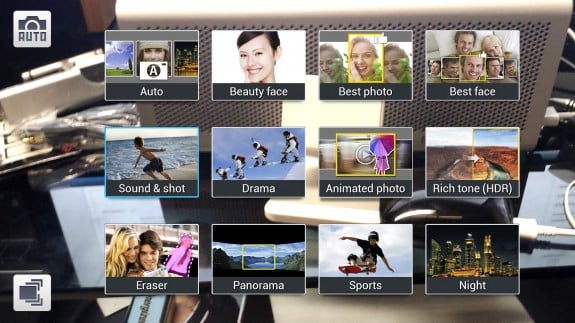 We prefer to change the way modes show up on the camera app by tapping on the mode toggle button in the upper right corner when in portrait mode or lower right corner in landscape mode, as seen above.
Here's our video review of the phone highlighting all the great features on the S4's camera.
Taking a Panorama Shot on the Samsung Galaxy S4
When the user selects panorama mode, a bar at the bottom of the screen appears. There's a blue box in the middle of the bar with flashing arrows on either side. Tap on the camera shutter release button and then start moving in one direction or the other.
It's important to start framing the panorama from the furthest position to either the right or left. It doesn't matter which side the shooter starts with, but start with one. We also find that we get better panoramas by shooting in portrait mode. The phone stays steadier and the camera gets a taller part of the scene. It takes a little longer to shoot the panorama, but try both and see if this tip helps get better shots.
While moving along the horizon of the shot, try to keep the blue box in the bar. The camera app compensates a little, but it produces better shots when the user stays inside the lines. Also, keep the phone in the same spot and rotate it instead of rotating the body.
Once finished taking the panorama, tap the camera button again to end the process. The camera app will process the shot and save it to the camera roll.
In the example shot above taken of an office, the room looks warped. This happens the closer the camera gets to the subject. The best panoramas stitch together only a couple of shots or come from landscapes with the horizon far in the distance.