How to Track Your Child's Location on iPhone
Every parent worries about their child, especially when they're going out with some friends. Here's how to track your child's location on iPhone.
Knowing where your child is at can put your mind at ease and make sure that they're not hanging out with the wrong crowd. Knowing their location will let you know where they're at, whether it's at a restaurant with some friends, or even just a friend's house, but it will also let you know if they're hanging out in a sketchy part of town or going over to someone's house that you may not be particularly fond of.
With the iPhone, there are a couple of ways that you can track your child's location. Find My iPhone is perhaps the best option, and not only is it a great tool for finding your lost or stolen iPhone, but it can also be used to track your child's location.
There's also an app from Apple called Find My Friends, and it's an app that focuses on the ability to see where you're friends are at so that you can meet up and hang out, but it can also be used to track your child's location if need be.
In any case, here's how you can track your child's location on iPhone, but before we get started, if your son or daughter has an iPhone and you have and Android device, it's not the end of the world, as you can get by using Find My iPhone. However, I highly recommend getting an iPod or an old iPhone for cheap, which you can use Find My iPhone on, as well as Find My Friends. Just make sure it's connected to WiFi whenever you want to use it.
Using Find My iPhone
Find My iPhone is perhaps the best option, but it requires that you know the password to your child's Apple account. Sometimes they won't mind handing it over and other times you might have to fight them for it, but knowing their password, allows you to login to their iCloud and see the location of their iPhone.
You can also login to iCloud.com in your web browser on your computer if you don't have an iPhone yourself, and then select Find My iPhone on the main page. From there, you'll be given a map and a blue dot representing their location.
To set up Find My iPhone on your child's iPhone, all you have to do is open up the Settings app and tap on iCloud (you might need to enter in their password). Then, scroll down to Find My iPhone and switch it on if it isn't already. You might get a prompt confirming your action, so just tap Allow if this pops up. From there, you'll be set to go.
Using Find My Friends
Find My Friends is an app made by Apple that hasn't received a lot of attention, mostly because there are a ton of other third-party apps that do much of the same and have become way more popular.
Plus, new features in iOS 8 pretty much make the app obsolete, but there's still a use for it for parents and their kids.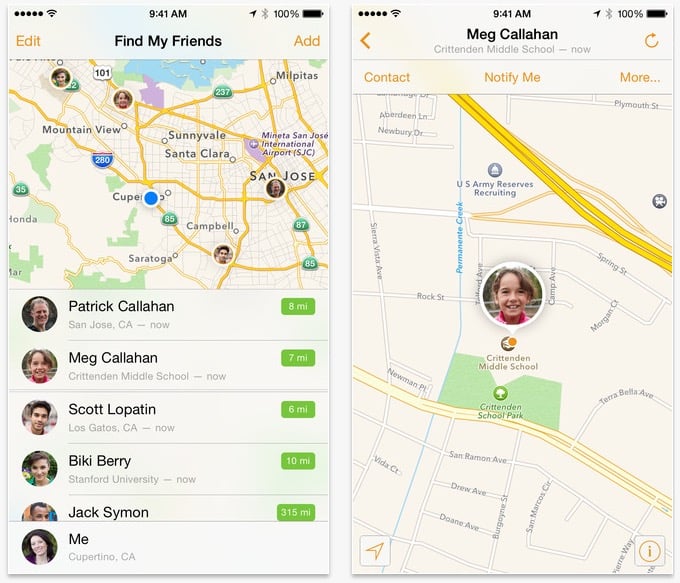 Find My Friends is a pretty simple app that allows you to see where your friends and family are at. You send them an invite and when they accept, you can start following their location and they can even send a request to follow your location as well.
This is a great app to track your child's location, as it doesn't require that they hand over their Apple account password. However, they have to give you permission in order to view their location and If at any time they don't want to be tracked, they can hide their location with a quick flip of a switch.
With that said, Find My Friends is an app that goes on the honor system and your kids have to agree that they won't pull the plug when they're not supposed to. However, the app has some cool features that parents will love, including the ability to receive notifications when your child arrives at or leaves a specific location.
The only downside to this app is that you can't use if you don't have an iPhone, whereas with Find My iPhone you can log onto a computer to use it if you need to.

This article may contain affiliate links. Click here for more details.