How to Trade-In Your Windows 8 Laptop 
Windows 8 laptops, like all laptops don't last forever. Overtime battery issues can sap your laptop of its once long-lasting running time. More often, new apps and games make upgrading to a new laptop essential. Here's how to trade-in that old Windows 8 laptop for cash towards a new machine, other electronics and more.
Why Trade-In Your Laptop
There's never been a more dangerous time to own a laptop. Now more than ever, the idea of a laptop, this thing that plugs into wall sometimes and  allows users to get work done and browse the internet is in flux. Just months after buying a new laptop users can find themselves smitten by new Windows 8 machines that cross the divide between laptop and device with touchscreens and keyboards that transform.
So what are users to do when they find themselves stuck with a reasonably new Windows 8 machine while wanting to upgrade to a newer Windows 8 device with all the new bells and whistles? Trade-in that machine, of course.
Trading in that old laptop will allow you to clear the way for a new machine that does what you want. Think of the trade-in as recycling, only in many cases you're able to take some money and apply it towards your new purchase.
Understanding Trade-Ins
Trading in Windows 8 laptops, or really any device for that matter is all about getting the right value for your money. More specifically, it's about recouping as much money as you can out of the machine you're getting rid. There are two categories of things working for you and against you.
The things that are working against all come down to hardware. If you're unhappy with your machine and looking to upgrade than it's likely that the laptop lacks the features of more modern laptops or has something wrong with it. Operational defects like missing keys and broken screens come into play here. So too do missing essentials like a power cable. The more of these negative issues your device has the less you'll get for it from certain trade-in services.
Only the specifications your laptop came with are working in your favor. The more you paid for the laptop initially, the better chance you stand of making more money on the trade-in. That's because more expensive laptops will take longer to completely depreciate to $0.
Where to Trade in Your Laptop
Before you begin preparing your Windows 8 laptop for a trade-in or even looking at a device to replace it, you'll need to find a dealer or service willing to offer you an amount of money or credit that you're comfortable with.
One of the most popular trade-in services for just about everything these days is an online retailer you've most certainly already heard of: Amazon.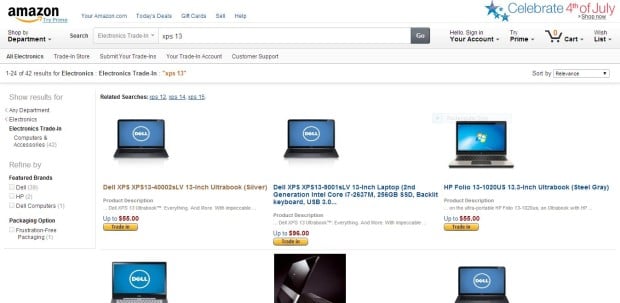 The Amazon Trade-In Store allows users to look at the value of their laptop before sending it off. This way they can decide if the trade is worth making. Simply type in the name of your device and you'll get a rough trade-in estimate almost instantly. Once you've logged in Amazon will provide you with three estimates based on the condition of your Windows 8 laptop. For example, the company offered GottaBeMobile around $44 for the Dell XPS 13, a laptop that debuted in 2012. Once you've packed it up and sent it to Amazon using the free label, Amazon will assess the condition of your device and apply a gift card to your account for that same amount.
TigerDirect's service operates in mostly the same way. Users go to the store's trade-in website and search for their Windows 8 laptop. Instead of adding it to the cart, users are asked a few questions about their device, mainly if it comes with a power cable and what version of their particular laptop they have. TigerDirect will take devices that are in working or not in working order. That being said, the gift card you get in exchange will be worth a lot less if the device isn't working.
Finally, there's Best Buy. Unlike the Amazon and TigerDirect, Best Buy will let users trade-in their devices for credit in their stores. The same questions are asked here like does the device work and how is its battery performance. For that same Dell XPS 13 Best Buy offered $88.
Regardless of whatever company or service you go with there are some universal gotchas. The trade-in value is going to be the biggest one. Usually, Windows devices don't hold trade-in value as well as their Apple counterparts. Second, you'll need to have the power cord for the best deal.
Preparing Your Windows 8 Laptop for Trade-in
Preparing your Windows 8 laptop for a trade-in deal is easier than it's ever been. Thanks to two recovery tools that every Windows 8 device includes: Reset.
Windows 8 users can reset their device back to factory settings with just the push of a button. The entire process wipes essential information clean and puts the device back into a decent state without a password. Before doing so, just make sure that you've copied all of your important files to a flash drive or other storage solution.
Read: 5 Best Ways to Back Up Windows 8 Files and Photos
To reset your Windows 8 laptop before trade-in or sale put your mouse cursor in the top right corner of your screen to open the Charms Bar.
Click on Settings.
Click on Change PC Settings.
Click on Update & Recovery.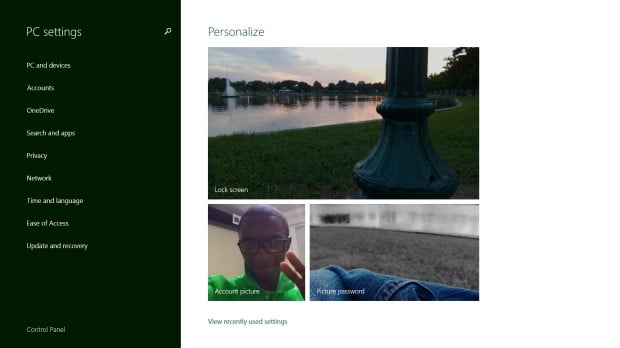 Click on Recovery.
Click on the Get Started button underneath Remove Everything and Reinstall Windows.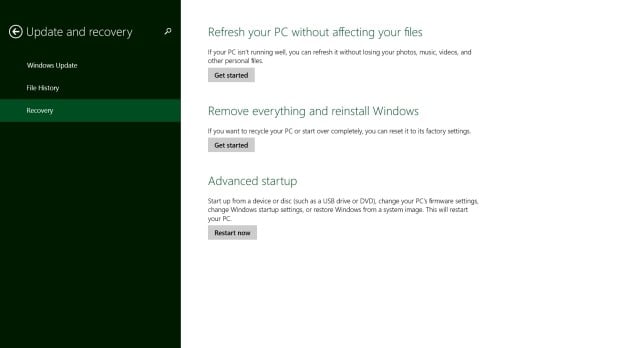 Now just wait for the reset process to finish.
Good luck with your system trade-in! Remember to keep looking around for the best deals, and to not settle for the first cheap deal that comes your way from these three services. Trade-ins are great way to make money on your old Windows 8 laptop but there are others ways too. You may find that online marketplaces like eBay and Craigslist will get you better results.

This article may contain affiliate links. Click here for more details.