How to Transfer Clash of Clans to a New Phone
Here in mid 2016 a lot of new Android smartphones are available like the Galaxy S7, not to mention the iPhone 7 is coming soon. As a result, millions of Clash of Clans players will need to know how to transfer their game to a new phone. Below is a quick how to guide explaining what players need to know before making the switch, and how to do it. Be careful though, or you could lose an entire village.
Clash of Clans is one of the most popular games on Android and iOS and has been for years, even though Clash Royale is stealing some of its players. With millions of downloads on each platform, many will need to know how to transfer their account.
Read: Clash of Clans Hacks: 3 Things You Should Know
One question we keep getting is regarding how to transfer the game from one phone to another. Since everything is server side with the developer, Supercell, it isn't just a copy/paste job. However, moving your Clash of Clans progress from one phone to another, playing on a second tablet, or switching from Android to an iPhone and more. It all can be done, so watch the quick video guide below.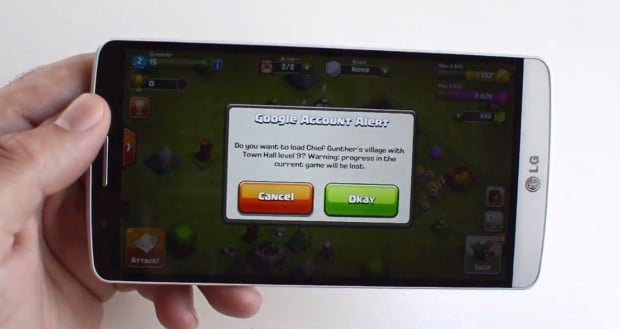 To be specific, this guide is how to transfer a Clash of Clans village to a new Android device, and we'll briefly mention iOS and Game Center as well. You'll need to download Clash of Clans on your new phone or tablet, sign into Google Games (or Apple's Game Center) and you're nearly done. We can even skip the tutorial now, and get right into the transfer.
Being able to play Clash of Clans on my phone while out and about or while sitting on the couch, then picking up right where I left off on my tablet is an awesome feature. The entire experience is seamless, and very consistent. Being cross-platform also helps, because you can easily transfer from iOS to Android as well, or vice-versa. Meaning you can play the same village on you Android phone and iPad, switch to new devices and more.
Instructions
With iOS and Game Center you'll need a device linking code, but overall the process is still extremely easy and only takes a few moments, however, you'll need both devices side by side to enter the code. More on that below.
With Android, transferring your Clash of Clans game information couldn't be easier thanks to Google Play Games, and Google+. All you have to do is sync or sign-into Google Games (or Google+) inside the game and it transfers the data over and saves it. Download Clash of Clans on your new smartphone or tablet, then follow the steps from the video below. It's worth mentioning that if you buy gems on the newly loaded game, or progress past a level 4 Town Hall, you can't transfer your game data. So keep that in mind. Plus, who would want to start all over again anyways?
Read: Clash of Clans May Update: What to Know
The video below was filmed with an older version of the game, but very similar options and settings apply here in 2016. The steps are also slightly different for iOS.
As you can see from the video above, it all takes under a minute. Simply hit the three gears "settings" button near the bottom right of the display, and connect to Google Games by hitting the "Google+ Sign-in" button, or saying ok to the Google Games popup. Once you connect to Google on the new device it will automatically sign you into Google Play Games, and find your existing game data. You'll get a notification asking if you'd like to transfer your base, then just go ahead and select yes. Make sure it says the correct village Town Hall level before clicking Yes.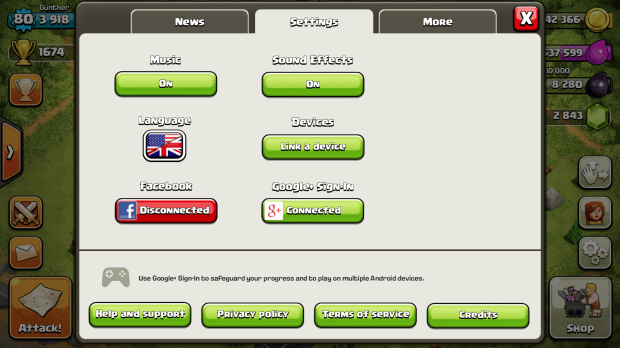 Use caution, and make sure it's loading the correct game. If you've started multiple different villages Google Games may have the wrong one backed up. If this for some reason doesn't work head into settings > accounts > Google > and tap on your Google account. From here you'll want to make sure your phone is syncing data to Google. Make sure Google+ and Google App Data sync is enabled, and you're all set. Then try the steps from the video one more time.
I used the steps above to transfer my game data from a Galaxy S4 when I first started playing, to multiple devices I use today. Currently I play Clash on the Note 5, Galaxy S7 Edge, and Pixel C tablet. All the same village. Being able to easily transfer the entire game in seconds, and enjoy the same awesome experience on an array of devices, is pretty awesome.
As for iOS, the steps are somewhat different. Rather than doing all the sync options above, you'll need to get a code from the "Old Device, New Device" pop-up from the video above. On an old device like the iPhone 5s hit settings and select "Old Device" and write down the code provided, or keep it nearby.
Now, download and open Clash of Clans on a new iPhone 6s or iPad Mini, select "New Device" and enter the code provided. This will transfer the game over on iOS. Users have 5 minutes to enter the code, so don't waste time. The village will now be on both devices. Uninstall the game on your old phone, or play on both, it's up to you. The same steps apply to add a village from your iPhone to an iPad to play on both. Again, recent updates in 2016 could have changed this, but the steps remain about the same.
This same process also works for switching Clash of Clans from Android to iPhone, or from iPhone to Android. The code method is the safest and easiest choice. If you run into problems, below are some helpful tips. If possible, write down your username, TH level, experience level, Clan name, and even your Clan tag #. This all can be helpful for the Supercell support team in locating a lost or missing village in case of problems. And yes, they can help users recover a lost base, but it may take more than a few days for a reply.
Read: 10 Common Clash of Clans Problems & Fixes
If you're a Windows Phone user wondering if this is possible for you, no, sadly it is not. The game has yet to launch on Windows Phone, but it could in the near future. More details regarding transferring your village and game can also be found from the developers forum. For any and all details about this game, check out our Clash of Clans Portal. Are you still playing Clash of Clans, or did you move on to Clash Royale? Let us know in the comments below.